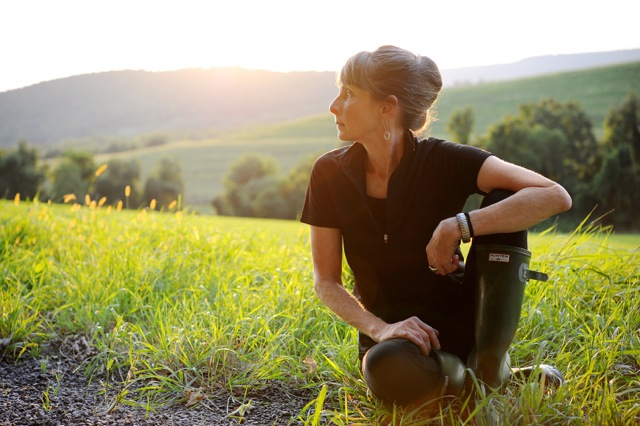 IN THE BEGINNING, there wasn't a thing Margaret owned, a phrase she spoke, or a gesture she tossed off that I did not want as my own. But smooth-haired, blue-eyed, skim-milk-skinned, even visually she presented all that I could never be, her calm to my storm of unleashed red curls, speckled hazel eyes and haphazardly freckled skin.
Until long into our twenties, I honestly believed she was the most beautiful creature on earth, and while my response to the visual that is Margaret arced and changed over those years, the fact of her beauty never did.
From our beginnings, our physical differences also extended to what we did with our bodies. She sat in the shade and she read. Throwing myself off docks, diving boards and tree limbs, I knocked out teeth, bruised my shins and stubbed the top off my toe as regularly as most people eat breakfast, always really meaning to come to the table clean, or at the very least, unbloodied.
Emotionally, nothing was gained in the comparison. She could be still; she listened, she learned. Were she a kitchen utensil, it's a measuring cup; I am handsful of flour tossed into a bowl.
The real separation came when our mother's mind went to battle with something and lost. At 51 years old, and diagnosed with Alzheimer's disease, our mother and her illness produced different responses in her different daughters. Margaret moved home and moved in to help. I moved out. Margaret took up gardening, a pursuit I judged to be frivolous and decorative. I started writing about our mother, a pursuit Margaret judged to be an invasion into our privacy and not all that helpful.
Each time I visited, there was another dwarf specimen tree; the tall hedge behind which our now unhappy home stood was sheared down to 6-inches. Peonies flaunted their party-dress splendor. What was the use, I wondered?
I researched and typed and fought with the government. What was the use, she wondered?
We had a lot to learn about the other.
In time, Margaret learned the crucial lesson that not all custodial care – tending, cultivating, and nurturing – has to be for something that only loses more ground every day. And I learned to respect that. As I started seeing my work as that of memoir, she started to respect that. The resulting admiration is no mere graft, but rather the flourishing regrowth that only a hard prune can provide.
Between the two of us we've now written seven books, the most recent being hers, a marvelous look from her own backyard. She knows something about what can be learned at home. I would know.
Join me in celebrating her new work, The Backyard Parables. It's her best book yet.
To Enter the Giveaway

TO ENTER TO WIN ONE OF FIVE BOOKS, comment here,noting in both places the name of another memoir or gardening book that you identified with. Tell us why, too, if you wish. I understand some of you are shy and just prefer to say "Count me in," or "I want to win," but if you feel like sharing an inspirational book title and a sense of the "why" behind your choice instead, please do; all the better.

Entries close at midnight Sunday, February 3, 2013, with winners to be drawn at random (using the tool at random [dot] org) and announced the next day.

Once you post your entry here, go visit Margaret and tell her I get it now, and that I love what she does.