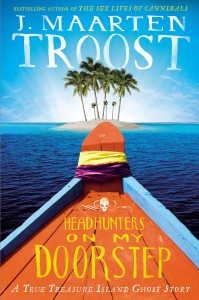 AH, THE ADVENTURE MEMOIR. Of its writers, few have as distinctive a brand as J. Maarten Troost, whose debut book, The Sex Lives of Cannibals, established his memoir writing as including an eye for detail, a hand for a fine sentence, and a heart for honest self-evaluation that make his books well worth the read. Just out this week is Headhunters on My Doorstep. And he's here, telling us how to put the fun back in memoir writing. It's the perfect assignment for him.
Want to win the book? You can. Read on.
On Having Fun
by J. Maarten Troost
Let's pause for a moment and consider what happens to the psyche of the professional writer when it is confronted with the persistent blinking of the cursor. If you are anything like me, your natural response to the insistent demands of the blank page is a steady rise in blood pressure, a narrowing of vision, an acceleration of thought, and if you do not quickly write a paragraph or two of your best prose, your brain will explode. Worse, on days when nothing much happens, when the morning has been lost to Gawker and Deadspin and Facebook, or you have tumbled very far down the rabbit hole that is Twitter, when the neurons in your cranium are bouncing around at warp speed, pinging and colliding with each other and finding no satisfying outlet, you may look back fondly to your days as a housepainter or landscaper when by sunset, no matter what, you will at least have mowed a lawn or two, painted a dining room, or sanded a bannister, confident that, at the very least, you will have something tangible to show for your day. Instead, today there is just the cursor – blink, blink, blink – and you find yourself idly looking at your watch, wondering whether three o-clock is too soon to open the liquor cabinet. You want something – something – to relieve you from the pressure of the pulsing cursor. Writing, you now realize, is stressful.
But why? After all, you're living the dream. While others are idling in rush-hour traffic, their schedules mercilessly governed by meetings and temperamental bosses, you're at home or at a small, civically-minded, independent coffeehouse, spending your days creating art. You live in an airy-fairy world, one dictated by the flash of inspiration, which leads you from one dreamscape to another as you unspool the magical words that fill your tale. You are Peter Pan, floating above the temporal world. All you need to do is feed the page. So easy. And yet, you are beset by a weird, unsettling flutter of anxiety that beats steadily along with the cursor, filling you with dread. What accounts for this?
I would posit that the act of writing in a professional-type capacity is inherently unhealthy for the psyche of an otherwise normal, decent human being. That blinking cursor? It is calling out your ego, that reptilian core that demands the world pay attention to it – to you – now. Look at me, it says. Read my words. They are awesome words. Spend your hard-earned money on me. Take time out of your busy lives – hours, days, weeks – and let me into your minds. So good are my words. Your ego – let's be honest here – is kind of an asshole. It mocks Kim Kardashian for her attention-seeking, publicity-hound ways. And yet, as a professional writer, are you really any different than a Kardashian? Look at me and Kanye, Kim says. Look at me and my book, I say. This is not healthy and I know this. Thus the anxiety.
If you write fiction or serious, third-person non-fiction you can preserve some authorial remove from your creation. You're the messenger, the craftsman, delivering a story about something other. Yes, you're putting your chops as a writer out there, but you, the author, remain hidden, the wizard behind the curtain. If, God forbid, you are writing a memoir there is no such distance. That's you you're putting up on the stage. It's no longer simply my words or my story, it's me – me, me, me – that I'm asking others to find so interesting, so compelling, so illuminating that they should drop what they're doing right now and spend money and time ruminating my existence. We're well beyond a little problem with the ego, and deep into clinical narcissism now. The sane thing to do, of course, is to stop writing, move to the Sudan, and volunteer at an orphanage. And yet…
The reason that I, and presumably you who is reading this, got into writing in the first place is because it was fun. I recall when I wrote my first book. I was living in Vanuatu, an obscure island-nation in the South Pacific. No one knew who I was. I didn't have an agent or a book contract. The thought of someone else reading my words was unfathomable, and so I wrote to please me. I cracked myself up. If I enjoyed my words, the words stayed in. If I thought it was beginning to drag, it was tossed. I had no audience save for my own sensibilities, and at the end of the day, my wife.
Fast-forward a year or two later. The first time I saw someone in possession of my book was at a bookstore in Washington D.C. She was young – under thirty, a professional-type person in office clothes, and as I watched her walk past to the check-out counter, I imagined her reading it on the subway. I hoped she'd like the book. I hoped she'd think I was clever. And funny. And manly. And possibly good-looking too. These are normal reactions for a human being. They are kryptonite, however, for a writer of memoirs.
The moment I start to think of what a reader may think of me, I might as well call it a day and go mow the lawn. I know I'll delete whatever gets written. My words, whether subtly or not so subtly, are no longer driven by whatever internal spark motivates me to write. They are written for them – readers – and like any writer, any human-being, I want to please them. And this, I've discovered, I can't do when I'm self-conscious. It is they, the readers, whose high-regard I seek, that cause the thrum of anxiety that blinks together with the cursor. How could I possibly write about, oh, I don't know, maybe rehab, when I'm acutely attuned to what a woman on the subway might think of me. There is nothing natural about revealing yourself – your troubles, your aches, your failures – to random strangers. If it does seem natural to you, well then, you need therapy. Seriously. You're a narcissist.
And so for me, the only way forward, the only answer to the blinking cursor, is to reclaim the fun. I wall myself off from even thinking about readers. It is all about the act of creation, and when it is done, let the chips fall where they may. I write only for me, because I care too much about you.     
Headhunters on My Doorstep, an excerpt
Chapter One
 Everyone has problems. Spend a few moments catching up with friends and you're likely to hear a litany of catastrophes.
"I lost my job at the prison," one might say.
"I'm going to prison," says another.
"I'm about to lose my home."
"I blew mine up to collect the insurance."
"My ferret died."
"I ate mine."
". . ."
"Long story."
Tales of woe had become inescapable. What were once simple quandaries now seemed to come equipped with trapdoors. One misstep and you'd tumble into the chute of doom, where demotions became terminations, homeowners became squatters, and Little Bandit was no longer safe. I was no exception. I too had problems. Multitudes of problems. If something could go wrong, it usually did. The only law that seemed to apply to me was Mr. Murphy's. For a long while, decades even, the sun had shone upon me. Life had been an effortless glide. I'd traveled the world, married my soul mate, sired two strapping boys, and wrote books that— I've been confidently informed—landed on the bestseller list in Eugene, Oregon. I couldn't explain why good things happened to me. They just did. But then, like a bad Chinese proverb, my good fortune evaporated like a spilled Slurpee in a Phoenix parking lot. Everything that could go wrong . . . was not a thought I dared to finish. It could always get worse, and usually it did.
What'd happened? I wondered. Good luck seeks no antecedent, but bad luck demands an inquest. Was it simply written in the cosmos? Did the yin of happiness necessitate the yang of misery? Could it simply be bad karma? No, I thought, as I reflected on the causes of my misfortune. Behind every event, every circumstance, lay a cold, hard trail of facts. I needed only to follow the breadcrumbs of past experience to bring me to the source of my tribulations. And there, sadly, I found something immense and unmovable:
Continents.
Bad things happened to me on large land masses. Terrible things.
This was a most unfortunate realization, of course. How I'd hoped to discover an unhappy childhood, an unjust prison sentence, or a soul-scarring bout of acne to explain the recent trajectory of my life. Who wants to blame their woes on something as inalterable as the North American tectonic plate? After all, continents are— at the very least— nice to look at. I too could admire majestic, snow-glazed mountains, the rivers that flowed with the tide of history, the buzz of the megacity. I am, for the record, appreciative of boreal forests and rain forests, deserts, and the vast expanse of the northern tundra. I like New York and Los Angeles, as well as Mumbai, Shanghai, and Dubai. I am fond of small towns. Also apple pie and yak, though not together. All this can be found on continents. But, alas, experience tells me that if I'm not surrounded by an ocean, my life crumbles like a stale cookie.
It's true.
Take my most recent sojourn in North America. I'd protected my well-being by living on a peninsula. Surrounded by water on three sides, I navigated the perils of the modern world, and whenever events or situations threatened to leave my eyes agog and my head a-splitting, I retreated to a rented sailboat, where secure in a finite space surrounded by the infinite blue of the ocean, I navigated pitching waves and morning fog with an aplomb that failed me on dry land. On water I was free and sure; on land I felt like a lost fish. But then, chasing a job, I moved deeper into the continent, distant from familiar waters and sandy dunes, and there I fell.
Into the bottle to be precise. This wasn't entirely unexpected. In retrospect, it was probably a foregone conclusion. I'd always had a temperamental shut-off valve. Open-minded to the mind-altering, I'd long ago learned to be wary of the seductive offerings of both the street and the pharmacy. I'd known that drugs could be a problem and that it was best to dispense with the experimentation early on. I pretty much maxed out on magic mushrooms. Instead, I'd settled into the steady companionship of pint glasses and decanters. Like everyone. It was normal, no? A few beers at the bar; wine with dinner. It was all good. In fact, hard liquor was a no-no in my world— until, eventually, it wasn't, and there was that unknown moment when the proverbial invisible line was crossed, when everything started to tumble with a terrifying ferocity, and despite untold As-God-Is-My-Witness promises to get this under control, to show some restraint, I couldn't. I couldn't stop. Not until my wife, bless her, deposited me at rehab, where, sedated with Librium, I learned that lucky-ducky that I was, I had a fatal brain disease and should I ever pick up a drink again I might as well put five bullets in a six-shooter and shove it down my piehole.
So this was bad. And it happened on a continent. In my mind, the case was closed.
Reprinted by arrangement with GOTHAM BOOKS, a member of Penguin Group (USA) LLC, A Penguin Random House Company. Copyright © J. MAARTEN TROOST, 2013.
Author's bio
J. Maarten Troost was a consultant for the World Bank and lived in The Netherlands, the Czech Republic, Canada, Kiribati, Fiji and Vanuatu, among other exotic locations, before settling down near Washington, DC.
HOW TO WIN A COPY OF THE BOOK

I hope you enjoy Writing Lessons. Featuring well-published writers of our favorite genre, each weekly installment takes on one short topic addressing how to write memoir.

It's my way of saying thanks for coming by.

Love the author featured above? Did you learn something in the how-to? Then you've got to read the book. And you can. I am giving away one copy, and all you have to do to win is leave a comment below about something you learned from the writing lesson or the excerpt. I'll draw winners at random (using the tool at random dot org) after entries close at midnight Monday, August 26, right in time for the next installment of Writing Lessons.

Good luck!