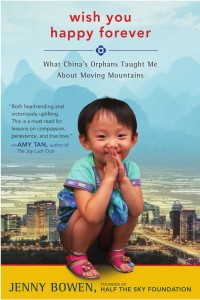 HOW TO WRITE ABOUT YOURSELF is one of the most difficult assignments facing memoirists. Who are you, and what role do you play in a story that is not about you, but about something for which you are the illustration? This question drives my students crazy, particularly those who come to my classes thinking a memoir is about them. To explore this question, I have turned to Jenny Bowen, the author of the just-out Wish You Happy Forever (HarperOne). Full disclosure requires I tell you that Jenny Bowen is one of my personal heroes. Read on to find out why. 
PUTTING YOURSELF IN YOUR MEMOIR
By Jenny Bowen
I never set out to write a memoir. I suppose that was the problem. Many years ago I walked away from one life and began another. I'd been a screenwriter and independent filmmaker in the old life. I'd learned to recognize a great story. Now I was living one.
Through a collaboration between HarperOne and the Skoll Foundation, I had the great good fortune to be invited to tell my tale: How, after adopting a little girl from China, a child deeply wounded by institutional neglect, and after watching her utterly transformed by a family's love, I resolved to bring that same loving care to every single orphan in China … and so I found a way. Fifteen years later, Half the Sky Foundation, the organization that I founded, has transformed the lives of over 1,00,000 children, operates nurture and enrichment programs inside 53 government orphanages across China, and is working with the Chinese government to reimagine its entire child welfare system.
I wrote that story. I wrote about the brave children, my little heroes, how much they taught me about survival and resilience and about the human will to thrive despite adversity. I turned it in to the publisher. My editor said, "It's lovely, but it's not a memoir."
"Sure it is. It's just as I remember."
"But where are you? The reader wants to know more than what happened. She wants to know you. Then she'll decide if she cares about what matters to you."
I sulked. I stewed. I procrastinated. Then I rewrote. And I relived some of the pain of my own childhood, things I'd stashed away in hopes they'd vanish. In the course of that rewrite I learned – not just about myself, but about what's fundamental in all of us.
As a first-time book author and first-time memoirist, it'd be presumptuous for me to give advice. But perhaps there's a small lesson in my experience – one that even as I write it sounds ridiculously obvious, but somehow I missed it: Don't forget yourself.
In the end I wrote a true memoir – and a better book. Much better than the one that was full of forgetting.
Wish You Happy Forever, an excerpt
C h a p t e r 5

Pick the Roses,
Live with the Thorns
爱花 爱它的刺
I've been a mother since I was nineteen years old. When I was a girl, it was what girls were supposed to aspire to. Marriage and motherhood. I wasn't too keen on the marriage part, but went along with the requirement. I wanted the baby. I'm not sure what drove the desire; maybe I wanted to know what unconditional love felt like. At the time, all I knew was that I wanted to leave my childhood behind and start living a life like I imagined in stories.
When I was ten, I won a writing contest sponsored by the San Francisco Chronicle and received a big book as a prize. It was a picture encyclopedia. I thought it was babyish, for little kids, so I gave it away to a friend. My mother gave me the worst beating ever for that. She was furious; she kicked me and pulled my hair. I got a tirade of ungrateful and spoiled and That book was worth a lot of money and Who do you think you are, Miss Priss? and I wish you'd never been born—words I pretended not to hear.
I didn't understand why she was so angry. But somehow, maybe from reading all those library books, I understood, at least intellectually, that she didn't know any better. She was probably giving what she got. Anyhow, when I grew up and had a child, I would be different.
I might have stopped writing that day, for all the grief it brought me. Instead, I opted for the theater. I wrote plays and studied acting. No one in my family ever came to see me in anything, but I told myself I didn't care. It didn't matter. I didn't need anybody. I'd found out I wasn't the only misfit in town. Theater was full of them.
So I married too young, and when my young husband (who was about as mature as I was) wasn't around much because he was busy trying to make it as a folksinger, I quietly left my marriage and threw myself full-time into theater and motherhood. I pretty much grew up alongside my daughter Cristin and my son, Aaron. I didn't have a clue what children needed, but I knew that my own upbringing was not the model to follow. I went in the opposite direction. My children played backstage and traveled where the work was, and somehow we all survived and, in many ways, flourished.
From time to time, I'd hear my mother's words starting to come out of my mouth—I'll give you something to cry about—and I'd swallow the words and hold my children tight instead. It wasn't easy and I didn't always succeed. Sometimes my babies and I would cry together. My love for them came naturally, even though its expression did not. Like Maya, I suppose, I had to learn loving and being loved—as basic as those things are.
BY THE TIME Maya came into our lives, my first children were grown. Dick (then a longtime loving stepdad and my spouse for twenty years) and I loved having a child in our lives again. I guess it was natural that, as Maya settled in, we began to talk of a little sister—someone who shared her background and who could grow up with her. They'd be there for each other, even if something should befall their not-so-young parents.
The dossier for our second adoption was already in Beijing when I called Norman one jet-lagged morning right after our return home and told him about Xinmei.
"It's not so easy," he said. "Pre-identified adoption is not allowed."
"I know, Norman, but will you ask? Richard and I . . . we just have this feeling that she's meant to be Maya's little sister. She looks exactly like her!" I was still delusional on that front.
"It is difficult."
"Please, Norman. Just try? Oh . . . and when you call, please explain that this has absolutely nothing to do with Half the Sky. We didn't know this would happen. We had no idea. Will you tell them that, Norman?"
Dear Jenny,
The e-mail is quite like magic! I am thrilled to see such quickest ways of communication like we were talking face to face!
I am returned to Beijing. The baseline testing of children in Changzhou is complete and went very well. We are not so fortunate in Shenzhen. Approval documents still have not arrived from Guangdong Provincial Bureau. I will contact Mr. Shi to find out the result of his further negotiation and report to you afterwards. If negative, you have to consider the change of pilot institution.
Zhang Zhirong (ZZ)

Ugh. We'd come so far—things couldn't unravel now. Almost two weeks passed before I heard again from ZZ.
Dear Jenny,
I finally found Mr. Shi who is right now in Shenzhen for a meeting organized by the ministry! Mr. Shi agreed to do the negotiations there to find out the attitude of all parties and reasons. For the last two days, I almost called him every few hours. The answer from him yesterday afternoon was that we have to change the site from Shenzhen, for the reason now, even the ministry does not agree to set the pilot there.
Also, from our conversation yesterday I know that we do not yet have official permission to begin the project. Why it takes so long, the problem is because of the shifting of our project to the Social Workers Association. Now we are asked to report to a new department which does not know much about the project. Usually they would like to know the whole story from the very beginning.
I understand the heavy responsibility as a representative of Half the Sky. I should do my best to make your load lighter if I can. However, certainly if you will come to China it is quicker to resolve.
Zhang Zhirong (ZZ)
THE PEACE HOTEL in Shanghai had seen better days. Once the Cathay—a glittering symbol of British occupation and opium booty—in its heyday the hotel hosted Charlie Chaplin, George Bernard Shaw, and Noël Coward (who wrote Private Lives there).
The night I arrived, I couldn't have cared less. My flight out of San Francisco had been delayed seven hours. I had missed my connection in Taipei. I was exhausted and grumpy when I checked in.
Knowing the Chinese penchant for making phone calls without apology up until 11:00 P.M. (ZZ being no exception), I unplugged the hotel telephone and collapsed on the bed.
Within five minutes, somebody was outside my door, pounding and shouting and ringing the doorbell. I crawled out of bed and opened the door.
A security guard was screaming at me.
I did my best to respond. "Wo bu hui—ah. . . look, I don't speak Chinese. Meiguo . . .American"
"The telephone! The telephone—!" he sputtered.
"I unplugged it so I could sleep," I said, pointing impatiently to the DO NOT DISTURB sign on my door.
"Not allowed!" He tried to shove past me. "May I come in?"
I shoved back. "No! I'll plug it in. I'll plug it in."
I shut the door as forcefully as I dared—and plugged in the darn phone.
The ringing woke me at 11:00 p.m. It was ZZ.
"I figured out how they bug the rooms," I said.
BEFORE HEADNG TO Changzhou, we planned to visit some potential toy and materials suppliers around Shanghai. We hailed a cab and headed toward a paint factory that manufactured "environmental" paint. One of our supporters had kindly equipped me with lead-detection swabs and I intended to swab every surface, toy, or product before allowing it into our new children's centers. ZZ called the factory manager to tell him we were on our way.
"My boss is coming with me," she told them.
"Is she Chinese or a foreigner?"
"Foreigner."
"No foreigners can come."
"She's Chinese, sort of. She does good work to help China."
"Tell her not to speak any foreign language."
We arrived at the factory. It was situated in what had to be the most polluted pocket of metropolitan Shanghai. The air was opaque.
The cab pulled up to the gate. It didn't open. The cab driver honked. The guard stood inside his little guardhouse talking on the telephone—I assumed to our friend, the factory manager. The cab continued to honk.
ZZ called the manager again on her cell phone.
"He says you must remain in the cab," she reported.
I decided that now would not be the right time to pass ZZ my lead-detection swabs.
ON THE WAY to Changzhou, our next stop, ZZ told me that Xinmei was looking forward to seeing me.
"Really?" I said, feigning indifference. "I'm not sure we should tell her about the adoption. What if they turn us down?"
"We Chinese know we must accept life as it is."
At two years old?
When we arrived, Deputy Director Small Cloud Zhang greeted us in front of the Changzhou orphanage with Xinmei bundled in her arms. Xinmei looked adorable, all gussied up for the occasion.
She didn't have much hair, but what was available had been fashioned into a pert little topknot, secured by pink butterfly clips.
Small Cloud Zhang passed the baby to me, cooing, "Mama! Mama!"
I took her, of course. I couldn't turn away my little daughter-to-be.
"Xinmei," I whispered. "Please forgive me if this doesn't work out."
Xinmei tolerated me for the ten minutes I got to hold her. Just another ayi to her. I tried to pretend she was just another kid. I was almost relieved when we arrived at the children's activity room and an actual ayi came to take her away. If she was to be my child, this didn't feel like the right way to get acquainted. The minute she was out of my arms, I felt sick that I'd been so hard-hearted. I watched her toddle alone across the barren room lined with sad little chairs and too-quiet little children. I turned away, trying to imagine a preschool in that dreary space.
• • •

SMALL CLOUD ZHANG led us into the orphanage reception room. Madame Miao and Mr. Shi were waiting for us there.
"We have good news!" Madame Miao said.
"We agree to change the pilot institution from Shenzhen of Guangdong Province to Hefei of Anhui Province," Mr. Shi said. "The needs are more great there."
"The Association has good relations with the institution," Madame Miao said. "And the director of the Provincial Civil Affairs Bureau is my relative! Tomorrow we will go there and meet him for dinner."
"This is wonderful!" I said. "Dear Madame Miao and Mr. Shi, you have saved the day. Wait . . . can you translate that?" I asked ZZ.
"One sings—all follow. We are happy to have agreement," ZZ said.
Not to be outdone by the Civil Affairs director of Anhui Province, the Civil Affairs director of Changzhou's Jiangsu Province invited us to a very special banquet at a famous scenic spot.
"We will drive some distance," ZZ said. "We must finish our work quickly." A meal always takes precedence in China. Per instructions, we were ready to climb into the minivan by 11:00 A.M.
"How far is this place?" I asked ZZ.
"Oh look, Xinmei will join us!" she replied.
Small Cloud Zhang scuttered toward the minibus in her spiky heels, Xinmei bobbing in her arms.
"Oh . . . but—" I murmured. And then that little baby was on my lap and there was nothing to do but hold on. She looked up at me curiously. You again?
I touched her soft hair and whispered, "Hello, sweet baby."
• • •
THE ANSWER TO my question was that the place was far. It was easily a two-hour drive. We drove through a hilly, denuded landscape. Every now and then, giant billboards would appear, promoting something that looked a lot like Yosemite and nothing like the current view. Then we arrived.
Our destination was a reservoir ringed by neatly clipped and stunted trees and shrubs. The minivan stopped beside a small dock. Some men were waiting there. Cigarettes hanging from their mouths, they were holding aloft bright orange life vests. There was even one for Xinmei.
Obediently, we tugged and tied on our vests. When everyone was suited up, we all climbed into a skiff with an outboard motor. There were eight of us in that little boat. The two smoking guys took us for a spin around the "lake." Everybody but Xinmei and me was talking on a cell phone. We raced from one shore to the other. Xinmei was petrified.
After multiple circumnavigations and high-speed sprints, the boat pulled up at the opposite shore.
We were escorted to a small building and into a dining room with a smudged plate-glass view of the "lake" and the boat. Thankfully, our minivan was parked in front; we wouldn't have to get in that boat again. The air inside was thick with cigarette smoke. I worried about Xinmei's little lungs but figured she'd probably breathed worse.
The moment she was seated in a baby chair next to me, Xinmei started crying. I tried holding her; I bounced her; I slipped her bits of food. She was inconsolable. Small Cloud Zhang took over and Xinmei was instantly silent. She sat on the deputy director's lap and ate every bite proffered. The Jiangsu Provincial Civil Affairs director was charming, I'm sure. I can't remember. I had descended into kind of a dazed, smoky stupor.
• • •
AFTER THE MEAL  I squeezed into the back of the minibus for the long ride home. Xinmei was plopped on my lap. She looked like she was about to cry again. "Shh . . . shh, Xinmei. It's okay," I whispered.
I smoothed the mussed little hairdo. Snuggled her into my arms. Hummed a little.
Then she pinched me.
It was definitely a pinch. I pulled back, looked at her. She wouldn't look at me. She inched to the very edge of my lap, where she sat for the rest of the trip. Seat belts are not a Chinese thing.
When we finally arrived at the funky-but-with-a-certain-charm Changzhou Binguan (guest house), Small Cloud Zhang sprang her next surprise. She grabbed my arm and presented me with a knotted plastic bag.
"What's this? What did she say?" I asked ZZ.
"She said that Xinmei will spend the night with her new mama! She wants to know if you're happy to do so?"
Well, exhausted is what I was (day three of jet lag is my worst), and my throat was sore from all the cigarette smoke, and Xinmei and I weren't exactly hitting it off. But Small Cloud Zhang was now beaming.
"Oh . . . yes. Sure!"
I PULLED MISMATCHED flannel pajamas and a disposable diaper from the plastic bag. Xinmei watched me warily from the bed. I tried to make conversation as I peeled off her jumper, T-shirt, and other assorted layers.
"So this must feel really, really strange, huh, Xinmei? Here's this funny-looking person you don't even know, and now you find yourself in a hotel room with her—whatever a hotel room is."
I took off her soggy diaper.
"Oh God—"
Two years of neglected wet diapers tied tight with rope rags had caused bone-deep scars on her hips.
"Oh . . . poor baby . . . oh, let me—"
I tried to gently clean the still-raw wounds. She rolled away from me.
"No? Okay . . . it's okay . . . it's gonna be okay . . . C'mere, little one." I pulled her close, quickly slipped on the disposable diaper. "There now . . . that's better, isn't it, Xinmei?"
And she slapped me in the face.
I'm ashamed to say my instinct was to slap her back. Instead, I sat there, staring at this strange little creature, my hand in midair. My daughter? She spat at me. That stopped me cold.
My hand fell against my mouth and the tears came. Mine, not hers. She watched me from across the bed. A safe distance. And from there, I could see her little bare feet. They were scarred as well—burned to the ankles, evenly on both sides, like bobby socks.
When a child is naughty, holding her in scalding water teaches her not to misbehave again, someone told me later.
"Who did this to you?"
I took a deep, shuddery breath. "Okay. All right. Don't worry, Xinmei, we'll work it out."
I sure hoped that was true. We spent the night on opposite sides of the bed. She cried out in her sleep. I longed to hold her, to try to soothe away the sadness that filled the room. But I didn't dare pull her to me. I reached across and stroked her back as she slept.
China was breaking my heart.
HOW TO WIN A COPY OF THE BOOK

I hope you enjoy Writing Lessons. Featuring well-published writers of our favorite genre, each weekly installment takes on one short topic addressing how to write memoir.

It's my way of saying thanks for coming by.

Love the author featured above? Did you learn something in the how-to? Then you've got to read the book. And you can. I am giving away one copy, and all you have to do to win is leave a comment below about something you learned from the writing lesson or the excerpt. I'll draw winners at random (using the tool at random dot org) after entries close at midnight Monday, March 24, right in time for the next installment of Writing Lessons.

Good luck!