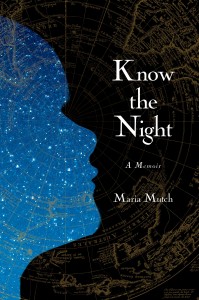 ARE THERE RULES FOR WRITING MEMOIR? For instance, can your story be enlarged by the story of someone else whose life parallels or informs your own? When Maria Mutch proposed this question as a Writing Lessons piece, I knew I had a fine writer on the line, and that I wanted to introduce you to her. The author of the remarkable memoir, Know the Night, Maria just learned that her book was named one of Oprah's "Memoirs Too Powerful to Put Down." For good reason. It is. Read on.
ENLARGING MEMOIR
by Maria Mutch
Know the Night is about my son Gabriel who has Down syndrome and autism and developed a sleeping disorder at the age of nine. Woven into that is the story of the polar explorer Admiral Richard Byrd and his book, Alone, about his 1934 sojourn in Antarctica, as well as other threads such as jazz and the Myth of Sisyphus. I began writing with the notion that I was gathering a collection of essays, ones that would stand in relation to each other, but as time went on, I structured a continuous narrative that moved between the disparate ideas. The end result is a book called a memoir, but only if we allow that the category is malleable and capable of enlarging to include what is considered a hybrid form.
The Nighttime Experience
I began writing the book when I had been sleep deprived for close to two years and I wanted to convey the strange lushness of that period, how interesting it was and how lonely. In order to reflect the magical thinking that sleep deprivation had produced, I needed to embrace what were, on the surface, disparate connections. When my son was a toddler, he spoke and used sign language but ended up losing all of it by the age of seven; in Byrd's book I found a very different but related narrative, one that felt familiar, as it had to do with night and the loss of language. Byrd was on his second expedition to Antarctica when he left his men to stay in a hut imbedded in the ice many miles away from them. His intention was to stay for six months to take meteorological data, but he only survived four months before needing to be rescued. He was in the hut during the part of the polar year when the sun doesn't rise, which made him, in my eyes, something of an authority on night. Additionally, the only way for him to communicate with his men 123 miles away was by using Morse code. As the cold and carbon monoxide poisoning wore him down physically—and what amounted to solitary confinement addled his mind—his ability to communicate eroded. Examining Byrd's narrative was a way for me to explore, beyond my observations of Gabriel, how language and communication act.
Enlarging Experience
Being awake with my son caused me to have an ongoing relationship with night, and to experience some of Gabriel's autistic symptoms at very close range. It was Byrd's experience of isolation and loss of language that caused me to see figurative parallels between his situation and Gabriel's, but the vast differences in the narratives were also worth exploring. In jazz there is an appreciation for dissonance and a drive toward spontaneous musical investigations. I found that placing elements in somewhat close proximity (for instance, a scene where Gabriel and I listen to music and a scene where Byrd listens to Beethoven's Fifth in Antarctica) creates a new kind of space in which surprising things happen. By using elements outside of my own story, I could move beyond the frame of that nighttime experience to a larger story about universal isolation
Structure
Another benefit of including Byrd's story had to do with structure. One of the challenges I faced when writing about Gabriel was that our story involved shifts in time, intense emotions and the subjectivity of memory, all of which seemed unwieldy and nonlinear. Using Byrd's story, which had the simple structure of a man waiting in a hut either to die or to be rescued, gave me something solid around which the more chaotic elements of Gabriel's development could revolve. I could jump around in time, go off on various thought tangents, and always return to the linearity of Byrd's expedition.
Playing
Threading the parts of the story was a lengthy exercise; I played with the different pieces for months and then years (the entire process from beginning to final edits was four years). During that time I read essays and books by some of my favorite combiners: Joan Didion, Annie Dillard, Geoff Dyer, Lawrence Weschler, Susan Griffin.
Jazz was a natural element to wind through Know the Night, since Gabriel and I went to hear numerous jazz bands. I paid attention to the playfulness of the musicians' improvising, and I researched jazz history, as well as polar exploration and Byrd. I ended up weaving in some of the story of Thelonious Monk, in part because of his tendency to fall silent for days at a time and to use pauses in his music. Improvising in my writing led to other "thought excursions" (to borrow from Philip Lopate) about Sisyphus, Van Gogh and trail running, and eventually I had a continuous narrative about the strange, difficult and sometimes wonderful experience of being awake at night with my son.
Know the Night, an excerpt
The looking glass hangs on a nail near a shelf and Byrd takes it down. It seems that he's ready to see himself as he really is, in this poorly lit place where the shadows transform what is already liminal. The face that appears in his shaving mirror, however, is folding with age and weakness, and shows the spots the cold has eaten. He's so disheartened by what he sees that he'll have to answer another bout of mental disintegration with visions of being surrounded by sunlight and the people he loves. The following afternoon he'll test his battery-powered radio and tune it to the weekly broadcast from Little America to the United States, so he can steady himself with distant voices. The men at Little America will tell the audience about the cows, named Klondike, Deerfoot, and Southern Girl, and the calf born on the journey named Iceberg, that were brought to the Ice to supply milk, how one of the cows won't lie down and another refuses to get up. Byrd's wife and children in Boston will have piled onto his bed at 9 Brimmer Street and tuned into the broadcast. The day after that, he'll have a radio schedule with his men where he'll stop himself from calling for help and he'll contrive messages in his inept code to make it appear that all is more or less well. But at the moment, he is suspended in his little mirror, watching himself watching himself; he is turning in the vortices that layer Antarctica, a witness to being consumed.
Gabriel rarely watches himself. He only catches glimpses. Like our cat, he'll often smoothly avert his gaze when he's standing in front of a mirror, not as if he's afraid to see himself but as if he has no curiosity about how he appears in the glass nor interest that there is a glass at all. Then again, maybe he understands the power of the other self, and like Byrd would prefer not to see the one that is darker and harder to grasp.
He discovered his shadow when he was two and a half and still fairly new to walking. He had a wide, uneasy stance and his hands out at his sides, swiping the air for balance. I had taken him to a neighborhood park, and he lurched over the grass toward the sand. Though he still had some of his words and signs, the long slow diaspora having just begun, he was quiet and focusing his attention on the ground. When he reached the pale sand, the dark slice of him was sharpened and he stopped. Looked, moved. Looked. Moved again.
He stared at the ground, at the boy whose legs stretched like ribbons from his feet. He watched how the shadow mimicked, thinly but precisely, the aspect of the lit world that was him. He looked like he couldn't get over it.
Author's bio
Maria Mutch, who lives in Rhode Island, was born and raised in Canada, and has a degree in visual art. Her essays and fiction have appeared in Poets & Writers, Guernica, Necessary Fiction, Fiction Writers Review, Ocean State Review, Bayou Magazine and Literary Mama, among others. Know the Night was just one of its Memoirs Too Powerful to Put Down by Oprah's online site. Know the Night, published by Simon & Schuster, is her first book.