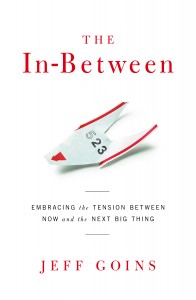 IT'S POSSIBLE THAT the single most popular questions I get in my manuscript services practice are why and when to write an introduction. People frequently send me their intros again and again as they edit them, and at some point I stop them and tell them to keep what they have and wait to write more until they've written the book. Writing your introduction before that is like buying the shoes you'll wear on the Today show before you've done the work on your book. Fun, absolutely, but somewhat premature, though having done it you can check it off your to-do list, yes? And if having those shoes in your closet kicks you back to work each day, where's the harm? But you don't know who you'll be when you finish. And you certainly don't know what book you are introducing until you finish it. So why write an introduction? Writer and Jeff Goins knows why. Poised to soon publish his third book, he was kind enough to tackle this topic for us here. See what you think.
Introductions: Why You Should Write Them (Even If Don't Like Them)
By Jeff Goins
Every author has to deal with it. It's the hardest part of a book to write, which is ironic because it's the first thing that greets a reader's eyes. What is it?
The introduction.
Writing intros makes some writers go nuts, which is why many don't even bother. But this is an important part of your work, something well worth the hassle and heartache.
Before we talk about how to write introductions, though, let's talk about why they're important. Just like crafting a quality lead for an article earns you the attention of an audience, a book's intro gets readers to sit down and take your words seriously. A good introduction invites the reader deep into the meat of a book and helps her understand what to expect. It's a promise that you spend the rest of the book fulfilling.
A good introduction makes three propositions: 1) why this book is worth your time, 2) why you should trust the narrator, and 3) why you should keep reading. These don't have to be explicit, and it's probably best if they're not, but they should be clear. A good introduction sets expectations without giving away everything. It builds rapport, whetting the appetite without fully satisfying the reader. Left with a taste for more, we have no choice but to continue reading.
Writing an introduction should come first—and last. Put something down to organize your thoughts and intent for writing, then use those to guide the rest of the writing process. Of course, when you finish, the book will have taken on a life of its own and your original intent look nothing like the finished product. Which is why it's a good idea to rewrite the intro once you're done with the book.
An introduction is not throwaway content. For some readers, it will be the only thing read. Use this opportunity wisely, and don't miss your chance to connect with the audience in a powerful way that will hook them for the rest of the book.
The In-Between, an excerpt
Life Between the Panels
How we spend our days, according to Annie Dillard, is how we spend our lives. If that's true, then I spend most of my life waiting. Waiting in the checkout line at the grocery store. Waiting to rent a movie. Waiting for the movie to end. Waiting to turn thirty. Waiting for the weekend. Waiting for vacation.
Waiting, waiting, waiting.
Life is an endless series of appointments and phone calls and procrastinated tasks that need to, but sometimes never, get done. It's a long list of incomplete projects and broken promises that tomorrow will be better. It's being put on hold and waiting in office lobbies and watching that stupid hourglass rotate again and again on the computer screen. It's load times and legal processes — long, drawn-out bureaucratic systems that leave me sitting, watching the clock.
Life is one big wait.
Once an adventure seeker, my days are now full of responsibility. Gone are the days of hopping trains through Europe and trekking across the country in a van. Now, things have slowed down. As a dad, husband, and homeowner, I've got more than a few things on my plate. But despite this busyness, most days feel fairly static, as if everything is standing still. And in this stillness, I'm learning to be present, to acknowledge the lessons life is trying to teach me. Because even in an adventure, you have to wait, to deal with what happens when things don't turn out the way you expect.
Between raising a child and learning to be a better spouse, all while managing the challenges of working from home and starting a business with less time than before, I'm feeling the tension between how I used to live and what's reality. My schedule is full of obligations and opportunities that tempt me to push through the now, moving on to the next thing. I'm tempted with distractions, to linger in the glory of the past or hold out hope for a better future. These are all ways I distance myself from the moment. And I wonder why the abundant life I've been searching for seems so evasive, even taunting at times.
In frustration, I'm confronted with an old lesson of letting go, of looking beyond personal ambition and replacing it with something better. The slow growth that happens when I surrender to what life — and maybe God — is trying to teach me. So it seems, despite a penchant for travel, that the antidote to my restlessness is not another trip or adventure, but a deep abiding in where I am right now. How does this happen? With waiting. Normal, everyday situations that test my patience and cause me to reflect on what really matters. I don't like it, but I'm starting to see the value of the times in between the big moments in life.
I've spent my whole life longing for the next season, hoping better things would come when I graduated or got married or gave my life to a career worthy of my talents. But now I'm not sure holding out for what's to come is the smartest strategy. And I have a feeling that I'm not alone.
We all want to live meaningful lives full of experiences we can be proud of. We all want a great story to tell our grandchildren. But many of us fail to recognize that the best moments are the ones happening right now.
Maybe the "good stuff " isn't ahead of or behind us. Maybe it's somewhere in between. Right in the midst of this moment, here and now. Maybe Annie Dillard is right. Maybe what we call "mundane," what feels boring and ordinary, is really how we spend our lives. And we have an opportunity to make of it what we will — to resent its lack of adventure or rejoice in its beauty. Perhaps, the abundant life we've been seeking has little to do with big events and comes in a subtler form: embracing the pauses in between major beats.
Author's bio
Jeff Goins is a full-time blogger, speaker and author. He frequently speaks and writes about how to make a difference in the world through our words and actions. You can follow him online at his website.
Originally from Chicago, Goins graduated from Illinois College and spent the next year on the road with a band. Since studying abroad in Spain, he has always had a passion for travel, missions, and making a difference in the world. His first book, Wrecked: When A Broken World Slams Into Your Comfortable Life, addresses the issue of how we live purpose-filled lives by serving the needs of others. The In-Between: Embracing The Tension Between Now and the Next Big Thing is his most recent book.
HOW TO WIN A COPY OF THE BOOK

I hope you enjoy Writing Lessons. Featuring well-published writers of our favorite genre, each weekly installment takes on one short topic addressing how to write memoir.

It's my way of saying thanks for coming by.

Love the author featured above? Did you learn something in the how-to? Then you've got to read the book. And you can. I am giving away one copy, and all you have to do to win is leave a comment below about something you learned from the writing lesson or the excerpt. I'll draw winners at random (using the tool at random dot org) after entries close at midnight Monday, August 5, right in time for the next installment of Writing Lessons.

Good luck!