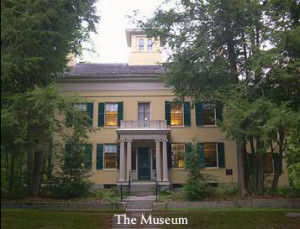 I DELIBERATELY LIVE NEAR WHAT I CALL the E-Triangle. It's my own designation, and not one you'll find on a map, but one that I consider my own personal place of deep inspiration. Perhaps you have one of your own – somewhere you wanted to live because of the way in which its former occupants inform your life, inspire your work, or just simply make you happy.
The E-Triangle is a swath of land that extends from Amherst, Massachusetts to Lenox, Massachusetts to Austerlitz, New York, its three navigational points being the homes of Emily Dickinson, Edith Wharton and Edna St. Vincent Millay. And when you are within it, I dare you to tell me that you do not feel the power of these great women, these writers of such distinction that each of their homes has been made into a museum.
Which means you can visit.
Emily's house, known as the Homestead (seen above), is one of two homes that now make up the Emily Dickinson Museum. The other, The Evergreens, was home to her brother and his family. The path between will be well known to those who delight in knowing that she described it as being "just wide enough for two who love."
I make a yearly pilgrimage to the Homestead, sometimes visiting on December 10, the poet's birthday, when the museum throws a lovely bash, complete with food from many of Emily's own recipes.

The Mount, which is the home of the great Edith Wharton, opens again on May 1, and is worth every single moment you can give it. Wharton, whose observation of human behavior perhaps knows no peer, left behind an 113-acre estate that is best reflected in the phrase, "an autobiographical house," that continues to portray the vast talents of its owner as a writer, designer, gardener and hostess.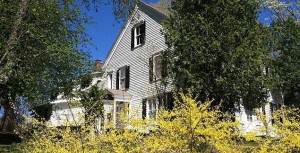 And then there is Steepletop, the beloved home of Edna St. Vincent Millay, winner of the Pulitzer Prize for poetry (1923), and one of the great badass, outlaw redhead writers of all time. Most people know her line, "My candle burns at both ends…" but give her more credit than that. She was nineteen when she published Renascence, one of her most famous poems, and read worldwide, becoming famous for her delivery and, of course, for the words she wrote.
And if that is not enough of a gift to the world, also on the Millay property is the Millay Colony for the Arts, where artists, composers and writers can enjoy two-week to one-month residencies to get their work done.
I came upon these three women when I was very young, and very much at the same time began reading them, sometimes simultaneously. And so they are a chain, linked forever in my understanding of how "the heart wants what it wants — or else it does not care," as Emily once wrote to a friend. I had my dark, single years in New York, thinking I was more Lily Bart (Wharton's tragic heroine of The House of Mirth) than not, only to emerge from that time to marry at a joyous service where my favorite of Millay's sonnets was read. I took my young husband to Emily's during our honeymoon summer.
Looking for some inspiration? Make a weekend of it and visit all three of these women in the E-Triangle. Walk the grounds, and view the homes of these fine writers. It will settle you right back to work.