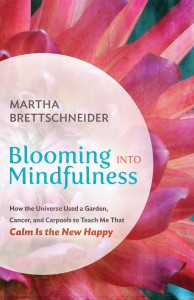 WE'VE ALL FACED THIS DILEMMA: Who to trust with our writing future? Should we go into an MFA program – residential or distance-based? – trust that we already know all we can to write good memoir, hire a coach, or simply watch TV, eat peanut butter straight out of the jar, and think about it for a few years?
I know what the writer Martha Brettschneider did, and the I know the superlative results. Let's read along with her and celebrate her new book, Blooming Into Mindfulness.

MFA or Hand-Picked Writing Advisors? I'll take the latter, please
By Martha Brettschneider
Years ago I thought long and hard about whether to go back to school for my MFA. I already had a masters degree, but had left my career as an international economist to raise my children.
My left brain had been in the driver's seat for most of my adult life, steering me in a direction that would pay off my student loans and give me professional credibility. But I had always been a writer at heart. Once the kids were in preschool, I signed up for workshops at the Bethesda Writers Center.
Though my right brain finally had the freedom to flex its creative muscles in my workshops, my left brain wasn't ready to give up control. You should get your MFA. You'll only be a credible writer if you have a title.
Fast forward a decade or so. Time and money constraints combined with an overseas posting took the MFA off the table. I knew I wasn't interested in teaching, so an MFA would only have been useful if I ever decided to write a book.
I continued to journal and write short creative non-fiction pieces over the years. When I was diagnosed with breast cancer in 2009, just before my 45th birthday, writing helped me process the experience. When I stumbled into mindfulness quite accidentally, writing helped me process the experience. When life transformed me—body, mind, and spirit—writing helped me process the experience.
The seed of a book germinated, but how best to cultivate it? As a former economist, it was clear to me that the time and money required for an MFA amounted to an inefficient use of my resources at this stage of the game.
But I knew I needed professional help to do the book justice. Investing in a carefully-chosen book coach would give me the quality control I sought. Who better than Marion Roach Smith, author of The Memoir Project, the book that had convinced me I had a worthwhile story to share?
Marion helped me separate the wheat from the chaff, striking the perfect balance of encouragement and honesty. If a scene didn't move the narrative forward, she gently suggested I leave it out. She pushed me to go deeper. She made me accountable. She gave me deadlines. For the year that it took to give birth to that book, Marion kept my writing process efficient, which is the highest praise a former economist can give.
Once the manuscript was finished, I expanded my hand-picked team of writing advisors, starting with a professional copy editor. Even with a clean copy in hand, I knew the book still had some rough patches. But my budget wouldn't stretch much more (I had decided to self-publish before I even started writing the book, but that's a longer conversation).
I expanded my team of writing advisors by asking ten more carefully chosen people to read the book. Each of them brought something different to the table. The review and revision process took another year, which sounds inefficient, but I needed to let the message percolate.
The time was well spent since I knew that I had vetted the book with my demographic, it had undergone thorough proofreading many times over, and I had touched up my message with a fine enough paint brush to send my baby into the world with confidence.
Blooming into Mindfulness: How the Universe Used a Garden, Cancer, and Carpools to Teach Me That Calm Is the New Happy, an excerpt
[The scene takes place shortly before my mastectomy in the summer of 2009.]
The little bit of free time I had before the first surgery was spent in the garden. It was the height of the spring planting season, but I knew I wouldn't be able to tend to anything too needy in the coming months. Planting my dahlia tubers was a priority. Knowing that I had the promise of those saturated blossoms in the fall helped me look beyond the difficult days that lay ahead. Weeding became more than weeding. I discovered myself clawing and stabbing at the earth with my trowel, gritting my teeth as I unearthed the roots of invasive, unwanted plants like so many cancer cells.
The doctors had explained that I wouldn't be allowed to lift anything for a few weeks after each surgery. Mulching was my pre-surgery act of defiance. Lifting and carrying dozens of forty-pound bags of mulch to spread over all of my freshly weeded beds gave me a feeling of empowerment that I hoped would carry me through my days of confinement. I lugged countless gallons of water from my rain barrels to my planting areas, water sloshing over the edge of my bucket and splashing my feet as I climbed the back slope again and again. My hope was that an extra big drink of water before my first surgery would tide my plants over if it didn't rain during my convalescence.
Although I wasn't yet conscious of the connection, the physical exertion involved in these "hard labor" projects and the sensory experience of tending the plants (the silky feel of hydrangea petals, the porcupine feel of purple cone flower seed heads, the cinnamon scent of cranesbill geranium) crowded out the crazy-making thoughts that filled my head whenever I remembered that I had cancer:
But you don't really have cancer! It's only Stage 0!, my ego voice would say. Even though the doctors say you have cancer, your cancer doesn't measure up to other peoples' cancer! If you had Stage 3 or Stage 4 cancer, then you would really deserve some attention. If you had Stage 3 or Stage 4 cancer, and really had to worry about the prospect of dying, then you would deserve a new pair of boobs.
Emotionally, I was so caught up in my confusion over whether I should feel good or bad about coming out of cancer with larger, lifted breasts (would I still be "me" or something plastic and less credible?) that I didn't give much thought to the mastectomy itself. Since I had never relied on my breasts for my self-esteem or sense of femininity, I didn't think that losing one would be that big a deal. I was getting rid of the cancer, literally disposing of it, which was all that mattered. I was also in decent physical shape, so I didn't worry too much about the recovery period. In my head, the math was simple. A couple of surgeries and a few days of recovery versus six weeks of daily radiation appointments and the potential for scary side effects, not to mention the constant worry about whether the cancer would reappear in my deformed Elephant Man breast.
Reprinted by arrangement with Damselwings Press. Copyright © Martha Brettschneider, 2016.
Author bio
Martha Brettschneider is an author, blogger, and award-winning photographer with a passion for inspiring mindfulness, the practice of finding beauty in the present moment. She stumbled upon mindfulness teachings after breast cancer forced a reorientation of every aspect of her life—body, mind, and spirit. She chronicles her journey in Blooming into Mindfulness: How the Universe Used a Garden, Cancer, and Carpools to Teach Me That Calm Is the New Happy (January 2016). She lives in Vienna, Virginia, with her husband, two sons, and a rascally golden retriever puppy who takes great pleasure in eating her garden. Visit her online.
HOW TO WIN A COPY OF THE BOOK

I hope you enjoy Writing Lessons. Featuring well-published writers of our favorite genre, each weekly installment takes on one short topic addressing how to write memoir.

It's my way of saying thanks for coming by.

Love the author featured above? Did you learn something in the how-to? Then you've got to read the book. And you can. I am giving away one copy, and all you have to do to win is leave a comment below about something you learned from the writing lesson or the excerpt. I'll draw winners at random (using the tool at random dot org) after entries close at midnight Monday, March 28, right in time for the next installment of Writing Lessons. Unfortunately, only readers within the US domestic postal service can receive books.

Good luck!