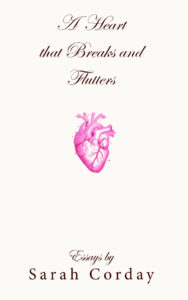 WRITING ADVICE IS SERIOUS BUSINESS. I know, I am a memoir coach, and I treat each of the problems of my clients as if they are my own. The truth is that we all need someone to whom to pitch our stuff, listen to our drafts and be invested in our success. That is the first thing I tell every young writer. I met Sarah Corday through my coaching business and, it turns out, I was not the only writer she listened to. She also follows the advice of the inimitable Nora Ephron, one of the truly greats, whose writing lives on despite her tragic death. My writing advice? Listen to Nora whenever you can. But right now, listen to Sarah, whose new book I just got in mail.
Taking Writing Advice
by Sarah Corday
Nora Ephron said "I can't understand why anyone would write fiction when what actually happens is so amazing."
On this, and just about every other opinion she proffered, I heartily agree with Nora. Her creative writing, along with that of other well-known essayists and memoirists, was one of several inspirations that led me to begin writing my own collection of essays in late 2013. When finished, the collection covered everything from humorous childhood insights to Sedaris-like family foibles to a tenuous relationship with left-brain mathematics.
For me, the challenges of writing this book were primarily mechanical. How to structure the essays, what to include, what to leave out, and most dreadful of all, how to conclude each one – these were the mentally draining and confounding aspects that repeatedly made me wonder why I hated myself so much that I signed on for such a mammoth, tedious task.
But as for what to write about – ah, this was the best part of the process, the part I relished. As I typed each sentence, revising and editing while chewing my lips, I experienced great thrills and excitement from recalling certain piquant moments and then, with the help of my editors, enlarging upon them until the characters and narrative developed on the page. There was my fifth-grade art teacher who actually told me, "Don't quit your day job," a cluster of crafty Girl Scout leaders, and a blond-bobbed "new girl" who swiftly took over a classroom of first-graders with a singular, lofty raise of her hand. And there was my mother, the vivacious storyteller with a predilection for sustainable compost and a near-clinical obsession with one particular yoga pose.
A total of sixteen essays, which I self-published this past April, became a vulnerable memoir replete with so-good-you-can't-make-them-up personalities along with wacky, poignant, and humorous anecdotes. As Nora said, what actually happens is amazing, whether you've lived a Hollywood life or not. Like scraping the saucy remnants from a roasting pan, memoir is about gathering the juicy bits, those savory details, and then crafting them into paragraphs. It's about observing real-life people and sculpting them into characters by extracting the humor and irony from everyday moments, allowing what was otherwise mundane to morph into something meaningful.
Fiction will always have its place on library shelves and coffee tables in living rooms around the world. But memoir, with its raw, unscripted, so-strange-it-has-to-be-true makeup, will always be among my favorite genres of literature, both to read and write.
I'm only guessing, but I think Nora would say likewise.
A Heart That Breaks and Flutters, an excerpt
Vermiculture
My mother is in the basement of my grandmother's condo, playing with her worms. This is the actual term she uses, "playing with her worms." It sounds innocent, disturbing, and environmentally-conscious, and it is. It is all of these things.
Vermiculture is one of her addictions. At first we thought it was a phase, a temporary obsession like papier-mâché or solitaire. But it never really went away. My mother acquired her first set of worms from a local organic farmer. She paid $15 for a pound – yes, worms weighed by the pound – and came home with a writhing, compact clump. At that point, no one thought much of it.
She read about how to care for them and what conditions were best. Discovering that moist, dark environments were where worms thrived, she bought large Rubbermaid containers, filled them with shredded newspapers, put the worms inside, and then transferred the containers to the basement. One container turned into three, then five, then eight, then they could not be counted. Rubbermaid containers appeared everywhere, teeming with worms.
My mother had discovered a gift: she had a knack for harvesting worms. It wasn't long before she was an expert, and she started volunteering at an elementary school, teaching classrooms full of kindergartners about coelomic fluid and clitellums. She mentioned writing a kids' book about worms. Magnets appeared on our fridge that said, "Yay! Worms!" Soon 90% of my parent's biodegradable garbage was being sustainably composted by a pantheon of worms, happily eating and copulating inside giant Rubbermaid bins. Rectangular bins appeared upstairs in the bathroom, "so they'll be warm." Aunt Sally took on a few bins. My grandma did too, though not willingly. "Granny's basement is the perfect environment for my worms," my mom told me, nodding her head reverently, as if she owed it to the worms to transport them to different family members' basements.
When she was "playing with her worms," she went into a zone. Unavailable while tending to them, she would comb through their soil with gloved hands, examining the apple cores and banana peels they'd devoured, preening over their rich castings.
My father's reaction to her worms was predictable. As was his pattern, he was at first neutral, then annoyed when he saw his house overtaken by Rubbermaid, then outraged at the time my mom spent "playing," then surprised and impressed by how talented she had become, then insistent that everyone should have worms and that composting was great. While at first he'd scorned the plastic ice cream buckets full of coffee grounds, potato peelings, egg shells, and wilted lettuce – all worm food – he turned to scolding anyone who had the gall to throw away their banana peel or leftover spinach. "Don't throw that in garbage – put it here!" He'd thrust the ice cream bucket toward the would-be worm-depriver and proclaim, "Jeanne'll feed it to her worms!" It was sometime between my high school and college years that throwing away worm food became cardinal sin.
So here we are, at Granny's house. We've made plans to go out for lunch after running some errands, but my mom has disappeared into the basement, eager to feed her "starving" worms. Earlier she had shared a recent discovery: "Worms love mango pits!" and now she paws through the bins, calling to me, "Sarah! Come look at what they did to this mango pit!" I go downstairs with the goal of reminding her we've made lunch plans and that she'll have to limit "play" time to under three hours.
"Okay," she says cooperatively, after I praise the pit. "Here's what you can do," she says, looking at me squarely.
She gives me the game plan, which is a calculated plot to maximize her time with her worms.
"When you leave the drug store, call me on my cell phone once. That way I'll know you're on your way and I'll know how much play time I have left. When you're in the driveway, call my cell phone twice. I'll know it's you and I'll come upstairs and we'll go to lunch. Okay?"
Before I can fully examine this plan and highlight potential snares, she's back to her bins. "Is your cell phone nearby?" I quiz. All too often similar plans have been botched when we discover too late that her cell phone wasn't charged or wasn't in her purse or wasn't anywhere near her, but was instead tucked in a snap pouch in the trunk of her car. "Got it," she says, peeling off a glove, holding up the phone, and then tucking it into the breast pocket of her chambray shirt. I hesitate, but agree to the plan. This is what it's like to be my mother's daughter.
Her plan is successful. Granny and I go to the post office and the drugstore, and when we leave I call her phone once. She doesn't answer, but she's not supposed to. She's elbow deep in worm poop and the call is just a signal anyway. We pull in the driveway and I call her phone again. Obediently, she appears a few minutes later, smiling hugely, proud that she's successfully torn herself away from her bins.
We come back to Granny's late that afternoon, and my mother goes back to the basement, saying, "Set a timer! I'll only be an hour!" At ten minutes to the hour, I go downstairs and tell her time's almost up. I hate that I've become her timekeeper. It's a role I loathe, but am oddly good at, which I loathe even more. She's focused and concentrated, aiming to really make her last ten minutes count. She replies, "Okay. My back hurts from bending over these bins. I think I'm going to have to do Happy Baby when I get upstairs."
Oh boy.
We're all familiar with Happy Baby. It is my mother's preferred posture. To get into Happy Baby, she lays flat on the floor and then pulls her legs up to her chest, so that her knees are right under her chin, mimicking a baby who is about to get its diaper changed. When watching a movie, my dad sits on the couch cracking open peanut shells, while my mom assumes Happy Baby on the floor next to the coffee table. Some mornings, after she wakes up, she pours herself a cup of coffee, as if to fool people into thinking she's going to start the day like a normal person, but moments later, she will be flat on her back on the family room floor, knees bent and tucked, like she is in utero and not ready to be birthed. Happy Baby is not an attitude reserved only for the privacy of her own home; she's liable to revert to it anytime and anywhere, requiring only a soft place to land and a judgment- free zone.
The timer goes off and she comes upstairs, which is great because sometimes the timer going off is merely her cue for saying, "Ten more minutes!"
I sit at Granny's dining room table, reading her Oprah magazines. Granny is across from me in her recliner, dozing peacefully in a full horizontal. My mother enters the living room and says, "Yes Sarah, I definitely need to do Happy Baby!" She immediately drops to the floor. Rolling onto her back, she spreads her arms out wildly and sloppily, pulls her knees to her chest and kicks her legs in the air. She breathes in and out loudly, and moans "Ooooh this feels so gooooood…I'm soo exhausted."
My grandmother wakes up, whether because she heard the moaning or felt the thud of my mother hitting the floor, I don't know. She looks at me with furrowed brows. "Where's your mother?" she asks, suspicious. I point to the floor where my mom is flattened and groaning. Granny leans forward and peers over her toes to my mother, approximately two feet away from the recliner. "What is she doing?" Granny asks, judging. "Happy Baby," I say, without looking up. I have my elbow propped up on the table, chin resting in my open hand, my eyes attached to the Oprah magazine.
Granny says, "Ohforgoodnesssakes."
I go to the kitchen where I brew a pot of Folgers. This is, after all, my grandmother's house, where depression-era frugality manifests itself most fully in the kitchen. In addition to there being no good coffee there is also no good milk and no good sugar, only a half-gallon of watered-down skim and hard, sticky packets of Sweet n' Low nestled expertly into an old peanut butter jar. I pour myself a cup, and one for Granny too, but my mom doesn't answer when I ask if she wants some. She's still in Happy Baby. "I'll get some myself," she says when I come to the living room with the cups. Heaving a sigh, she kicks her legs back, then rolls forward, propelling herself from the carpet. She stands up slowly and closes her eyes, letting the blood that's rushed to her head resume circulation throughout the rest of her body. After a slow, lengthy exhale, she opens her eyes and says, "Boy do I need to be doing Happy Baby more often!" She announces this like it's been years since the last episode, when we all know she does Happy Baby every day. "I feel soooo great!" Resurrected, she heads to the kitchen.
When she comes back into the living room, she is drinking coffee from a ceramic mug that sums up my entire feeling about her on this day. Its inscription is so apt that it should be my mother's slogan, and the fact that it's written and not spoken makes it all the more poetic, as though the universe has observed her and given its assessment. It says, "Pretending to be a normal person day after day is exhausting."
About the Author: Sarah Corday is a freelance writer and arts columnist at Chicagoings.com. Originally from Milwaukee, WI, she and her husband lived and traveled in South America for three years before relocating to Chicago. A Heart that Breaks and Flutters is her first book and is available on Amazon in both print and ebook formats. For more information, please visit: www.sarahjcorday.com
HOW TO WIN A COPY OF THE BOOK

I hope you enjoy Writing Lessons. Featuring well-published writers of our favorite genre, each weekly installment takes on one short topic addressing how to write memoir.

It's my way of saying thanks for coming by.

Love the author featured above? Did you learn something in the how-to? Then you've got to read the book. And you can. I am giving away one copy, and all you have to do to win is leave a comment below about something you learned from the writing lesson or the excerpt. I'll draw winners at random (using the tool at random dot org) after entries close at midnight Monday, July 4, 2016. Unfortunately, only readers within the US domestic postal service can receive books.

Good luck!
Save
Save
Save
Save
Save
Save
Save
Save
Save