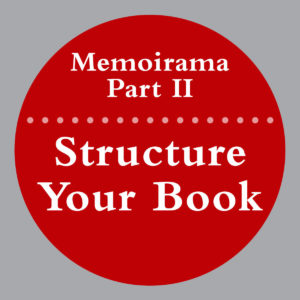 One 2-hour follow-up session to Memoirama where you bring your book argument and we map it out — beat by beat and/or chapter by chapter — to get you where you need to go to. Structure your book in one, small, live class.
This class will be conducted on GoToWebinar, and you will receive a link to admission two days before the class.
Here is the promise of the class:
Taught in one live class, this interactive experience allows you to send in the rough draft of your book's argument and work with Marion to map it out beat by beat, chapter by chapter, and scene by scene so that you can go home with a working structure. This is the class you've been waiting for.
In this class you will: Take what you learned in Memoirama — specifically, that you need an argument to write a memoir — and construct the perfect structure from that argument.
Prerequisite: This class is for all those who have taken Memoirama and now want to come back with that argument sentence, get it right, and get to work.
All live, microphones on, see your argument in a Power Point presentation divided up beat by beat and turned into a structure you can use.
In this class you will:
Experience the process of turning the rough draft of your argument into a powerful working structure
Get the chance to ask questions about that argument and how to deploy it
Who should take this class:
Anyone who has taken Memoirama
Anyone who is ready to get a fine working structure on which to build a book-length memoir
Those with memoir writing experience who are ready for the next level of work
Anyone who is dedicated to the success or his or her work
Technical requirements:
These classes are taught via GoToWebinar. I will send you the link to practice beforehand. It's easy.
I suggest using a  USB headset with microphone (using your computer's microphone can create poor sound quality). I use this one.
Specifics
Choose one date from those below
Price: 200 (plus Eventbrite processing fee)
Limited to 6 students per class
There are afternoon and evening sessions. Please select from the dates below.