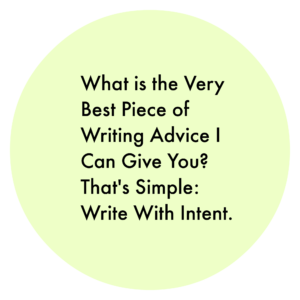 PEOPLE ALWAYS ASK ME for my single greatest piece of writing advice. I guess everyone is in a hurry, but honestly, that's the question I get asked more than any other. And I always say the same thing. I've say it at conferences. I said it to the Tribe Writers in Franklin, Tennessee, recently, as well as to a large group of memoir-writing psychoanalysts at another recent convention. I say it to my memoir writing students, memoir writing coaching clients, as well as to myself every single day. What is it? Simple. Write with intent.
What does it mean?
It means study the form you are writing, master that form and publish. It means never again using prompts or writing exercises, time-wasting morning pages or any other such stuff that does not get to the heart of mastering the medium in which you want to publish.
My experience with writing with intent began with my first major publication, a New York Times Magazine piece on the topic of Alzheimer's disease. Amazingly enough, there was a time when almost no one knew what this epidemic was, when few had heard of it and almost no one talked about it. I was the first person to write about it in the popular press and did so while still in my twenties for the greatest magazine in the world.
Problem was, I had never written a magazine piece before, had no idea what I was doing, and was well and way over my head with the assignment. What to do? I studied the form. I did not ask nor expect The New York Times Magazine to change their style, length of their stories, or format for me. Instead, I wrote to space, and to style, as you must do when you submit to Kveller or Bustle, The New York Times Modern Love column, or anywhere else.
When my clients ask me how to publish in any of those – or any other publications – I say the same four things: Write with intent. Study the form, master the form, publish the form.
Make it your new mantra. Stop practicing and start mastering, and you, too, will introduce the world to your work.
By the way, I am not alone in using this phrase. For the great Margaret Atwood, "writing with intent" made a fine book title, though she uses the phrase to mean something altogether different than I do. Interested to know more about her take on it? You can. Her book entitled Writing With Intent, Essays, Reviews, Personal Prose 1983-2005 is a good place to start. And if you love that, try her breathtaking Negotiating With the Dead: A Writer on Writing.
Either way you look at it, writing with intent is the way to go.
Want to know more about how to write with intent? Join me in one of my 90-minute online memoir writing classes called Memoirama. They happen twice a month. Love that one? Try Memoirama Part 2, and learn to structure your book.