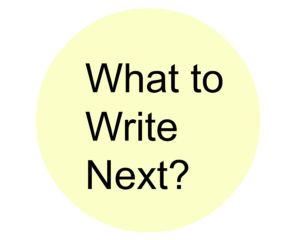 THE DILEMMA DU JOUR is what to write next. At least it is for me. In fact, the dilemma of the day, every day, is what to write next, isn't it? And this from someone who lives with a time grid on her wall, the argument for her current writing project also stuck on that wall, and a high quotient of writing students and clients who follow her advice. Yes: I admit it. I, too, struggle daily with what to write next.
How to move forward in your work depends on several things. In fact, I think it depends on three.
What's on deadline
What's in your head
What's in your heart
Let me explain.
Deadlines Beat All When Choosing What to Write Next 
Sometimes things are simply due. These win out every time over every other writing project and idea, and require the kind of discipline that may make you simply tie yourself into the chair. Oh, are you laughing? Try it. It works wonders. It's deeply difficult to get up from the chair and go plan the perfect pan of brownies, water your plants or tweeze stray, imaginary hairs if you are tied by your bathrobe belt into your writing chair.
No, no. Try it, please, though I caution you that you will not be the first writer I know to end up in the kitchen with a chair tied to you. But do send along a photo. I love those.
So, deadlines come first. That's the rule.
What To Write Next? Write What's In Your Head
But how about prioritizing what is in your head over what is in your heart? That's a tough one, indeed. What is in your head will mostly be influenced by what is on the news, what is on the calendar, and what is going on in your life. Those events will give you things to react to. Pieces that might come out of what is in the news, for instance, may be op-eds, those first-person pieces written from one area of your expertise. Right now, I have many clients who are exploring the great art and craft of writing op-eds. If you want to learn more, come see my memoir writing coach page and let me help you.
The more emotional stuff of life will provoke the personal essays like those in The Modern Love column of The New York Times, or the Personal History column of The New Yorker. See a list of some of my NPR All Things Considered personal essays for how to write your own.
If you know me at all, you know that I believe in and teach writing with intent. That means you put away all writing prompt, exercises and morning pages and let the news of the day, the calendar, or what is in the ether provoke you to write, and not depend on canned prompts by someone who is not invested in your success as a writer. Write for real. Study the form, master the form, write the form. That is writing with intent.
Now Write What's In Your Heart
But how about what is in your heart? Why does that come last? Because writing begins with discipline. All creativity is rooted in discipline. This is not to say that I am not always making notes on things that I see, hear and think, and always assigning time to writing things on spec. I am. But writing them comes later in the day, after the work that is due and the work that is provoked by today's news or today's calendar, is done.
But if you want to publish, you must first meet your deadline, next write in response to what other people are thinking, and then, when you can, make the time for the stuff that is really in your heart — those things you want to try and figure out. In other words, you must take the business aspects of writing seriously and learn to deploy your time, attention and talent in the order in which it is needed.
Sounds a little un-self-aware doesn't it? Sounds like a business. Sounds like writing for real is what it sounds like to me.
Want to know more? Come see me in one of my online memoir classes. Here's a little update on those: I've recently made a big decision. It's this: All my classes will be live. That's right. No canned, recorded or pre-recorded material. Ever. I believe you are worth my time, attention and talent. I have added several new classes, all of which are small and yes, live. Come join me in this great adventure. I'm waiting to help you.