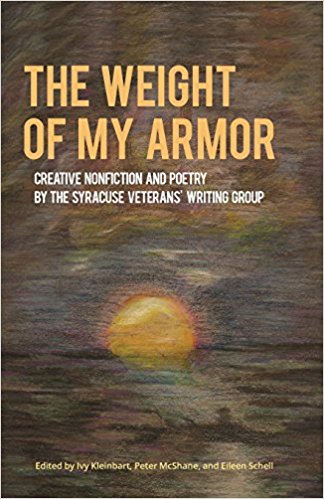 GETTING PUBLISHED IN AN ANTHOLOGY is something I regularly recommend as a goal to my memoir coaching clients. It's a joy to see your piece of memoir included in a book, of course, but the work to get included in an anthology can also be one of great collaboration and learning, during which a writer can absorb an education about writing and editing to theme and space.  Such is the case for Dan New, a friend and student, whose experience with the just-published anthology, The Weight of My Armor, will inspire you to consider getting your own work into an anthology.
I'm going to let him tell it in this guest post, but not before I say that there are few feelings I know as deeply moving as seeing in print something I first read in one of my classes. I remember exactly what I felt when I first read his essay, The Trip Home. The wonder has only increased over time. Seeing it in print in this fine new book is an almost inexpressible joy for me.
First, though, here is Dan's answer to my question of how his inclusion in this marvelous new book came about. Following, with the kind permission from his publisher, is The Trip Home.
One of Twenty One
By Dan New
Joining a collaborative project such as the anthology, The Weight of My Armor, has a back story to it. Mine was one of timing and inclusion. Retirement from work in February of 2012 began my journey. Looking for a post work gig, I signed up for your class, Writing What You Know, at the local arts center in September of 2012.
Reading my work in class then hearing critique and receiving written edits was the format of our circled class. I read my first piece with a trembling voice. Surprised by the positive feedback, it encouraged me. The class prodded me to send the piece to the local paper and then to read it on the local NPR affiliate. Done and done. My writing career launched and I thirsted for more. I continued the class semester after semester. I had much to learn and each class refined my skill.
I decided to google writing groups for veterans. I found that they existed in many cities countrywide. The Syracuse Veterans' Writing Group gathered only 2 hours down the road. I found their Facebook page and asked to join. Then I called and spoke to Eileen Schell, the co-founder. She invited me to a monthly group. I went. First, we meditated as a group under the guidance of Diane Grimes. Afterwards, I met with the other members in the group. Young and old, we split into smaller groups, we edited one another's work and gathered again in the larger group for refreshment and social time. It was so inclusive.
I spent two weeks during consecutive summers with The New York State Writers Institute at Skidmore for longer pieces of work. It was the same round table but my world expanded continually.
The idea of the anthology came at first as an email from Eileen Schell, Ivy Kleinbart and Peter McShane, co-founders and veteran writer respectively. By now, I had a growing body of work scattered between PC's, written and edited copies and work in continuing rewrites but a collection to choose from. When the call came late in July 2014 for submissions, I harvested three previous pieces into one reap, reworked and presented to the committee. Then held my breath.
An email, dated 9/17/14, brought congratulations from the editors, Eileen, Pete and Ivy as well as some forewarning. It felt like a modern version of the military draft. My acceptance was "contingent on your agreement to engage in some level of revision work in collaboration with the editors of this anthology." By now, I had become used to rewrites and edits. I didn't realize it would soon go to a more intense level. One necessary to the goal of publication. We had just 6 weeks to keep on a self-imposed deadline. I accepted.
Ivy drew the assignment to edit my work. First, we reviewed of the entire piece, then paragraph by paragraph, sentence by sentence and finally word by word. My piece changed before my eyes with the kindest of editors whose wisdom, educated me with the lightest brush and deepest insights. Tense, verb, word, noun and pronoun challenged and edited for the sake of clarity and readability. Oh sure, it sounds intense but Ivy always held a high standard and that led to improvement of my work.
Remaining involved editing with Ivy, she, in turn, would check with the other editors, Pete and Eileen, between our emails for their input. At the time, I failed to realize this guidance continued concurrently with the other 20 writers. Such a massive undertaking that I can only imagine. They crafted, shepherded, emboldened, and created this anthology to be ready to present to a publisher.
Not once did Ivy overstep her always polite manner. She always committed to the best work possible from me. She was relentless but yielding with a sense of humor, I'm glad to have her inside my head. The words are all mine but her spirit and the spirits of the other editors, writers and poets is infused in mine. Collectively, we missed the deadline by a good two months. In March of 2015, Eileen wrote to say that we had a completed Final Draft. We waited for word. By September, another email, a meeting with a potential publisher now scheduled. Everyone's invited, by now every man and woman, veterans and family, poets and writers, to help decide on the next step.
I Skyped in. They would wheel the computer's screen around so I could face whoever was speaking. The pitch was impressive. Collectively, the feeling of accomplishment gushed through our ranks.
An elected committee was empowered with our full trust to guide the continuing negotiations. By December of 2016, the final phase of production began. Photos and bios submitted to complete the package. More emails, final thoughts and a waiting silence began until 4/28/17 when the book hit the streets.
A gargantuan task only made final by the efforts of everyone involved and connected to our project. One that was democratic and all-inclusive. My thanks to Peter, Ivy, Eileen and the rest of our vets. This is the first of its kind publication. I'm proud to be in it.
The Trip Home
by Dan New
The engines of the jet we call a freedom bird warm on the tarmac. My time to leave this place is just minutes away. The April sun is burning hot. Sweat from the heat and anxiety of departure soaks my uniform. The soldiers with me call me a short-timer for I've so little time left here. I'm surrounded by men who are also at the end of their tours, but I know none of them. I arrived singularly in Vietnam, twelve month ago and so I'll leave.
The Military Police shout warnings that mimic the signs posted everywhere. Contraband includes drugs, weapons, grenades, live rounds, bayonets, swords, explosives, C-4. If you are in doubt about it, dump it now. This is your last chance. Soldiers found with any contraband are subject to arrest and military prosecution. You won't go home today
I'm clean, I tell myself, except for the drugs taped to my body. I know that they will not do body searches. The trained dogs detect only munitions. The military is always trying to scare the shit out of us, but I'm beyond their threats now. Just a few hundred feet to the plane, I think, and I'll be home free. My going home orders are in my hands, nothing can stop me now.
Hundreds line up for the final check of paperwork and a visual once over by the M.P.'s. I file by the bins containing the already shed contraband. It's an impressive collection of weapons, nothing one would want in their hometown. The perspiration trickles down my back. I try to hide any expression that might betray me.
We proceed past the inspectors and through the gates, onto the tarmac, then up the aluminum steps through the doorway of the TWA jet. I pick a window seat on the left side of the plane near the rear. The plane fills to the brim with soldiers loaded with expectation. The air-conditioning cools my body. I feel the discomfort of the tape on my skin that holds my illegal package snug to me.
The stewardesses patrol the aisles, checking our comfort. They are strikingly beautiful, the first sign of civilization in a year. Tall and lithe, they're precise in their uniforms and delicate in their manner. Still, I'm wary of their purpose. Anyone can be the enemy.
Seat belts snap into place. The cabin doors seal shut. Anticipation fills the body of the plane. The jet taxies to the runway. The engines rev and chomp to release their power. The plane rolls forward, gains speed and lifts into the sweet air. In unison, the passengers release a glorious roar. The thought of a rocket piercing the jet flies through my consciousness and then dims as we gain altitude. Out my window, the rice paddies and dirt clay roads fade beneath the clouds as if they never existed. In a few moments, I see the expanse of the green and blue South China Sea.
The plane is still climbing, pushing up into the atmosphere when the seat belt signs go dark and the smoking lamps glow on. Hundreds light up simultaneously and fill the cabin with a pale blue smoke. My inhalation holds a feeling of loss at bay if only until another fills my lungs. I think of those I've left behind and who I will not likely see again. Then I think forward to what it'll be like to land in my own country. There are 13 hours of flying time with stops in Japan and Alaska before I'm free of military control.
Time and miles pass. I nap and smoke, disembark and board again not once but twice as we travel up and over the curvature of the planet. My nervousness builds as the end of the journey nears. The doors open for the final time. As I climb down the stairs to the ground, a panic sets in. Will I make it past customs? I turn and push past those behind me in line to reenter the plane. Feigning something forgotten, I go back to the rest room, strip off my shirt and flush the package of drugs. I rush back to the line where I'm waved through without a second glance.
Processing out in the middle of the night happens quickly. Dollars are drawn, orders checked; a few last lines to stand in. A commercial plane ticket is printed and issued for each soldier. Then we disperse to find our way home, each of us alone on this last leg of the journey. A sense of relief washes through me.
Still miles lay before me now that I'm back in the States. Finally, I think, I can sit back and enjoy the rest of the ride. I've made it back to the world. There's no way to anticipate the road ahead, but I fantasize about my welcoming home, the reunions, the glad handing, the respect of those I love, I can't foresee how my expectations will turn to regrets as my journey continues through the months and years ahead. I'm five months short of my twenty-first birthday, naïve and war scarred.
I take the shuttle from Travers Air Force Base to San Francisco International Airport, and then prepare for yet another flight home to New York. Though I didn't know the other soldiers on my flight from Vietnam, their absence is palpable now that I'm alone in the San Francisco airport.
Fear without a name sinks in. I focus on getting home. It's the only place I know to go. But my family doesn't know I'm on the way. I realize I need to try to get in touch with them and approach a payphone. I hear all seventeen quarters tumble into the phone's deposit slot at the long distance operator's request, only to hear the recording announce, "The number you have reached has been disconnected." It's three in the morning on the east coast. I'm unsure of their new phone number and frustrated at losing all my change. I'll try to call for a local listing when I reach New York, I tell myself.
Walking unrestricted through the airport for the first time in a year, freedom is oddly harsh and foreboding. Without the protection of my fellow soldiers, I know not what to expect; I've no orders to obey, no tracer rounds to follow, no attacks to repel. My body is tense and tight.
I claim a newspaper left behind by another traveler and read it from front to back, hiding in every possible detail. I can hardly fathom the world I'm coming home to. I read about the riots after the assassination of Martin Luther King, Jr. and the calling out of the National Guard. I'm hungry but I remain at the gate for fear of losing my spot in line. In the Army, I've always had a spot.
Just as we're about to board, a businessman strikes up a conversation with me. I'm guarded, remembering the last words uttered when leaving Travis, "Don't wear your uniforms home, you are asking for trouble if you do."
"Where ya headed?" he asks.
"Back home," I say.
"Where ya coming from?"
"Overseas."
"Are you military?"
"Yes, sir."
"Vietnam?"
I hesitate.
"You don't have to talk about it if you don't want to."
"I was there yesterday," I say, reluctantly.
"Where's you uniform?"
"We were warned about that."
"You should be proud of your service."
"You know, I just want to get home."
"Well, you deserve at least that. Let me buy you a drink."
And so he does, again and again. My fear and loneliness and dread fade into a haze. The trip is nonstop, six hours, a movie and two meals. All sense of time and place eludes me as the 24-hour trip home continues. When the plane finally lands at JFK, it's evening. We shake hands and he wishes me luck. Exhausted and still a little drunk, I reclaim my duffel bag.
Coming down the ramp, a voice calls to me, "Do you need a ride?" This second stranger seems generous and kind. He carries my bag and places it in the trunk of his waiting car. Off we go, down the Van Wyck, over the Throgg's Neck. He's friendly and conversational all the way. I'm coming from a place where there was no need for cash money. So when he asks for a twenty before he pops the trunk, I'm awkward. I've misread his motive: no more free rides. I'm still operating from an overseas frame of mind. Disappointed with my presumption of his intentions, I hand him a couple of tens and nod a reluctant thanks.
At last, I'm home. I ring the bell and lug my duffel bag up five flights to my parents' apartment; my father answers the door. He shakes my hand. I crave a welcoming embrace but the moment passes without one as he ushers me into his home. I look around, searching for traces of my old home. To the left, on top of the bookcase are a lit candle and a red Bible opened to the book of Daniel. My father guides me into the living room where above the TV set, a pair of miniature lavender glass violins decorate each side of the picture of the Sacred Heart of Jesus. My mother sits in the corner under a lamp with her gout-pained foot on a hassock. She reads the Lives of the Saints and sips her frosted highball. She nods hello with her eyes over the rims of her glasses. I'm here in this new place that I call home but it's merely where my parents reside, my childhood home is but a memory.
The first thing my father does after I drop my bag in his living room is drive me to the bar. It's full of familiar faces. My friends at the bar buy me a drink. I watch and listen and wait to make sure it is safe. I notice quickly that no one asks me what it was like. No one seems to want to know. I'm not about to tell them. I 'm more than happy to just let it pass. And so my silence begins. It isn't a decision but only an ease of deception agreed to by all and violated by none. All of them—my family, friends, and relatives—say and ask nothing.
I have this whole lump of experience that has built up for a year and I don't know what the words to express it could sound like. Even more so, I 've no idea how ready they are to listen. Within me is a confused, angry, injured, aching 20-year old. My resources of expression are limited and stunted because of my need to simply fit back in, just slide back into my life as if nothing ever happened. It is too late now to live that pretense but I've no way of knowing the price, and so I continue in silence.
I don't know how to tell them that I changed irreversibly the first time I saw the night flares light up the sky in search of the sniper trying to kill any one of us. I changed when I realized there was no turning back once the trigger on my weapon was squeezed and its recoil pressed against my shoulder. I altered my future when I lost my virginity to a prostitute on a soiled mattress rather than risk dying a virgin in a war zone. I could never again fish in a river as I had in my childhood once I'd seen the headless and burned corpse of a soldier floating by. I helped retrieve his remains, never knowing if he was ours or theirs. My heart hardened when I came upon the lifeless body of a hanging fellow soldier who had lost hope. My faith had lessened as I watched a monk set himself on fire on a village street. Nothing that happened that year could be turned into casual conversation around our dinner table or entrusted to a group of buddies drinking beer at the local watering hole. Its pronouncement would either shock or bounce off the veneers of the uninitiated. So I relegate all of it to my insides. It'll only begin to manifest years later in fits of rage, drunken stupors, vacant stares, in the guise of overwhelming emotions, and in moments when my spirit seems to vacate my body until my fear is safely stored away again.
I return home later that night to my parent's apartment. My bed is the convertible Castro in the living room. The mattress is too new to unfold when I try to fall asleep. My body is the weight needed to hold it flat to the springs. I wonder if my friends sleep well back there in Vietnam. Sleep does not come to me for a long time, for there are no flares to light the night sky.
Author bio: Dan New was born in New York City. Drafted into the US Army  in 1966, he served in Vietnam during the TET Offensive and Counteroffensive of 1968. His writing has been published in various newspapers and national magazines and he has read his work on public radio. This essay is published with the kind permission of Parlor Press.
About the book: The essays and poems in The Weight of My Armor include the work of twenty-three members of the Syracuse Veterans' Writing Group, which meets monthly on the Syracuse University campus. Since 2010, the group has served as an intergenerational community where veterans and military family members write about their lives in and beyond the military.
HOW TO WIN A COPY OF THE BOOK

I hope you enjoy Writing Lessons. Featuring well-published writers of our favorite genre, each installment takes on one short topic addressing how to write memoir.

It's my way of saying thanks for coming by.

Love the author featured above? Did you learn something in the how-to? Then you've got to read the book. And you can. I am giving away one copy, and all you have to do to win is leave a comment below about something you learned from the writing lesson or the excerpt. I'll draw winners at random (using the tool at random dot org) after entries close at midnight Monday, June 19, 2017. Unfortunately, only readers within the US domestic postal service can receive books.

Good luck!