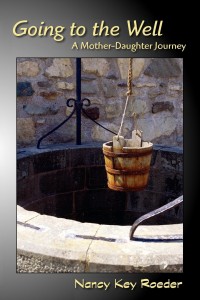 WRITING SOMEONE ELSE'S STORY might, at first, appear to be a straightforward assignment. Unless, of course, that other person is your mother. Then, just what does the story become, as you learn family tales, secrets, and gain insights into the person who raised you? No doubt the process changes you. But what does it do to the story? Oh, how I love this topic, and to bring it to you, let me introduce you to Nancy Key Roeder, author of Going to the Well, A Mother-Daughter Journey, another book from the fine Plain View Press. Read on.
Writing A Memoir in Two Voices
By Nancy Key Roeder
Autobiography, biography, or memoir?  I always knew that I would write my mother's story but was never sure which approach to take. She and I had shared extensive conversations stretching over sixteen years, all recorded on cassette tapes.  Here was oral history of growing up in rural America in the early 1900s. Here were family secrets revealed that I had never known. Here was a saga of traumas, tragedies, and ultimately, triumphs. It was a tale just begging to be written. But how best to do it?  First person autobiography as told to me? Third person biography?
Her voice on the tapes often had cadence, simple language with the feel, at times, of poetry.  Some segments were told so beautifully that they left me stunned. This was a voice that I had not known. I recalled from my growing years her curt words, correcting my faults and urging me to be perfect in all matters of life. Clearly, there were dimensions to my mother that had remained hidden behind her strict, authoritarian ways.  Her account of her early life helped me to understand and to forgive. The smooth flow of her words washed over me, cleansing memories best forgotten. It was as if she had been longing to tell me – but we had never before let ourselves be open to one another. The only way, then, was to let her tell her own story, in her voice.
But wait. There was another element – my questions and comments, and the change we sensed over time of becoming much closer. In fact, the entire journey through these conversations led to some reconciliation of old mother-daughter wounds.
I listened again and again to those tapes, hearing her voice and mine, struggling with how best to communicate the dual layers of feeling that emerged. Finally, I realized that the only structure that made sense was to allow for two voices, casting the narrative as a "double memoir."  Although the primary point of view is hers, I could not discount the impact that our talks had made on me, so I added in material from my own perspective. Some came directly from my words on the tapes. Some came from my memories as she triggered flashbacks. The most challenging part to write involved my reflections on the unfolding story.
My mother died at age 103 in 2002. Born in 1899, she had a foot in three centuries. While that in itself is remarkable, I did not write about the societal changes she no doubt encountered, but rather an intensely personal story that could have taken place anytime, anywhere.  I have to believe she would have been pleased with the result, which has the universal mark of the "heroine's journey" – a classic quest tale.  Selecting this method of doing a memoir is not for everyone. But in the end, doing my book this way, I believe, honored the integrity and truth of both voices and the satisfying outcome that we both experienced.
Going to the Well, an excerpt
(Author's voice)
To begin our interview, we chose a warm September early afternoon. The morning coastal fog had lifted, transforming itself into wisps of clouds scudding across a cornflower blue sky. Mother arrived punctually as always. We hugged briefly and greeted each other warmly. We chatted about the lovely weather, as all strangers do…
I had prepared tea, and despite some initial awkwardness, we managed to exchange pleasantries…
My hand shook a bit as I poured the tea. The cup clattered on its saucer as I handed it to her. Shyly, I met her hazel eyes flecked with green. Behind them was that calm, mysterious look that I never had been able to fathom.
Realizing that we could use more light, I pulled the drapes and slid open a glass door so that we could enjoy the fresh air. Our  home was built on a hillside so that looking west, beyond the deck, we caught a perfect view of the Pacific Ocean.
We sat staring at each other, with neither of us able to utter a word. The ocean was out there, miles away, yet seemed so near, so present. Gentle breezes carried in the scent of eucalyptus trees, caught the edges of the gauzy drapes, and lifted them into rolling billows, as if some über spirit had gathered up the ghosts of the past and blown them our way to conjure up our memories.
She nodded, and I turned on the tape recorder.
(Author's mother's voice)
We called it Twin Oaks Farm. That's because of the two wonderful oak trees in our back yard. There weren't any others like them around our property, but I have heard Mother say—I don't know how she knew this—these two great oak trees were from the original forest that had been cleared off for farming. And there were apple trees galore! The previous owner had planted them so that each kind of apple would ripen throughout the growing season, starting in May, on through the summer into fall or early winter. We made pies and applesauce and apple butter gallons and gallons of it—which we cooked in a copper kettle over an open fire we built in the yard. There was apple cider in the fall, but it didn't last too long. We made sure we drank it up before the hired men could get to it. They got really happy as it fermented, you see. On those crisp October evenings, Aunt Em would come over, and we'd all sit around eating raw apples while Frieda played the organ and we all sang hymns. I like to think that it was apples that got us through those hard winters. To this day, when the leaves begin to turn, I think of apples in our cellar and can still smell them and taste their tang.
Author's bio
Nancy Key Roeder is a retired high school English teacher.   She grew up in New Mexico, beginning her work career as a reporter and feature writer for The Albuquerque Tribune. Subsequently, she published numerous free-lance articles and essays in local and regional newspapers and nationally distributed magazines. She holds a B.A. in English from San Francisco State University and a Master of Social Science degree from the University of Colorado at Denver. Her book, Going to the Well: A Mother-Daughter Journey was published by Plain View Press in late 2011.  A resident of Denver, Colorado, she is currently working on her second book, a reflection on father-daughter relationships. You can reach her at her website.
AND THE WINNER IS…

I hope you enjoy Writing Lessons. Featuring well-published writers of our favorite genre, each installment of the series will take on one short topic that addresses how to write memoir, and will include a great big book giveaway.

It's my way of saying thanks for coming by.

The contest for this book is now closed. Please see the next installment of Writing Lessons.

The winner of the book is Patti M. Hall. Congratulations, Patti! I'll be in touch to send your book.