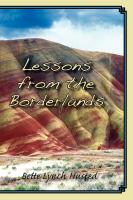 HOW TO TELL a difficult tale? It's a topic Bette Lynch Husted, our new guest blogger, eagerly took on when she suggested writing about a very under-reported aspect of diversity — class.  I was delighted. I think you will be, as well. Read to the end to find out how you can win a copy of Lessons from the Borderlands, another fine book from the ever-wonderful Plain View Press.
How to Tell The Truth About Class
By Bette Lynch Husted
Remember when Henry Louis Gates, Jr., was suspected of trying to break into a house that turned out to be his? "Why did he get so upset?" a friend asked me. I tried to explain, but it was only when I said, "He was just off the plane from China" that my friend could empathize with Gates's frustration and anger. He had never experienced racial profiling, but he'd flown home from China himself.
Isn't that a major reason that we read, and write, memoir? Our personal experiences—especially with gender, race and racial history, and social class—color the way each of us interprets the world. But by hearing each other's stories, and by honestly examining our own, we grow as human beings and little by little begin to heal the cultural wounds that can divide us.
Yes, but. We all know the difficulties of telling these stories. And if it's hard to talk about racial and gender issues, it can feel almost taboo to talk about class.
"How can you be so open?" people would ask me after Lessons from the Borderlands  had been published. After all, mine wasn't a heroic story; I wasn't a girl from a poor family who had become a supreme court justice like Sonia Sotomayor or a Pulitzer prize-winning journalist like Rick Bragg, both of whose memoirs I admire. I had simply grown up yearning for stories other than the ones I was hearing, which were limited not only by our town's one-room library and poorly funded school but by the culture around me—all those lessons of class and race and gender we were supposed to absorb—and had become a teacher as a way of offering other "borderlands" listeners access to more stories and more possibilities. But my teaching career, which had begun in the heady days of Martin Luther King Jr. with a sense of infinite possibility, had come to an end during the painful ironies of No Child Left Behind and the business model of education, and all too often I was still finding myself limited by what I had internalized from those early lessons, especially the ones about social class.
Yet I wanted to honor the intelligent, brave women in my family. I wanted to honor my students. 'Here's what we're really like,' I imagined myself saying. I wanted to face the clerk who had asked me, "Are your hands clean?" with words this time, not stunned silence. I wanted to break my own taboo. Like you, I had stories to tell. If I told you mine in a way you could hear and understand, maybe you'd tell me yours.
Readers might need an introduction, so I began with a scene that would lead into musing about silence and stories. (I'd been eating with friends in a restaurant; the hostess couldn't find our reservation and had seated us only reluctantly. Earlier that day we had talked about class, and someone had said, "But after you go to college, doesn't everything change?")

Lessons from the Borderlands, an excerpt
By the time we have ordered wine and finished the appetizer and asked for a second one, an amazing creation of tiny delectables to wrap in grape leaves, most of our [hostess-allotted] hour has ticked away, but no one else seems to have noticed. I have decided on the salmon, so when Aaron tells me that tonight's specialty is also a salmon dish, I say yes. The special is something they can serve quickly. The light has dimmed and by our table's candle I can barely make out what's on my plate when the food arrives. It's the same salmon the people who have lived along the Columbia River for centuries skewer on willow sticks that lean toward the fire's glowing coals, I tell myself—the kind they'll be honoring at the longhouse on the next Salmon Feast. The fish I see on license plates on every road in Oregon. It has a slightly different flavor, but it's very good.
Then my fork finds a mouthful of salmon touched by the dark sauce spreading over one end of the fish and onto whatever is next to it on the plate, a mysterious heap of rice or vegetables I can't quite make out in the dimness, and something burns a cindery hole down toward my heart. My God. It's the hottest thing I have ever tasted. I reach for my glass, a small, delicate thing holding perhaps a half-cup of water. My throat has nearly closed. Will I be able to breathe? The water dissolves against the roof of my mouth.
But I am still alive. No one has noticed my panic. I look at Brooke's water glass. Should I? No. No. Shallow breaths; no, deep. Nothing works. Another black-and-white waiter with a water pitcher weaves through the tables, and I catch his eye. Again he comes, and again. Jan is telling a story that makes everyone laugh, then listen earnestly. I am not going to die. The pain has subsided, I tell myself, because I am bearing it. It must have become bearable.
"This is so good," says Brooke. Jan's halibut is wonderful, too. The young waiter returns, filling my glass for a fourth time. "I can tell who had the special tonight," he laughs. "They're the ones wanting all these refills!"
"May I have a bite of the salmon?" Franny asks. Sure, I say, but be careful. It's very hot on this end. Franny takes a bite, then leaps up—napkin to her mouth, her fork clattering onto her plate. She runs for the restroom.
"I wondered why you changed your order from the regular salmon to this," Jan will say as the story unfolds. "But I thought you knew what you were doing." I roll my eyes; everyone laughs. Habanera peppers, Brooke explains. The hottest known variety.
No, someone will correct me later, offering as evidence a list of the twenty-five hottest peppers: habaneras are second. Not really inferior, just not quite as desirable.
Author bio
Bette Lynch Husted lives and writes in rural Eastern Oregon. Her first collection of memoir essays, Above the Clearwater: Living on Stolen Land (OSU Press 2004), was a finalist for the Oregon Book Award and WILLA Award in creative nonfiction. In addition to Lessons from the Borderlands (Plain View Press 2012), her personal and memoir essays have appeared in Fourth Genre, Northwest Review, Prairie Schooner, and other journals. At This Distance (Wordcraft 2010), her first full-length poetry collection, followed the chapbook After Fire, published by Pudding House Press in 2002. A Fishtrap Fellow and recipient of a 2007 Oregon Arts Commission Award, she has just completed her first novel. You can purchase her book, Lessons from the Borderlands on the Plain View Press site.
AND THE WINNER IS…

I hope you enjoy Writing Lessons. Featuring well-published writers of our favorite genre, each installment of the series will take on one short topic that addresses how to write memoir, and will include a great big book giveaway.

It's my way of saying thanks for coming by.

The contest for this book is now closed. Please see the next installment of Writing Lessons.

The winner of the book is Diane Heath. Congratulations, Diane! I'll be in touch to send your book.