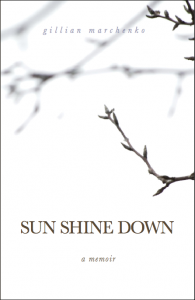 THE MOST FREQUENTLY ASKED WRITING QUESTIONS have to do with process. "How do you do it?" People ask this more than anything else, and when they do, tucked into that inquiry is the hour-to-hour, at the desk or standing up, alone or at the library, music on, music off, what hours of the day, and more. Why? Because they want to succeed. Simple as that. When author Gillian Marchenko and I began discussing her contribution to Writing Lessons, we quickly agreed that she take on process and share hers with you. Please read on.
I'll show you mine if you show me yours
Inviting readers into your memoir process
By Gillian Marchenko
When you are working on a book length memoir, do you show anyone your work? Franz Kafka, the author of The Metamorphosis, once wrote that "writing is utter solitude, the descent into the cold abyss of oneself." Although Mr. Kafka sounds a bit creepy, I get it. As a mother to four kids, I relish hours alone with clicking fingers and thoughts. It's just me and my laptop, or a pen and a piece of paper, and I'm hurled into a different time, place, or life. "How do I know what I think until I see what I say?" said the great E. M. Forster. I concur.
Solitude is a treasured gift in my writing life. But as I've delved into my career, the importance and benefits of collaborative writing have become undeniable. I've realized, with time, that my writing blurs. My business plan smudges. Enter collaborative writing.I mean sharing my work with others, helping fellow writers along the way, and receiving criticism and suggestions regarding my work. I need people. I need editors, and proofreaders, and cheerleaders. I need instruction, shared experience, correction.After I committed to writing Sun Shine Down, I looked into taking a writing class and got hooked me up with a great group. We read and discuss memoir, submit pages, and critique each other's work. This sort of collaboration with other writers has strengthened my writing muscles and encouraged me to persevere on the days I'd rather watch five straight episodes of Hoarders rather than write one word.
Collaboration helps keep the green monster at bay. Let's face it. All writers struggle with jealousy. I surely do. When I collaborate with others, whether I'm reading or editing someone's work, promoting Facebook fan pages, or having a friend guest post on my blog, it's more difficult to for me to be jealous. Instead of racing for the win, I become a fellow sojourner along the path.
Collaboration builds platform. Nine times out of ten, when I've helped another writer, he or she ended up helping me too. Like someone's post, share a fan page, host a blog parade. People will notice your generosity. And maybe next time, they will promote you.
Collaboration pushes deadlines. Whether you are submitting new pages to a group, or working with an editor on a freelance project, or in the final stages of line editing with your publishing house, deadlines push you. In order to write more, often, and better, collaborate with others. You will be forced to meet deadlines, which, in turn, will force you to write more.
Collaboration makes me an upstanding literary citizen. I'm convinced that as writers, we need to contribute to the literary society to which we belong. Read. Buy books. Share articles. Subscribe to magazines. And I would add collaborate with other authors. It is a win for all involved.
George Orwell said that "good writing is like a windowpane". I'm convinced that in order to write well, I need others around me holding the Windex bottle, spraying, and wiping my purpose, productivity, and prose clean with wadded up old newspaper.
Sun Shine Down, an excerpt
The summer before second grade I thought God ripped my arm off to teach me a lesson.
It happened on the playground at Cardinal Field—the social hub of Dryden, the small town in the thumb of Michigan where I grew up with my cousins. We were trying to make a fort out of
two tractor tires near the swing set. I was the oldest at seven. Gary was six, Jason was five, and little Mandy could not have been more than three. Jason and I shared a birthday, March 2, which in our minds made us smarter than the others. How clever of us to be born the same day.
Working together, we lifted one tractor tire and started to roll it to the other tire. "Hold it this way, Jason," I admonished my tow-headed cousin. "Mandy, stay back!" Gary told his sister.
It was all very serious. We had a job to do. I held the tire from the left side and Gary and Jason stood on the right. After moving a foot or so, the tall tire came crashing down on me. I lay there, my
body flung out, my left arm pinned. I tried to wiggle my fingers, but I couldn't feel anything.
"Mandy, go tell my mom I ripped my arm off!" My cousin's eyes looked like two empty white cups. She started to cry and took off into the fields, as her brothers bent down to lift the tire. "Leave it," I said. "My mom will be here in a minute." A sharp pain pulsed through my shoulder. The ground seemed to freeze like a Minnesota lake in the dead of winter.
I waited for help and thought about Daniel, a boy who wore a prosthetic. Daniel's leg wasn't like the rest of ours. He'd clank and clatter when he'd play tag, walking as fast as he could, trying to pass it off as a run. A thick leather strap looped down his leg and under his shoe. One day at school I came out of the girls' bathroom and stopped to get a drink from the water fountain. I noticed Daniel on the ground, wedged between the large, steel boys' bathroom door and its frame, naked except for his white underwear. When I saw him, I looked away—because of his underwear and because a knobbed leg stuck out, the other full leg tucked behind him out of sight. "Help me," Daniel pleaded. Crying, he fixed his eyes on me. My mother had taught me not to stare, but his lack of a leg fascinated me. It stopped where a knee should be, rounded, smooth.
I knew something was different about Daniel's leg; all the kids in our class did. But I didn't realize it was gone. A mixture of nausea and fear washed over me, and I turned and started back towards class. "Please, help me! Please!" I slipped into the classroom. Kids worked on math problems at their desks. I sidled up to the teacher's desk, returned the hall pass, and made my way to my seat. No one knew Daniel was wedged between the wall and the large steel bathroom door. What did I just see? How did he get stuck? I tried to wipe Daniel out of my mind. But every time I closed my eyes I saw him. I was afraid to tell my teacher he was naked and stuck, half way out of the bathroom. I was afraid to tell anyone he didn't have the bottom part of his leg.
A few minutes later a student from another class poked her head into the room and told the teacher about Daniel. "Class, keep working!" She rushed out. Kids started talking and laughing and acting up. I stared down at my wide-ruled paper and gripped my pencil. The morning the tire tractor pinned me to the ground, my older brother came through the field, pulled the tire off and carried
me home. Pain ripped through my arm. God was punishing me for not helping Daniel.
My mom inspected my swollen shoulder—its piece of bone sticking out—then rushed me to the hospital. My left arm was broken. The doctor had kind eyes and huge, soft hands. He explained my operation; I would take medicine that would help me sleep, and he would fix my arm and then wake me back up. One of his large hands rested near me while he talked—his fingernail beds perfect half-moons. Two hours later, I woke up in a room with Disney characters painted on the walls in red, blue, green and yellow. I noticed my arm was casted from shoulder to wrist. Somewhere, I have a
black and white picture of me in the room. I look small and sullen, drinking ginger ale out of a tall Styrofoam® cup with a straw. I remember being surprised I still had two arms.
Before seeing Daniel, I did not know there were people in the world without things like legs. Broken people existed. What a frightening discovery.
Author's bio
Gillian Marchenko is an author and national speaker who lives in Chicago with her husband Sergei and four daughters. Her book, Sun Shine Down, a memoir, published with T. S. Poetry Press in the fall of 2013.She writes and speaks about parenting kids with Down syndrome, faith, depression, imperfection, and adoption. Her work has appeared in numerous publications, including Chicago Parent, Thriving Family, Gifted for Leadership, Literary Mama, Today's Christian Woman, MomSense Magazine, Charlottesville Family, EFCA Today, and the Tri-City Record. Currently, she is working on a memoir about depression.Gillian says the world is full of people who seem to have it all together. She speaks for the rest of us.Follow Gillian and her family at www.gillianmarchenko.com.
HOW TO WIN A COPY OF THE BOOK

I hope you enjoy Writing Lessons. Featuring well-published writers of our favorite genre, each weekly installment takes on one short topic addressing how to write memoir.

It's my way of saying thanks for coming by.

Love the author featured above? Did you learn something in the how-to? Then you've got to read the book. And you can. I am giving away one copy, and all you have to do to win is leave a comment below about something you learned from the writing lesson or the excerpt. I'll draw winners at random (using the tool at random dot org) after entries close at midnight Monday, December 23, right in time for the next installment of Writing Lessons.

Good luck!