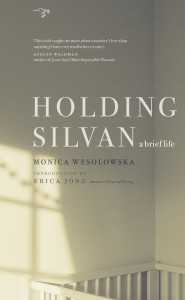 Next up in Writing Lessons, my guest teacher is Monica Wesolowska, a writer whose brave new book is getting a great deal of much-deserved attention. Deftly-written and smart, it is a primer in how to write the tough stuff. Here, Monica writes about how questioning your own work will guide you in writing memoir. She is next in a series of fine writers you will meet here, all of whom are going to teach us a thing or two about our favorite genre. Entries in Writing Lessons include a piece on how to write memoir, an excerpt, and a chance to win the featured book. Read to the end for more on the series.
Do you Have A Question?
by Monica Wesolowska
Each morning while writing the first draft of my memoir Holding Silvan, I'd wake knowing what scene to write next but not knowing what I'd learn from writing it. This was a new feeling for me as a writer. An exhilarating feeling. A scary feeling. A feeling strong enough to get me through a book. What motivated me to write—to snatch time from regular life—was a question: Did I love my son Silvan enough?
That was a scary question to ask. But I never forgot it. Whether consulting my diary entries, or hospital records, or writing a scene as small as buying Silvan a hat, I had that question in mind. Silvan was my first son. He had been damaged during childbirth. My husband and I had chosen together to forgo medical intervention and let Silvan die. Was that love?
Along the way, other questions arose. How was I clear-headed enough to ask the doctors if Silvan was so damaged that he should be allowed to die? Because of that question, I explored scenes from my childhood and found connections between our choice for Silvan and the case of Karen Ann Quinlan who died during my childhood. Or: Why did we resist taking Silvan home at first? Because of that question, I explored the different ways people deal with death. Also: Am I able to forgive those who seemed to "fail" us while Silvan was still alive?
Writing Holding Silvan was scary and sad but ultimately heartening. I came to the end of the book and thought, "Yes, I did love my son enough." Then I showed the book to others and they seemed to agree. Either that, or they agreed on the importance of my question.
If you're reading this, you must have your own story to tell. Everyone does. Maybe you've even started it. You've become overwhelmed by the size of your story, or the emotions in it. Maybe real life pulls you away. Or you worry no one will care. How do you get others to listen? Scenes are important. Details. Dialogue. Tension. Language. These are essential tools. But most important of all is the question. Do you have one?
Holding Silvan: A Brief Life, an excerpt
Another day, another hike. David's right to persuade me. Going into nature feels necessary now. We go up this time: deep blue sky, lush green hills beginning to flash the golden heat of summer. As I hike, I am narrating to myself, without even realizing I am, narrating to myself what is happening; and then my narration shifts suddenly to a vision of a book cover: Silvan, Silvain, Silvano. As the endorphins kick in, I begin to feel triumphant, as if the creation of a child out of words is as good as the creation of a child out of flesh. As if the redemption in our suffering will come from the giving of Silvan to the world in the form of a book. Silvan, Silvain, Silvano: My Translatable Child. My life, Silvan's life, will have been made worthwhile if I can give him to others in words. Then I hear my deluded chant and can't go on.
I throw myself to the ground.
I'm on all fours, staring at the ground. Inches from me is a patch of wild chamomile. Rising from the fuzzy green are little yellow flower-balls that sway at the tops of their stalks like treetops in a silly, powder-puff forest. When was the last time I observed a patch of weeds this carefully? The sun warms my back. David waits.
If he worries that other hikers will come along and observe my freakish grief, he says nothing. But at the same time, he has temporarily run out of consolation. He seems almost to have run out of tears. He's impatient now with my need to stop for every wave of grief. He stands higher up the hill from me, hunched in his gray fleece and jiggling one leg the way he does when he's anxious to get moving again, looking back and forth between my prostrate form and the yellow scar of path that disappears around a corner up ahead. He is enduring his grief by keeping busy, by consulting outside doctors, dealing with insurance, filling the car with gas while I am left free to feel every ripple of emotion. The postpartum hormones coursing through me amplify my grief, make it come in waves that bowl me over. But I can't stay like this all day. I can't sustain this drama. The feeling is passing. The need to be prostrate is gone. There is nothing to do but go on.
I heave myself upright.
We climb.
Copyright c 2013 by Monica Wesolowska.  Excerpted from her just-published memoir, HOLDING SILVAN:  A Brief Life, published by Hawthorne Books.  All rights reserved.  Reprinted by arrangement with Mary Evans Inc.
About Monica Wesolowska
I ask all the authors to provide their own bios. Here is hers.
Monica Wesolowska is the author of the memoir Holding Silvan: A Brief Life (Hawthorne Books, 2013) which explores the love and ethics behind forgoing medical intervention for her newborn son. With an introduction by Erica Jong, the memoir has been praised in the Boston Globe, Kirkus, and elsewhere for transcending its sad topic. Wesolowska has published her work in many literary journals and anthologies including the Best New American Voices series. A former fellow at the Fine Arts Work Center in Provincetown, she has taught creative writing at UC Berkeley Extension for a decade. Read more at her website. You may follow her on Twitter.
HOW TO WIN A COPY OF THE BOOK

I hope you will enjoy this new series, Writing Lessons, which will run twice a month on the blog. Featuring well-published writers of our favorite genre, in each installment the series will take on one short topic that addresses how to write memoir, and will include a great big book giveaway.

It's my way of saying thanks for coming by.

Love the author featured above? Did you learn something in the how-to? Then you've got to read the book. And you can. I am giving away one copy, and all you have to do to win is leave a comment below about something you learned from the writing lesson or the excerpt. I'll draw winners at random (using the tool at random dot org) after entries close at midnight Monday, June 17, right in time for the next installment of Writing Lessons.

Good luck!