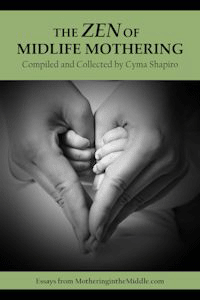 LOCATING AN AUDIENCE is the ultimate chicken and egger of writing. Do you think about them before you write, as you write, or only after you write? These are questions I get all the time. And they may miss the mark. What would it do to your writing if you accepted the fact that no matter what the topic, a group exists that wants to read your work? It might be freeing, right? I always tell my students that there is an anthology out there looking for their work, but this time I'm going to let the remarkable Joely Johnson Mork tell you about about writing for an audience. Contributor to a new collection called The Zen of Midlife Mothering, Joely is the right writer for the job. And if her name looks familiar to you, it's because she is the author of a piece I include in my book on writing memoir, a piece that has gone viral countless times. It's the unforgettable List That Helps With Loss. Welcome back to The Memoir Project, Joely. It's an honor to have you here.
Writing for An Audience

By Joely Johnson Mork
It's true that writing, at its simplest, is a solitary endeavor. It's you and the keyboard (or the pen), exploring uncharted territory. As a memoirist, however, writing can be more like charting unexplored territory.
This is where the danger lies: when we think that we are not only alone as writers, but as individuals living out our lives. To connect with readers, we must resist coming to the conclusion that we are anomalies — that what we experienced in life is so unusual that we can only scribble secretly in journals or write obscure blogs posts that get few (if any) hits. Instead, we must look closely to see where our worlds really do intersect with those of others. These others, I should mention, are probably also busily writing down the details of their journeys, thinking they are the only ones out there on the frontier.
What I'm trying to say is another truism of writing: There is almost no topic, written about with skill and honesty, which will not find an audience of like-minded readers. One way to launch an emerging topic or message is to have your writing included in an anthology.
In creating the new anthology, "The Zen of Midlife Mothering (Esssays from MotheringintheMiddle.com)," the first one written by midlife mothers, editor and writer Cyma Shapiro looked through nearly 570 essays to find "the best" stories regarding older mothering (first, last, or repeat-time), new older fathering, and the stories of people at mid-life, living with and caring for children.
I am one of those contributors and part of a growing tribe of women now finding ourselves mothers at a later age (42, in my case), who might have simply decided that our stories were not of interest to anyone else. In fact, there is a burgeoning group of midlife parents, as evidenced by the anthology, the blog, and other websites now targeting midlife parenting, and the readers who are eager for more. All of this energy makes writing about the relatively uncharted topic of midlife parenthood not only worthwhile, but positively attention-getting.
Here are some ideas for finding your tribe and becoming part of an anthology:
Dig deep to find what makes you unique. We all play multiple roles in life, but some of our positions are more unusual or unexpected than others. Do some heartfelt brainstorming and make a list of the places where you stand out. Then consider writing about what it's like for you to be a groundbreaker, a leader, or simply a loner in some way.
Research others like you. Discovering a blog, book, Facebook page, or Meetup.com group focused on your obscure talent, challenge, or situation can provide leads for potential publication – as well as a connection to community.
Consider contributing to or curating an anthology. Collections of memoir pieces have been popular ever since the first iteration of "Chicken Soup for the Soul" in 1993. Be on the lookout for calls for submissions for anthologies that highlight your niche. Search the Internet for "call for submissions" and "anthology" plus the topic you're writing on.
The Things We Do For Love, an excerpt from The Zen of Midlife Mothering

By Joely Johnson Mork
I spent a big chunk of my 30s and the beginning of my 40s living in upstate New York. It was an old boyfriend who first summoned me to the Saratoga area from Philadelphia. We thought we could rekindle our once-soulmated high school romance by my joining his grownup life, but that spark sputtered out not long after I arrived. Instead, I wound up single again at age 36, with a new personal vow that I would never again move my life to follow a man.
After that reality check of a breakup, I found my way to the nearby city of Troy, where I finally discovered real work and connected with a sincere group of friends. It was also where I met my husband and (eventually) gave birth to my son.
Unlike most women I know, I never expected to marry or have a family. Growing up in a broken home and something about practicing the "engaged detachment" of yoga since the age of 18 had led me to feel pretty distant from those very human goals. But I did get married, and the man who ultimately changed my mind about that is younger than I am by more than just a few years. On a crisp September wedding day, I am proud to say I was still holding it together at 39, and he was a very fresh-faced 26. The great majority of the time, this age difference has no effect on our marriage or on our lives. But then, not long after our fourth anniversary, a recruiter made a phone call, and the wheels of change started turning.
With a mere five weeks notice, my husband was offered a job that promised to do great things for his still-blossoming career as a software engineer. The only catch was that the exciting new position required our relocation to Seattle, an area where he grew up and where his extended family still lives.
Now, I'm no stranger to big moves. When I was around my husband's age, I moved myself cross-country and up and down the Northeast for work opportunities more than once. Every time it was an adventure, a monetary raise, and another rung up on the editorial ladder. That was my era of monk-like living. I didn't own anything I couldn't quickly jettison, and worked exclusively on a laptop computer that fit neatly into a messenger bag. I was intentionally single and blissfully childfree. My apartment-to-apartment maneuvers were quick and easy, and I moved on with mostly dry eyes.
By the time I hit 40, however, and had established myself as a successful freelancer, I thought for sure that I was done uprooting my life as a method of career development. But the fact was that I had married a man still in that early-career-phase where moving for work makes sense.
Living back in Troy, I had allowed myself to settle deeply into a community (making the connections I had avoided in the past), developing a yoga following, and even buying what had previously eluded me — an actual home of my own. All of this would have to be jettisoned if my husband was to accept the new position.
The real life lesson was, in part, in the challenge of marrying a younger man. With the job offer, it was clearly time for my husband to step forward in his work; it was certainly also an opportunity for my son to be surrounded by loving family he would otherwise see only rarely. To take advantage of these options meant it was again time for me to open myself up to unknown possibilities and follow a man into an unknown future. I wound up making the move as mindfully as I could, despite my reluctance and the tears that fell in abundance this time around.
In 2007, our wedding officiant spoke these words: "Marriage is a spiritual grinding stone. In choosing this particular person to make your life with, you are choosing to be affected. Each of you will be the means by which the other one grows."
The concept of a "spiritual grinding stone" might sound a bit harsh, but it's inarguably apt. All of our interactions — with friends, children, family, and especially spouses — have an impact; they "leave a mark," so to speak. These encounters force us to step (or stumble) outside of our comfort zones. I had to make this move and see this life change as a chance to grow for the two people I love most in the world. At the time, I could not think of a better way to do that than by being the means by which my husband and my family could flourish, even though that process called for leaving a comfortable and familiar life behind and staying open to what the next one would look like.
Author's bio
As a 46-year-old woman with a 3-year-old son and a 32-year-old husband, Joely Johnson Mork's life often takes a backseat to the needs and life stages of the other people living in her house. Joely has a master's degree in community health education and a certification in teaching yoga to people with cancer. Her son was born in 2010 after four miscarriages and a near divorce. A freelance writer and editor, her work has appeared in Prevention magazine and many other print and online publications. In 2011, she relocated to Seattle with her family, and she is still trying to find herself at home in the Pacific Northwest. Her excerpt is from The Zen of Midlife Mothering, an anthology compiled by Cyma Shapiro and published by Mothering in the Middle.
HOW TO WIN A COPY OF THE BOOK

I hope you enjoy Writing Lessons. Featuring well-published writers of our favorite genre, each weekly installment takes on one short topic addressing how to write memoir.

It's my way of saying thanks for coming by.

Love the author featured above? Did you learn something in the how-to? Then you've got to read the book. And you can. I am giving away one copy, and all you have to do to win is leave a comment below about something you learned from the writing lesson or the excerpt. I'll draw winners at random (using the tool at random dot org) after entries close at midnight Monday, February 10, right in time for the next installment of Writing Lessons.

Good luck!