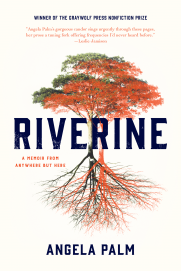 AS A MEMOIR COACH, I work with clients all over the world, teasing out their stories, reading whole manuscripts, restructuring works, performing content edits, serving as a writing coach, cajoling next sentences/paragraphs/chapters from eager writers, and more. And that's the easy part. The hard part is helping someone determine exactly how to tell a tale. After all, there are myriad forms of memoir. And just when I think I know them all, along comes another one. This time it's "essayistic memoir."
The term is getting a lot of attention these days and, as a result, I'm getting more and more clients who want to write essay collections and publish them as books. But here's the bad news for the potential writer – or, for the reader, the good news: The two are not the same thing.
The term "essayistic memoir" refers not to a mere collection of essays by one author, but instead, as beautifully defined here in a Christian Science Monitor review of Angela Palm's "Riverine," one in which "we are left less with the arc of a life than with a vision of how an intelligent, omnivorous mind negotiates a life." For other examples of this exciting genre, the review cites Maggie Nelson's "The Argonauts" and Eula Biss's "Notes from No Man's Land." Great books, both of them, in their wide-range of what gets intellectually tilled in the pages.
Palm herself has referred to her critically-acclaimed book as more of a "braided essay…reading like the inside of a mind," and I agree. It illustrates how we maunder, use and shape what we know to live life, and along the way take on many topics. But it is not to be mistaken for a series of essays on many topics.
I edit essayistic memoirs perhaps more than any other sub-genre, and here's the tip I can pass along: Do not merely go learn ten new skills – mindfulness, and its attendant parts, for instance – and repurpose what you know on the page for the reader. Instead, you need to trowel further into your own life's rich earth and use and grow and cultivate what you already know, what you are learning every day, and what you are considering, and form that into a cumulative, cohesive argument about one single thing. Doesn't sound like much of a difference? It is, I assure you. It's the difference between selling that book and not, having readers and not, and being a successful writer and not.
As I wrote last week, read those book reviews and learn what is selling and why. Reading this review in The Christian Science Monitor of Angela Palm's "Riverine" helped me think this through. See what it might do for you.
And write on.