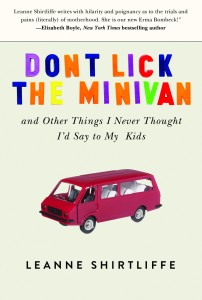 In a new series called Writing Lessons, my first guest teacher is Leanne Shirtliffe, who tackles the topic of characterization. Her book, Don't Lick The Minivan and Other Things I Never Thought I'd Say to My Kids, is just out this week from Skyhorse Publishing. Leanne will soon be joined by a bunch of fine writers you will meet here, all of whom are going to teach us a thing or two about writing memoir. Writing Lessons will include a piece on how to write memoir, an excerpt, and a chance to win the featured book. Read all the way through for more.
Characterization

By Leanne Shirtliffe
When I finished one of the many drafts of my humor memoir, Don't Lick the Minivan: And Other Things I Never Thought I'd Say to My Kids, I sent my manuscript to Beta readers. I remember pressing send, feeling like I'd leapt from a plane with a parachute packed by a sticky-fingered toddler. Two of my Beta readers gave me both honest and harsh feedback. "We love it," they boasted in separate emails, "but…"
Their hesitation was over the same issue. Neither of my Beta readers thought I had portrayed my husband Chris fairly.
Part of the reason they felt my characterization of him was flat was because they knew my husband, from the stories I shared with them over wine and also from meeting Chris on a couple of occasions.
I thought about their criticism for days. Then I approached my manuscript as an objective observer, looking only at references to Chris. They were right. I knew my husband was often tender, loving, and kind; I lived with him, after all. Still, by constantly going for the joke, I portrayed little of that side of him. Unless I did some revision, my readers would see nothing but a funny, TV-watching, caricatured dad who was a foil for my jokes.
I dreaded these revisions: Would they take away my humor? My voice? The pace?
I feared needlessly. I let his actions speak for him. I remember one example vividly. It was the scene, included as an excerpt below, where I'm stressing at the side of the crib of our sleeping newborn twins, wondering if they're dead. It was one of several scenes where I solved the flat-character problem by adding a dialogue beat—an action interwoven with the conversation—in this case my husband kissing my forehead. It was a simple addition, an action I'm sure he did. The use of basic body language demonstrated his inner feelings but didn't interrupt the repartee between us; instead, it fleshed out his character and our relationship more.
These revisions made my writing and the book stronger. For memoir revision, I now believe that one of your Beta readers should be someone who knows your life relatively well and is a good enough friend to give you honest feedback on how holistically you portrayed the people close to you who have a prominent role in your manuscript.
Perhaps a good Beta reader is like a good spouse, someone who will leap with you out of that plane with a semi-functioning parachute.
Don't Lick the Minivan: An excerpt

On occasion Vivian and William managed to sleep at the same time. There's something peaceful about sleeping babies. Unless you think they're dead.
One night, Chris and I stood over them and watched our two angels asleep in the same crib, feeling like the world's best parents—or at least better than a tortoise who has dumped her eggs in a hole and swam off into the ocean. We smiled at the perfect moment.
Until I said, "They're not dead, are they?"
"I don't think so," Chris answered. He looked at me. "Do you think they're dead?"
We hovered over the crib like two novice marine biologists inspecting a polluted aquarium for signs of life. "I can't see them breathing," I said.
"You can't see me breathe either."
"Point for you."
"Do you think we should wake them up?" Chris asked.
"No. You never wake a sleeping baby. Waking two is criminal."
"What should we do then?"
"Let's jiggle them," I said.
"Jiggle? You want to jiggle them?"
"Don't look at me like I'm about to pick them up and Shake n' Bake them. I'm just talking about jiggling."
"Jiggling? What does that mean?"
I defined the word. "I'll just put my hand on one of their backs and wiggle it to see if they move."
"That's wiggling, not jiggling," he said.
"Thanks, Webster."
I placed my hand on each baby's back and jiggle-wiggled.
They both moved.
"They're not dead."
"Not dead at all."
"Do you think this qualifies me to guest star on CSI?" I asked.
"Not likely." He kissed me on my forehead. "Maybe Animal Planet."
About Leanne Shirtliffe
I let the writers compose their own bios. Here's hers. Leanne Shirtliffe is the author of DON'T LICK THE MINIVAN and Other Things I Never Thought I'd Say to My Kids. She's also the mother of tween twins, a phrase that's hard to say after two glasses of wine. She writes for the Huffington Post and Nickelodeon's NickMom.com and has been published by The Christian Science Monitor, The Calgary Herald, and The Globe and Mail. When she's not wasting brain cells tweeting, she teaches teens who are slightly less hormonal than she is. She lives in Calgary because she likes complaining about the weather. Buy Leanne's book. Money will go to support her children's therapy. Or her own.
HOW TO WIN A COPY OF THE BOOK

I hope you will enjoy this new series, Writing Lessons, which will run twice a month on the blog. Featuring well-published writers of our favorite genre, in each installment the series will take on one short topic that addresses how to write memoir, and will include a great big book giveaway.

It's my way of saying thanks for coming by.

The contest for this book is now closed. Please see the next installment of Writing Lessons, this week with the great Katrina Kenison.

The winner of the Leanne Shirtliffe book, Don't Lick the Minivan, is Patti Hall. Congratulations, Patti! I'll be in touch to send your book.