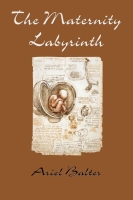 Next up in Writing Lessons my guest teacher Ariel Balter, a writer whose recent book, The Maternity Labyrinth, was published by Plain View Press. I had long wanted to feature a book of theirs here. An independent small press, they have been in business for more than 30 years. Ariel is part of a group of fine writers you will meet here, all of whom are going to teach us a thing or two about our favorite genre. She's tackling the big challenge of finding small topics to write about. Each entry in Writing Lessons includes a piece on how to write memoir, an excerpt, and a chance to win the featured book. Read to the end for more.
Going Small
by Ariel Balter
In a memoir it is hard to justify including your entire life story from birth to old age, unless you are famous, have a fabulous sense of humor, or have led an extraordinary life. People like Bill Clinton, Michael Jackson, and Oprah Winfrey could probably get away with detailing what brands of toothpaste they use and describing their first days of kindergarten, but most of us cannot; and most people don't want to read about the mundane happenings of daily life. Instead, a memoir is best having a narrow focus. It should describe and analyze a particular experience or series of related events that made a huge impact on the writer.
I am not a tell-all kind of person and never imagined that I would write a memoir, even if I were famous. Unexpectedly, I experienced a series of related traumatizing, life-changing and illusion-destroying events that changed me in fundamental ways. In the course of a few years I became pregnant twice, went into pre-term labor twice and lost two babies, spent a few months on bed rest, and underwent multiple rounds of IVF with two different surrogates. What happened to me was hardly believable, especially to me, and my memoir was a way to try to make some sense of it all.
Because my story took place over the course of five intense years, my narrative was organized chronologically and included details that were relevant to my experiences. The linear narrative provided an element of suspense and being-in-the-moment. While I certainly included details and anecdotes about family, friends, and doctors, I tried to keep character studies, commentary, and personal data relevant to the story at hand. Other than a few asides or pertinent pieces of information, my memoir includes little detail about my upbringing or life outside of the central story.
Since a memoir differs from a personal diary in that it is written for an audience, it should touch readers in some way. It may entertain, amuse, teach, or move readers. Although my experiences were on the far end of the fertility-issues spectrum, my story is still very relevant to many women and families. Lots of people, particularly nowadays, can relate to one or more aspects of my experiences.
For a memoir, choose a small topic with big ramifications. Otherwise, write an autobiography.
The Maternity Labyrinth, an excerpt
The next morning, while packing up to leave, a nurse brought us a box of Emily's "effects." In it was a crocheted, pastel colored baby blanket, a card decorated with her footprints, a ceramic angel, and a hat. I'm not great at masking my feelings about people, so I am not sure how I reacted. Perhaps I thanked her and maintained some composure until she left before I exploded.
Her effects? What effects? She had no possessions. She was wearing a disposable diaper and lying in a sterile NICU crib on hospital sheets. The nurses must have had a room full of baby accoutrements that they gave to parents of NICU patients. I was horrified. I didn't want to remember the NICU, and I certainly didn't want a blanket that was never even used by Emily. Was this again something that psychologists suggested as a way to help remember or grieve for a baby? I took the card with her footprints of her feet which were so like my own and begged Roger to get rid of the rest of the items. I'm sure that the nurses meant well, but the angel and the unused blanket were silly and offensive to me.
Besides, when we arrived home, we were confronted by a house filled with Emily's effects, and those were only too real a reminder of what we had lost. My maternity clothes and pillows were all over our bedroom. We had bags full of baby gifts and hand-me-downs from friends and relatives. What to Expect When You're Expecting was still on my bedside table. The web site was still open on Roger's computer for the hospital tour and birthing classes in which we were planning to enroll the night I went into labor. And then there were countless bouquets of flowers and fruit baskets left on our front porch and many more that would continue to arrive for the next few days. Roger spent a good part of the day calling morticians and cemeteries to arrange for Emily's burial. Although it was an improvement over the hospital, home was no comfort or place to heal and forget. Everything in our house assaulted us with mementos of my pregnancy and Emily's death.
About the author
Ariel Balter earned a BA in psychology from Bryn Mawr College and an MA and PhD in English from Tufts University. For over fifteen years she taught English and writing at various universities, colleges, and high schools, presented papers at academic conferences, and published several academic essays, including an article on Edith Wharton and one on James Weldon Johnson. She is currently reviewing books for the New York Journal of Books and working on a novel. The Maternity Labyrinth is her first work of creative nonfiction. It was published by Plain View Press, an independent small press that has been in business for 36 years. Ariel lives in California with her husband and daughter.
AND THE WINNER IS…

I hope you enjoy Writing Lessons. Featuring well-published writers of our favorite genre, each installment of the series will take on one short topic that addresses how to write memoir, and will include a great big book giveaway.

It's my way of saying thanks for coming by.

The contest for this book is now closed. Please see the next installment of Writing Lessons.

The winner of Ariel Balter's fine book is Leslie Hall Basham. Congratulations, Leslie! I'll be in touch to send your book.