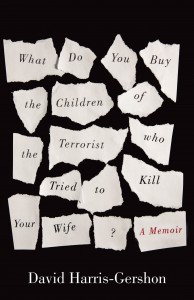 CAN YOU – MAY YOU – FICTIONALIZE all or parts of your memoir writing? Such a good question, and one I turn over this week to the talented hands of David Harris-Gershon, author of the brand new, astonishingly-titled memoir, What Do You Buy the Children of the Terrorist who Tried to Kill Your Wife? This is a question I field nearly every week in my classes, nearly every day from readers via email, and all the time in my own heart. In a first here on the Memoir Project blog, he'll combine his writing lessons with his writing sample. I'm sure you'll see why. Read on.
How to Get Away with Fictionalizing Parts of Your Memoir
by David Harris-Gershon
The topic of my memoir is absurdly serious, which presented a serious narrative problem: how to tell the story compellingly without making the narration melodramatic?
The answer was to fictionalize parts of the narrative. Allow me to explain:
In 2002, my wife was injured in a terrorist attack at Hebrew University in Jerusalem. After enduring an agonizing physical recovery, we returned to the States, where I – the secondary victim – became traumatized by PTSD-like symptoms which therapy failed to relieve.
And so, an emotional mess, I researched the attack as a way to overcome it, and in doing so found that the perpetrator had expressed remorse upon his capture by Israeli police. Learning this led me to seek the family of the perpetrator in East Jerusalem. Not out of revenge. Out of a desperate desire to heal.
Why do I mention all of this?
First, to demonstrate the serious nature of the story. Second, to reveal the context within which my fictionalization occurred. See, much of the narrative is about my internal suffering, about my neurotic (and sarcastic) brain's attempt to survive under rather ridiculous circumstances.
And so, in order to both mitigate the melodramatic potential of my narrative and reveal the true nature of my overactive brain, I created fictional (sometimes humorous) dialogues throughout the book: dialogues with myself; dialogues with inanimate objects; dialogues with real characters that didn't actually happen. Now, like a good memoirist, the key was to make sure the reader understood that such dialogues were fictional – that they were constructs.
Here's an example from the beginning of the book, in which a doctor hands me a piece of shrapnel extracted from my wife's body just after emergency surgery. The encounter happened. The dialogue did not:
With the doctor gone, I stared at the nut. It was all so absurd – as though a tragic comedy was playing out in which I had somehow secured a supporting role:
Doctor:             Here you go.
Me:                   What's this?
Doctor:             Just a little something you might like, you know, to have, something to hold when you look back on these times we shared.
Me:                   You've got to be kidding.
Doctor:             No, really. Sometimes people want these things.
Me:                   Why on earth would anyone want this?
Doctor:             Oh, come on. You know you've wanted this all along, a tragedy, to know whether or not you're strong enough to survive.
Me:                   Have not.
Doctor:              Sure you have. It's something you've wanted, a defining moment, and this nut is my gift to you, a physical reminder of the pain and grief you asked for, felt you always deserved, felt you've had coming to you after a quaint, two-parent upbringing devoid of poverty, sickness or death.
Me:                   I don't want it, don't want any of this.
Doctor:            Whatever. Just take it. You're one of us now. There's no going back.
Me:                   I can go back.
Doctor:            No, you can't. And another thing: you'll never throw it away. It will always be with you. Put it on a keychain or turn it into a necklace. You know, something meaningful, as a reminder.
Me:                   Fuck you.
Doctor:            Bye now.
Now, the idea of creating something fantastical in memoir writing to express emotions or reveal truths in a more compelling way than can be done through simple explication is not novel. And such fictionalizing can be done in any number of ways: dream sequences, thoughts, hypothetical imaginings introduced by those magic words: I imagine that.
In my case, fictional dialogues were my vehicle – and they made for a ride that  smoothed over the melodrama, allowing for dark humor to take its place.
Author's bio
David Harris-Gershon is a blogger for Tikkun magazine, a Moth GRANDslam-winning storyteller, and a Jewish day school teacher. He received his MFA from the University of North Carolina, Wilmington, and has published work in numerous venues, including Colorado Review, the Pittsburgh Post-Gazette, and Passages North. His memoir – What Do You Buy the Children of the Terrorist Who Tried to Kill Your Wife? – is now out from Oneworld Publications.
AND THE WINNER IS…

I hope you enjoy Writing Lessons. Featuring well-published writers of our favorite genre, each installment of the series will take on one short topic that addresses how to write memoir, and will include a great big book giveaway.

It's my way of saying thanks for coming by.

The contest for this book is now closed. Please see the next installment of Writing Lessons.

The winner of the book is eanlai Congratulations, eanlai! I'll be in touch to send your book.