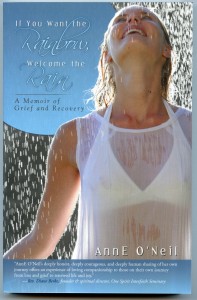 IT IS A PARTICULAR JOY when a former student of mine publishes a book. Such is the case with this week's writer, AnnE O'Neill, whose marvelous memoir is celebrating its pub date this week. (And yes, that is the way she spells her name, with a capital E at the end). Titled If You Want the Rainbow, Welcome the Rain: A Memoir of Grief and Recovery, the book tackles a topic that brings many people to my classes. None of us will get out of this shared experience we call life without experiencing some grief. I am deeply honored that AnnE chose to share with you one of the issues we cover in my Master Class, which is how to write a book based on a persuasive sentence.
Write to the Beat
By AnnE O'Neill
 When I began writing the memories, stories, and reflections that I intended to eventually transform into my memoir, how to structure these components into one coherent piece was incomprehensible to me.  As I thought about it further, I realized one thing I was really grappling with was "what to leave in, what to leave out" as Bob Seger so aptly questioned in his song "Against the Wind".  My other challenge was to go deeply enough within the stories to make my point. Realizing this brought forth the real issue…"What is my point to writing this book?"
This question was answered when I was introduced to the notion that every successful memoir works from a premise to which they are trying to persuade their reader.  That made sense to me.  It also made sense to me that by articulating my premise and my experience within one topic sentence, the structure of the book would fall out from that.  All I would need to do is to "write to the beat".  That meant each word (or phrase) in that sentence would become its own section or mini-storyline.
The topic sentence I developed as my beacon of light was "Grief gripped me until I opened to its depths, then to life."  Following this format allowed me to open the book with heartfelt exploration of the early losses in my life.   I then shared how they "gripped me" as I held onto the pain and confusion the deaths of loved ones brought forth.  The "until" beat offered the perfect opportunity to go into depth on that moment of transformation, of new  perspective, new hope and possibility.  I have heard that every memoir has to have that shift in order to make it worth reading, and I agree with that.  The latter part of the book then expounded on and explored in depth that new perspective –  from the early shaky moments of adapting to a new way of life through the amazing passion and joy available by having ventured deeply into inner work.
In my case, this structure also resulted in a straight chronological telling of my story – which I thought would be boring beyond belief.  Instead what it offered was permission to pace the unfolding as it would best serve the storyline.  I could spend a couple chapters developing backstory when needed.  I could also inexplicably skip several years of my life when nothing during that time related to my premise.  This pacing also lent itself nicely to appropriate character development, important since I had been told that an earlier version of my book did not have characters a reader would find interesting or likable.  ("Ouch" since one is automatically a main character in their own memoir.)
The last benefit to working with a topic sentence for my book is it kept me on track.   I no longer was in the question of whether something belonged in the book or not.  If it supported my point, it went in; if it didn't, it didn't.
I had worked a long time and gone in a lot of circles before realizing that a  topic sentence, first learned about in 6th grade English Composition, was the key to my dream of writing memoir.  Once that was articulated, all I needed to do was remember my love of music and keep on the beat.
If You Want the Rainbow, Welcome the Rain: A Memoir of Grief and Recovery, two excerpts
 I experienced grief after Brendan's death like I never have before.  With the earliest big losses in my life, that of Robbie and Mom, I had no space, no permission, no guidance to grieve.  I was told to get on with life as completely and quickly as I could, both directly and indirectly in watching the other people around me.
At least with Dad's death, I had enough space around the loss and the circumstances of my life that I could feel the sadness, the pain, and the emptiness that comes with grief.  The emotions then were still alternately numbed and stoked by my ever present friend, alcohol.  Besides that, my spiritual life was nonexistent, as was my inclination to really letting people know what was going on in the deep recesses of my heart and my mind.
I now lived my life very differently, and it was continuing to shift and expand more all the time.  As I grew spiritually and emotionally, how I healed changed as well.
The first year after Brendan died I was in a bereavement group, started individual therapy with a grief counselor, continued in Interfaith seminary, sat in a Buddhist sangha, practiced Johrei, and read many books on grieving.  I also created a photo / memory book of Brendan and wrote and held a one-year anniversary service.  It took all of this – and good old Father Time – to heal.
Each of these things helped in their own way.  The bereavement group offered the gift of camaraderie.  It was in seminary I could be held. Through practice, sangha allowed me to rediscover the preciousness of life.  It was through Johrei I realized what a blessing the whole journey of Brendan's illness and death were in my life.
Excerpt 2:
Finally our day arrived, a mere five days after our decision to marry.  A lot had been packed into those days, so it felt as though much more time had gone by.  Brendan spent the night before our wedding at his parents since they were taking him to his intake sessions at Sloan-Kettering, the world-renowned cancer hospital, that very same day.  It was my job to finish our wedding program and transform myself from harried, concerned partner to beautiful bride.  As soon as Brendan and I saw each other for the first time that evening, I remember looking at him as he walked in the door, thinking "In about an hour, this man is going to be my husband."  Even after having been through a brutal, brutal day, upon seeing me he still greeted me with a smile, hug, kiss, and the statement I was the most beautiful bride he'd ever seen.
On the joyous occasion of our wedding, his day had been made horrific, not only by a long day at the hospital, but also by getting two pieces of very bad news.  First he had found out he was going to have to have a feeding tube put in that upcoming Thursday.  Even more troublesome, he had been told his cancer was more advanced than had been thought just five days ago.  When he had called with this news earlier that day, I heard in his voice how disheartened he was.  I also have to admit to taking a big gulp myself.  Our initial thought had been we would have this unorthodox start to our life together but the odds were in our favor we would have a life together.  This news foreshadowed what came to be – we'd have a life together but it would be far too brief. ….
The reception pretty much looked like that of a typical wedding.  The meal was spectacular.  Time was spent roaming from table to table, visiting with the guests.  Toasts were offered, some touching, others funny.  We danced to a funky version of "Have I Told You Lately That I Love You?"  One of my friends noted if she ever had a man look at her like Brendan did me during that dance, she would be a very happy woman.  And I was, albeit not one without worries.
Yet it was also obvious these were indeed atypical nuptials.  The groom, rather than enjoying the feast, was served his own special order dinner of mashed potatoes and soup, which he didn't even manage to finish.  The bridal dance was also abbreviated as Brendan did not have the stamina to make it through the whole song.  Fortunately, Joe and Vero had gotten up to dance, followed shortly by many of the other couples, so our exit to the table was not entirely conspicuous.  Some silliness went on; the fabulous hat that was my find of the shopping excursion, got passed from me to my sister to her stepson to Brendan to Brendan's father to other friends – with all of them posing for a photo in it.  Much laughter was being shared, although Brendan was also grimacing from the pain each time he let out – or tried to suppress – a huge guffaw.  Finally, the evening ended for Brendan just after nine, as he was completely exhausted from all the events of the day.  He insisted I stay and visit a while longer, both to give the guests permission to enjoy themselves and to catch up with our out-of-town guests.  I stayed for another hour-and-a-half.  By that time, "my chauffeur," Brendan's father, had returned from getting Brendan settled in at our apartment, had loaded up the gifts, and was ready to call it an evening himself – as were most of the people since it was a work night.  On my wedding night, I was home by eleven to snuggle with my husband.  The snuggling was old, since it had always been a part of our nightly routine, but the husband was new.
As I lay in my husband's emaciated arms that night, I thought of how blessed I was to be with this man, wherever our journey might take us.  I thought about never before having felt as safe, physically and emotionally, as I did with Brendan.  Nor had I felt as honored, respected, or heard.  With him, I was blessed to know true unconditional love.  It was both a great gift and subsequently a great loss.
Author's bio
AnnE O'Neil, founder of your soul path, is an energy healer, Interfaith minister, and grief counselor.  Her work is primarily with those who have experienced a significant loss in their life, supporting them through the healing to a place where they are once again excited by the possibilities of life.  Her recently-published memoir, If You Want the Rain, Welcome the Rainbow: A Memoir of Grief and Recovery, recounts her journey with this process and looks at the damage we do when we dismiss and/or diminish our feelings of grief.  She also teaches energy healing classes to help people learn to release heavy and foreign energy (such as that of grief) and to raise their own vibration.  For more information, go to www.yoursoulpath.com.
AND THE WINNER IS…

I hope you enjoy Writing Lessons. Featuring well-published writers of our favorite genre, each installment of the series will take on one short topic that addresses how to write memoir, and will include a great big book giveaway.

It's my way of saying thanks for coming by.

The contest for this book is now closed. Please see the next installment of Writing Lessons.

The winner of the book is Lew. Congratulations, Lew! I'll be in touch to send your book.