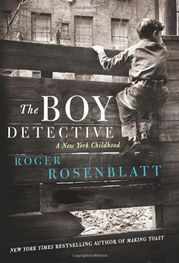 YOUR MEMOIR IS NOT ABOUT YOU. So stay out of it," and with those eleven words, the great Roger Rosenblatt became my absolute favorite teacher of how to write memoir. It's not merely that I agree with him – or he with me. It's not that simple.
It's that Rosenblatt lives those words and with them, not in spite of them, creates perfect books, and that he has done so again with his latest, The Boy Detective, A New York Childhood.
Don't know his work? Drop what you are reading and read him. But first read what he had to say about the much-needed absence of you in your memoir writing, in this piece in USA Today.
His contributions to Time and PBS have won him two George Polk Awards, a Peabody Award, and an Emmy Award. Author of five Off-Broadway plays and more than a dozen books, including the national bestseller Rules for Aging and Children of War, which won the Robert F. Kennedy Book Prize and was a finalist for the National Book Critics Circle Award, he is nothing short of an American treasure.
Get a sample of his prefect previous memoirs, Making Toast and Kayak Morning, by reading this New York Times piece about them. Study him, and do not write another word until you do.