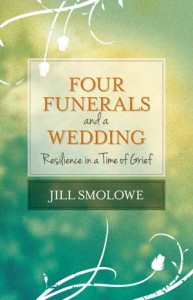 MUCH LIKE FINDING MEANING IN LIFE, finding the message in your memoir writing requires some digging. I would argue that in both life and in writing what you should dig past are the easy questions and their all-too-available answers. Meet Jill Smolowe, author of the marvelous new memoir, Four Funerals and a Wedding: Resilience in a Time of Grief (She Writes Press, 2014), and read about the questions she is always asked, as well as those she asks herself, when writing her books. To date, Jill is the author of two fine memoirs. Find out how she brought them to the page.
Finding the Message in Memoir
By Jill Smolowe
Twice I've written memoirs that involved painful periods in my life. The first, An Empty Lap, published in 1996, dealt with my husband's and my long road to parenthood as we struggled to overcome a series of hurdles. My new memoir, Four Funerals and a Wedding, focuses on what kept me going as I cared for, then devastatingly lost four loved ones (my husband, sister, mother and mother-in-law) within a span of 17 months. After I completed each of these, the question I encountered most frequently was, "Did you find writing the book cathartic?"
I confess I find the question odd. For me, the memoir form has two valuable purposes. As a writer, it affords me the opportunity to reflect on an experience in a mindful manner that helps me to unearth meaning and extract lessons from a period of chaos. As a communicator, it enables me to share an experience through a focused narrative that aims to offer reassurance and insight to not only those who are going through similar turbulence, but their loved ones, who often feel uncertain what to say or how best to help. But before I can make the commitment to breaching my own privacy and spending considerable time revisiting a painful chapter in my life, I need clarity on two points: What is the lens through which I will tell my story? What is my message, the bit of hard-earned wisdom that I aim to share? For me, finding the answers to those questions requires detachment and emotional distance from the events.
As a result, I do not find the writing of a memoir cathartic. Nor do I approach the task with a hope or expectation that the process will heal me. Instead, what propels me is my belief that there is a book missing from the shelves—one that would have been helpful to me in my time of turmoil, one that I hope may now be of use to others.
That's not to say that writing can't be therapeutic. When I want to alleviate tension, stress or upset, I regurgitate my experiences into a journal. Raw and unfiltered, these entries provide an outlet to vent. Sometimes that act of writing helps to calm my roiling emotions. Sometimes the writing even serves, yes, a cathartic function. Later, those entries are invaluable, offering a snapshot of what I was thinking and feeling at a given moment, the surrounding details, snippets of dialogue—just the sort of material that helps bring a memoir scene to life. But is such undigested writing the business of memoir? To my mind, no. It's not even the first draft.
Instead, by the time I arrive at a working plan for a memoir, I have gained sufficient distance to approach the writing with a clear eye and a measure of dispassion. Sure, emotions occasionally bubble to the surface as I recreate them on the page. Sometimes I bring myself to tears, tears that if I write the scene vividly enough, perhaps the reader will share.
But that is not my purpose. My purpose is to communicate my message. In Four Funerals, I aimed for readers to come away with an understanding of why the cultural script surrounding grief is limiting, misleading and often an impediment to healing. While writing, I kept my lens trained firmly on what exactly got me through so much illness, loss and grief. If an anecdote served my purpose, I used it. If not, I cut it, no matter how poignant.
For me, the work of memoir writing is selecting, culling, honing, shaping, rewriting. Rewriting. Ruthlessly chopping. Rewriting once more. The driver is my intellect, not my emotions. Catharsis? For that, my journal will have to suffice.
Four Funerals and a Wedding, an excerpt
Each day, I continued to draw solace from the appreciation my husband had expressed throughout his illness and then again shortly before his death. One day as I worked on my tribute for Joe, it occurred to me that too often such sentiments are saved for eulogies. I wanted the friends, relatives and colleagues whose kindness had particularly touched or steadied me over the last few years to know what I valued most about their support. Now. Before it was too late.
So, I began writing thank-you letters, not casual notes of acknowledgement, but heartfelt expressions of gratitude. I wanted—no, I needed—to give clear expression to what exactly it was about each person's support that had lightened my load during the years of Joe's illness and was continuing to buttress me in the wake of his death. At one level, this was a writing challenge that distracted me from painful thoughts of Joe. At a deeper level, it was an existential challenge that demanded I pay attention to the blessings in my life. Each time I uncorked my gratitude and let it flow, it helped me recognize the many reasons I had to go on without Joe.
I don't remember the particulars of any given note, but I know one key thing I didn't share with anyone because it didn't occur to me until I was well into the writing of this book. As I revisited the gestures of kindness and particular types of support that had helped me, trying to identify ever more closely what had been most useful during Joe's illness, I realized something that, once it presented itself, seemed both obvious and important.
In the days following Joe's diagnosis, I had instinctively resolved not to be hemmed in by people's concern and shut out from the rest of life. As a result, I'd gravitated to people who accepted that I didn't want to talk about Joe's illness and its toll. Month after month, as these friends continued to fill my mind with other ideas, I came to appreciate that they were providing something more than a respite from my static state of worry. All those walks and talks with the women in my writers' group who kept me abreast of their writing frustrations were helping me to maintain a connection to the creative part of my life. The challenging stories my People editors assigned me, rather than trying to placate me with mindless busywork, were enabling me to continue functioning as a journalist. And the friends who, taking me at my word, pushed past resistant thoughts of "I don't want to burden Jill with my problems" to talk about their financial strains, their less-than-perfect marriages, their parenting dilemmas—in short, their lives—were helping me not only to still feel like a valued friend, but to keep my own woes in perspective.
But it wasn't until two years after Joe's death that another dividend—the most important one—came into focus. New widowhood, I realized, would have been a lot more difficult and lonely if I'd emerged from the isolation of Joe's protracted medical crisis to discover my other relationships had so atrophied that all that remained of my life were my memories of Joe. Instead, my life was still rich with engaging, caring relationships. Because there had been give and take all along, I was as familiar with the twists and turns of my friends' lives as they were with mine. They were active and present in my life; I was active and present in theirs. Had my travails dominated conversation from Joe's diagnosis to his death, perhaps that imbalance would have curbed people's desire to spend time with me. (Jill is like a broken record.) Bred resentment. (She's not the only one with problems.) Damaged intimacy. (Why would I turn to Jill? All we ever do is talk about her.) Even if the constant focus on me hadn't felt narrowing or skewed to them, it would have to me, out of sync with the sorts of relationships I'd enjoyed prior to Joe's illness. Instead, though circumstance had put a cloud over my head that none of us could ignore, my friendships had remained alive and vibrant. In some cases, they'd even deepened.
No, I didn't have to reimagine my life. Save for Joe, the relationships that had always given my days texture and meaning were still intact and recognizable. I didn't have to reimagine my life, I realized, because, thank God, I still had one.
Author's bio
Jill Smolowe is the author of the new memoir Four Funerals and a Wedding: Resilience in a Time of Grief. To learn more, visit her at her website.
HOW TO WIN A COPY OF THE BOOK

I hope you enjoy Writing Lessons. Featuring well-published writers of our favorite genre, each weekly installment takes on one short topic addressing how to write memoir.

It's my way of saying thanks for coming by.

Love the author featured above? Did you learn something in the how-to? Then you've got to read the book. And you can. I am giving away one copy, and all you have to do to win is leave a comment below about something you learned from the writing lesson or the excerpt. I'll draw winners at random (using the tool at random dot org) after entries close at midnight Monday, April 14, right in time for the next installment of Writing Lessons.

Good luck!