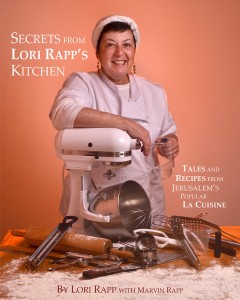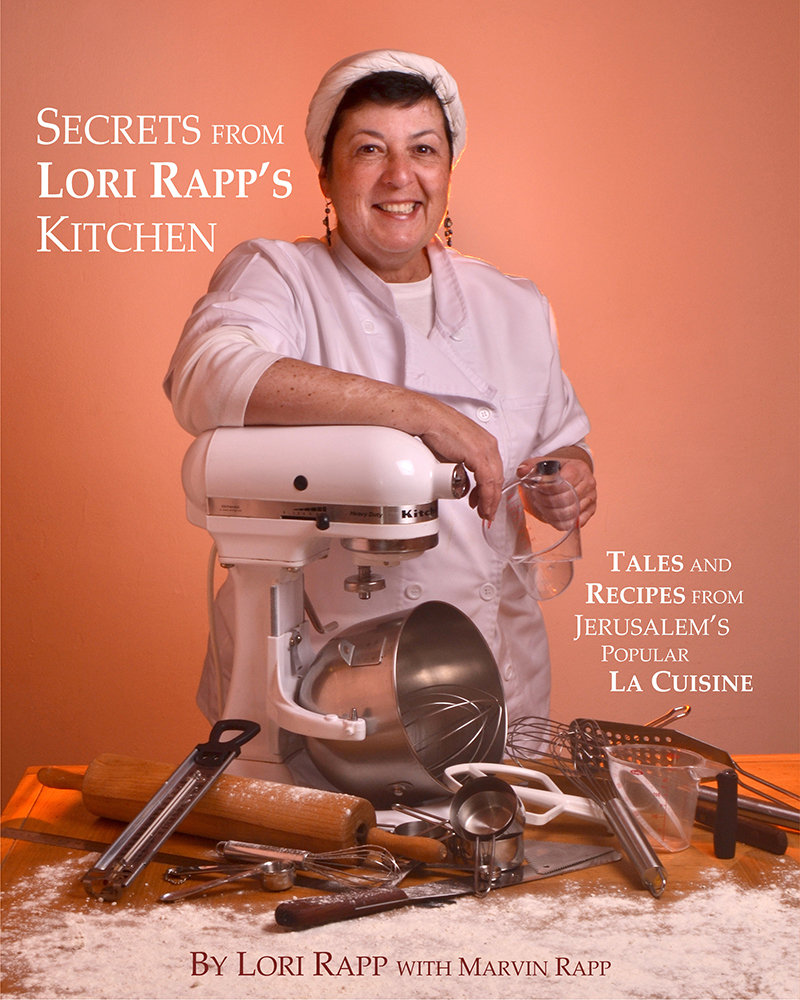 WRITING SOMEONE ELSE'S STORY is always a difficult assignment. How, for instance, do you achieve the voice of the other, and how much of your own can seep in? These were some of the questions put before Marvin Rapp who, with his wife, Lori, has run a Jerusalem popular bake shop and catering company for more than 20 years. Their new book was written by Marvin in Lori's voice and is as delightful to read as the recipes within it are delicious to taste. Entitled Secrets from Lori Rapp's Kitchen, the book has achieved nightstand status in my house, as I read and laugh, plan and peruse and go to bed each night hungrier than I'd prefer. I asked Marvin to discuss the secrets of how to write someone else's story. Here is the result. 
WRITING SOMEONE ELSE'S STORY        
by Marvin Rapp
"Be yourself; everyone else is already taken." (Oscar Wilde)
Writing honestly about oneself is rarely an easy exercise. Where should I begin my story? How much should I reveal? Who should I not offend? Who should I yes offend? How then do these challenges stack up when the story you are writing is not even your own?
Of course, I can only speak from my own experience, which for the record, was my first attempt at writing anybody's story. When my wife, Lori, decided to write a cookbook of the recipes from our bakery and catering business of twenty-one years, I suggested we include the story behind all that delicious food. In short, we should write a foodoir, in today's parlance.
Fair enough, but was I up to the task of being an objective raconteur? After all, I do appear somewhat incidentally in Lori's story; nevertheless, it remained her story that I must tell, without subverting her voice. That seemingly innocent codicil is far more difficult to adhere to than it sounds. Every writer wants to leave his own imprint on whatever it is he may be putting to print, even if the subject happens to be one's own wife. There is always that urge to be wittier or more savvy- sounding than your subject. In a nutshell, you must be prepared to put your own ego on the back burner.
Granted, my burden was somewhat eased by virtue of my spending the past twenty-three years waking, working, and breathing side by side with my partner. It is safe to say that Lori's voice resides constantly inside my head.
I sensed I was on the right track with our project when every single volunteer who agreed to read my never-ending drafts remarked that they felt as if Lori was speaking to them personally. For me that is consolation enough, together with Lori agreeing to add my name (in smaller print, mind you) to the cover.
Secrets from Lori Rapp's Kitchen, an excerpt
Chapter One
Tell me what you eat, I'll tell you who you are.
— Jean Anthelme Brillat-Savarin
I was born in 1959 in Toronto, the child of Holocaust survivors Helen and David Slutzki, who had married in 1958 and settled in Canada that same year. Yiddish was the lingua franca in our household, and that was the only language I spoke until kindergarten. Of course, at the time this seemed perfectly acceptable to my parents since their entire circle of friends consisted of greeners, or newcomers, like themselves who had miraculously survived the horrors of the Second World War, and had come to Canada with the hope of re-creating their broken lives. My parents seemed to be always labouring to earn a living; it was their single greatest preoccupation. They really led an unpretentious life. They rarely entertained or travelled, they hardly ever went out, they just worked hard to ensure that my brother, and I received the best private school education — and to put food on the table.
Not just any food, mind you. Whereas work was an unfortunate fact of life, for my folks food was their real obsession. Without any doubt, food was king in our house, secondary in importance only to health, and possibly education. Absolutely everything pertaining to food was an issue of some importance. Our family did not simply sit down to enjoy a meal together — that would have been far too easy. First came the whole ordeal of shopping — oddly enough the debate rarely concerned the price of anything. The focus of attention had more to do with the freshness or the size or the colour of what was about to be purchased. Whatever the food item happened to be, it was fussed over mercilessly before it was served, and then scrupulously analyzed after it was eaten. Every meal was either an occasion for praise or criticism, in most cases a combination of both. At the centre of this entire production loomed my father; a fastidious carpenter by trade, his seal of approval was the ultimate litmus test for any food prepared in our household.
From an early age, I remember awakening every morning, often while it was still dark outside, to the sounds of my parents scurrying about the kitchen, making breakfast, and packing lunch for my father ̶ the daily big thermos filled with steaming hot coffee accompanied by hefty sandwiches of thickly sliced rye bread. My family sat around the Formica kitchen table, filling up on freshly cooked oatmeal, cream of wheat, or scrambled eggs — my parents firmly believed that breakfast was the most important meal of the day, at least until lunch was served, and then later supper.
My mother and father were hardly gourmands, but our house was forever filled with the smells of hearty old-world cooking. And yet something as unassuming as a traditional mushroom barley soup could spark the most animated of exchanges — either the soup was thick as porridge or too watery and without enough seasoning, invariably never hot enough for my father's liking. Even the timing of its serving was subject to heated debate as my father insisted it be served after the main course, when everyone else was too full to appreciate it, because he claimed it was good for the digestion.
A highly opinionated man under any circumstance, nothing aroused my father's passion more than the subject of his stomach's well-being. Had he had his way, every meal would have begun with a piece of herring and at least one shot of whisky — come to think of it, this was also supposed to be good for the digestion. And who could argue with his reasoning? My father remained as strong as a bull until the age of seventy-eight, indifferent to conventional medical wisdom. The man never ceased to amaze and confound me. A stickler for fresh food, he routinely planted cucumbers and tomatoes along the sides of our tiny bungalow. From May until the first frost, my brother Mark and I were expected to pick the daily haul before dinner to maximize its freshness. Everybody else's parents planned their end-of-week shopping for Thursday to avoid any last-minute crises before the Sabbath — that would have been too conventional for my father. Two hours before candle lighting, signifying the beginning of the Sabbath, he would come home laden with fresh produce and other treats. In typical fashion, he would present my bewildered mother with an equally enormous cauliflower, broccoli, and cabbage, and then insist that she prepare all three cruciferous vegetables for that night's supper. Ignoring her protests, he could be heard mumbling to himself all the way into the shower about how beautiful and crisp his choices were, and how gorgeous were the big white mushrooms that he picked. "Helen!!" he would bark between latherings. "Cook them up with lots of onions. Only ninety-nine cents a pound! Can you believe it? Only by the Italeiner!"
You might think that a man so fixated on freshness would avoid, like the plague, any and all commercially processed food products. Not so my dad. He had his cravings, most of which remained a mystery to the rest of the family. High on his list of indulgences were Aunt Jemima's pancake mix, Campbell's cream of mushroom soup, and Libby's deep-browned baked beans (until somebody accidentally purchased a can with pieces of pork in it — a very big no-no in a kosher kitchen!). A special place in his heart was reserved for his beloved Mallomars, the consummate expression of culinary ingenuity. With childish glee, he would savour this exquisite combination of graham cracker, raspberry jam, marshmallow, and chocolate glaze, extolling its perfection to anybody within earshot.
Only years later when I began catering did I realize that my father's food quirks were literally flowing through my veins. "You know," he smiled one day, as if to confirm my new career choice, "my mother, your Yiddish namesake, was the caterer in Mir, my home town in Lithuania." Go figure!
If my father was the general in our household kitchen, my mother was the dutiful staff sergeant. Day in and day out, she toiled in the trenches faithfully dishing out her version of comfort food. Faced with the unenviable task of pleasing everybody, she embraced her challenge with a resolute optimism that defied explanation. Unfortunately her mission was doomed from the outset; whereas my mother wanted nothing more than to nurture everyone, my father's sense of compromise required that everybody simply agree with him. He couldn't understand why the rest of us didn't appreciate our grilled meat charred beyond any acceptable degree of well-done, or our baked goods left uncovered until their outer layer was dry as Melba toast.
Then again, what could we have expected? My father grew up in Lithuania where the radish was considered an exotic vegetable. My mother, on the other hand, had a slightly worldlier upbringing. Her hometown of Slatinskiye Doli, Czechoslovakia, was nestled in the foot of the Carpathian Mountains near the borders of Romania and Hungary, and as such was influenced by the richness of Hungarian cuisine. She often spoke nostalgically about the wonderful foods she enjoyed as a young girl: knockerlach (dumplings), sweet noodles tossed with poppy seeds, makosh (yeast cake), and — her personal favourite — mamaliga (polenta), in all its gooey, cheesy goodness. My mother would regale us with stories of her foraging in the surrounding woods for wild mushrooms, or picking thorny gooseberries in her backyard that her mother magically transformed into jams and compote. As a special treat, she and her siblings would suck on pieces of honeycomb, courtesy of her father's beehives.
It seems now, in retrospect, that my childhood exposure to all these vivid tales and memories of old-world cooking was an essential step in my own culinary education. Even though it was the only world that I knew, I realized from an early age that it was just not going to do it for me. Bread served with pasta and potatoes — possibly a bit excessive, ya think? Yet, how was a sheltered, second-generation child supposed to satisfy her cravings for something, anything, a bit more trendy and glamorous than schmaltz herring? (Don't get me wrong, today I would kill for some honest-to-goodness schmaltz herring.)
Enter my saviour, my friend Naomi. Her parents were also Czech Holocaust survivors, but to me they seemed to have emigrated from a different continent than my parents. Naomi's father never, at least to my knowledge, lay on his living room couch in his sleeveless undershirt and garishly plaid Bermuda shorts like my father was fond of doing. I can still picture her dad relaxing in his den on a leather recliner absorbed in what for me was totally foreign — the strains of some beautiful classical composition. In their home I was introduced to the glorious tastes of French onion soup, mushroom quiche, and gazpacho. In their company I attended my first ballet and visited my first coffee shop. All of this paled in comparison to the sheer delight I experienced attending some of Naomi's family's elegant house parties. In utter amazement I would stare wide-eyed, transfixed by the sight of uniformed waitresses meticulously carving a smoked turkey or elegantly serving the family's signature nut torte. I knew already back then that I longed to somehow be a part of this world. My timely exposure to high society, as it were, was all the inspiration I needed to try to jazz up my mother's kitchen.
I could not have been more than fourteen when I concocted my first original dessert: individual frosted glass bowls filled with layers of graham cracker crust, Jell-O, drained fruit cocktail, and then Jell-O with the fruit folded with non-dairy whipped cream. It was no Cordon Bleu classic, but as far as my family was concerned, it could just as well have been one. What can I say? Ecstatic, enthusiastic, they were thrilled beyond my modest expectations. One brief encounter with "modernity" and our appetites were forever changed. That was all the encouragement I needed. I hit the pavement running and haven't looked back since.
Babysitting became a valuable opportunity to study my employers' cookbooks and magazines, and hopefully to spy out some coveted family recipe. Grade twelve was my breakout year. I organized my first party, a "poor man's dinner" for a group of eight girlfriends, complete with carefully chosen take-home hostess gifts (I already had the knack for catering, I just didn't realize it back then). To this day I can cite the entire menu and recall what dish each of us contributed. Even more vividly etched in my memory is the conviviality and coziness we all experienced sitting in my parents' dining room, feeling all grown up. It was my own "Babette's Feast."
Marvin and I lived only a few blocks from each other, and we shared a lot of meals together during the two year-period of our dating and engagement. I was studying Jewish education at York University while Marvin split his time between working in an upscale bookshop and completing his master's degree in English literature at the University of Toronto. Four nights a week he sat, supposedly writing, at his library cubicle until closing time at midnight, after which he made the twenty-minute drive to my house where a full-course supper awaited him. For the better part of a year, my mother and I fattened him up with a combination of her traditional European cooking and my latest culinary experiments. This almost nightly ritual of post-midnight rendezvous raised a few eyebrows from my parents' elderly neighbours. "You should know, Mrs. Slutzki, that your daughter's boyfriend is leaving your house after three in the morning. You know, Mrs. Slutzki, that doesn't look so good." Me, I always wondered what these people spying on us were busy doing themselves up at that hour.
I suppose it should never have come as such a surprise when years later Marvin and I got into the food trade; after all, we had spent an awful lot of time together indulging our appetites. By the time we got married in 1981, I was more than anxious to begin cooking in earnest. From my years of zealous prepping, I knew that a serious cook required a well-equipped kitchen. With my modest budget in tow, I acquired all the Calphalon and Le Creuset pots, Kosta Boda serving pieces, and Evesham cookware that I could possibly eke out. The next task at hand was to stock my pantry with as many new and exotic products that came to market. After all, it was the early eighties and food was the rage. Armed with my subscriptions to Gourmet and Bon Appétit magazines, I scoured the fancy food shops in Toronto's Bayview Village, Yorkville, and Avenue Road to discover the latest arrivals. I hardly ever came home without something new like pine nuts, wild rice, or New Zealand kiwifruit.
I was totally in my element. My cookbook collection was expanding copiously in sync with our waistlines. Dozens of hours a week were spent puttering around my kitchen with my coveted Time Life series, baking and cooking up a storm. Luckily for me, I had a most eager and compliant guinea pig in my husband. Marvin's undeveloped palate was in a league of its own. Although his maternal grandparents maintained a produce stall for almost forty years in the farmers' market in Hamilton, he had no clue what a zucchini or an eggplant tasted like. His family regarded them as food fit for the lockshen — Yiddish for noodles, a euphemism for "Italians." Kohlrabi and fennel, forget it. The man was like putty in my hands, only too willing to indulge me in my experiments.
And experiment was what I did, with a vengeance. Quantities knew no bounds; I was incapable of cooking just for the two of us. Weekdays, weekends, it made no difference. I loved entertaining my friends and was never intimidated by a new recipe. Occasionally, in my over-eagerness I'd overreach my skills and dive into uncharted waters. Homemade gnocchi, why not? Well, for openers, they weren't quite al dente (in fact, they disintegrated when they hit the boiling water) and it took me two hours to clean up the kitchen for all my efforts. Then there was the mousseline-stuffed Dover sole (an unmitigated, expensive disaster) and a mushroom soufflé (never even stood a chance). But, more often than not, my developing repertoire of self-taught dishes elicited moans and groans of approval.
The first Tuesday of every month was the day reserved for fresh, farm-raised rainbow trout courtesy of our neighbourhood trendy food shoppe, The Nutcracker Sweet. It became something of a tradition to host dinner parties for our friends; in actuality, it was an excuse to indulge in a revelry of dishes laden with butter and cream. And chocolate. There could never be enough chocolate.
What about chicken, you ask? Most newlyweds content themselves with purchasing one whole chicken at a go. Pas moi. My friend Elaine's brother ran a business delivering cases of no fewer than eighteen freshly slaughtered chickens to your doorstep. As long as we were buying enough chickens to feed a football team, we figured why not squeeze an upright freezer into our starter apartment. Of course, it would take the two of us nearly an entire evening to cut, trim, and wrap this haul, not to mention the obligatory preparation of schmaltz (fried chicken fat) with griebens (cracklings) and fried onions. I kid you not. Fortunately cholesterol hadn't been discovered yet in 1981.
I was determined to discover the best of everything. Chocolate chip cookies, lemon curd, or muffins, I'd zero in on my target and then spend the better part of a month checking and testing recipes for each dish until I was satisfied. Needless to say, I gained twenty-eight pounds in my first year of marriage. Total strangers would kindly offer me a seat on the bus, and elderly women in our synagogue would knowingly smile and cluck at me, all assuming I was pregnant. What could I do? There were so many cheesecake recipes yet to be sampled…
My addiction to butter and cream had no ideological bent; I mean, I still salivated over a choice cut of rare beef. Simply put, the creative options open to dairy cooking were far too tempting for me to resist even at the expense of our traditional, religious celebrations. Amongst our peers, Sabbath eve dinner was considered the focal meal of the week. Any menu that deviated too drastically from the ubiquitous chicken soup, roast chicken, and kugel was considered taboo; offering cream of lettuce soup with fresh salmon and parmesan-baked potatoes was the culinary equivalent of serving sloppy joes at a Thanksgiving feast. But I knew better. As soon as our invited guests overcame the initial shock of what lay in store for them, they were easily converted. I cannot recall anybody refusing an invitation simply because brisket wasn't on the menu.
A dedicated schoolteacher by day, I taught second grade Hebrew and Jewish studies at a number of Toronto's private day and afternoon schools. (Although cooking wasn't on the curriculum, one of my students, Rachel, went on to become an accomplished pastry chef who has wowed restaurant-goers in some of Manhattan's most trendy eateries.) When not teaching, I spent much of my available spare time indulging my food fantasies. I wore out the bindings of my Moosewood and Silver Palate cookbooks in my quest for what was for me new, exciting and unconventional. Chicken Marbella. Need I say more? Capers, prunes, and green olives — that combination turned on its head any preconceived notion of what I had thought chicken could be. Say goodbye to onion soup mix and corn flake crumbs!
Yearning to improve my skills and broaden my horizons, I enrolled on a lark with my friend Elaine in a pastry course given by one of Canada's top cooking instructors and food gurus, Bonnie Stern. She introduced me to the joys of Swiss chocolate, buttery tart crusts, and airy cream puffs. To this day I carry with me one of her trusted maxims: It's better to indulge in one small square of exquisite chocolate or a delicious apple than to squander precious calories on an undeserving dessert. I loved every second spent in her classroom, never dreaming that the skills I acquired would serve me professionally years later.
Authors' bio
Lori and Marvin Rapp emigrated from Toronto, Canada to Jerusalem, Israel in 1986. For twenty-one years they owned and operated La Cuisine, a popular bakery and catering establishment.
A teacher by profession, Lori honed her baking skills at the renowned L'Ecole Lenôtre in Paris. Today she divides her time between teaching baking and cooking workshops and working as a private chef.
Marvin is Lori's partner in life and labour. He holds a masters degree in English literature from the University of Toronto, and when not busy sampling Lori's cooking he enjoys dabbling in the written word.
Secrets from Lori Rapp's Kitchen is their first book.
Want to work with Marion Roach Smith to write memoir? I now teach four online memoir writing classes, and work as a memoir coach. Come see me and let me teach you how to get started writing memoir, how to move your writing along, or how to finish what you've got.