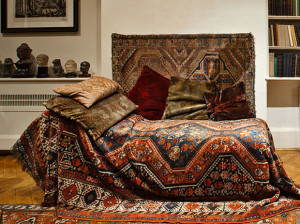 IT WAS A DREAM COME TRUE: Me and a room full of psychoanalysts, more than one hundred of them, in fact, and I was telling them about my writing life, illustrating for them my belief in the power of telling one's tale. If only I could have been doing it prone, stretched out on a couch covered in a remarkable Persian carpet, with two velvet pillows behind my thrumming head, the sounds of Old Vienna pulsing through the window, sometime after tea during…Whoa. Hold on. Wait one single second. Where was I?
Months ago, when the invite came in, I actually had to put the phone on mute so gleefully happy was I, giggling, in fact (a response rarely heard) at the very sound of the event. Psychoanalysts? A room full of them? And me speaking to them about the power of telling one's tale? Oh yes. Yes, yes. Yes, please. Is this every writer's dream or just mine?
Who better could there possibly be on earth with whom to have a discussion about writing what we know? No one comes to mind. And, to make the invitation sweeter still, I would lead three writing workshops, as well.
I knew of the New Directions program through a client. It is a three-year continuing education program on writing, open to writers, clinicians, and academics. The program includes weekend conferences as well as summer and winter retreats during which a robust writing faculty talks and listens, instructs and spends time with writers, getting them where they want to go, and while the predominant number of students were psychotherapists, the program is open to all.
I've done countless writing workshops, spoken at innumerable literary festivals, and taught hundreds of classes and never had such fun. That's right: Fun. Looking for a new adventure as a writer? This is it. Get in touch with the New Directions Program, sign up, attend and spend some quality time with some remarkable, smart, interesting writers and therapists who are invested in your writing success.
Coming home, I had a renewed sense of the power of story, and immediately immersed myself in researching podcasts for you to listen to. My thinking is if I can help you by making memoir portable you'll learn on the go, learn more, write more, and write better. Hope I'm right. So, with that in mind, here is what I have been listening to this week.
Marion's Weekly List of the Best Podcasts for Writers
1. Aerogramme Writer's Studio 10 Great Podcasts for Writers
2. Magic Lessons Podcast with Elizabeth Gilbert
3. Stylecaster's 9 Women-Run Podcasts You Should be Listening To
4. How to be A Girl Podcast by GenderMom
And guess what? I just got a new microphone. Yup. I'm on it. Soon, folks, soon. For now, though, if you want to listen to me on how to write memoir, you have many choices, all available on my resources page. Check it out.