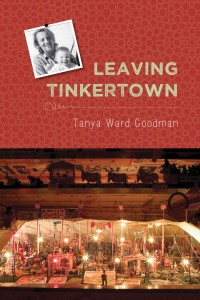 HOW TO BEGIN A MEMOIR rattles most writers, though perhaps none more than those who had eccentric childhoods. When growing up amid the crazy or quirky stuff of life, competing, vivid images provide a virtual funhouse of choices and can leave the writer more than a little stuck for what to write first. It's at times like these that we should defer to an expert, and in terms of both having an eccentric childhood and being a fine writer, few people can compete with Tanya Ward Goodman. I caught up with her a few years ago, after her remarkable book, Leaving Tinkertown, was named to several best-of lists for 2013. I thought maybe it was time to revisit this interview, this being the start of a new writing year. In a word, the book is perfect. So meet — or re-meet — Tanya. She'll get you going.
How to Begin a Memoir
By Tanya Ward Goodman
I didn't plan to write a memoir.  When my father was diagnosed with early onset Alzheimer's at age 57, I moved home to New Mexico from Los Angeles to help take care of him.  I started taking notes about what was happening just so that I'd have something to go back to after it was over.  The doctors gave my dad five years and he slipped out just shy of their deadline.
After he died, I continued to write as a way to stay connected to him.  At first, I wrote whatever popped into my head: a day, a conversation, a description of a place.  After caring for my father, I'd become so aware of the ephemeral nature of memory that I was almost frantic to write down everything so I could hold on to all of it.
As you might imagine, frantic regurgitation of haphazard memories does not make for good structure.  Two years worth of random writing turned into two hundred pages.  I allowed myself to believe I might be writing a book.
But where to start?
I had essays, tiny scenes, scraps of dialogue and pages of description, but I didn't know how to put it all together. I started to think about how I did and didn't fit into my family and I realized that the book was about identity — my search to find my own as my dad was losing his.  In order to begin, I had to clue the reader into who I was right away.
I grew up in a roadside attraction called Tinkertown Museum.   My father built the museum a little bit at a time.  He built with what he had.  Before we all started thinking seriously about "reclaimed" supplies and "green" building materials, he was using bottles as bricks and old barn wood as paneling.
I tried to look at my pile of pages the way my Dad might have looked at all the stacks of wood and bins and boxes filled with odds and ends that he kept in his workshop.
How to choose the first line of your memoir
The first line of my memoir is a line I've used throughout my life as shorthand to explain my family, but it took many drafts before I realized that it should be the first line of the book.
The story depends so much upon the reader understanding the relationship between me, my dad and our house and how the museum grew up around me – almost like a sibling.  The first chapter of my book came as an answer to the questions "Who am I?" and "Where did I come from?"  I figured that if I could answer these questions, I would be able to help the reader (and truthfully, myself) understand why I would return home.
I thought of the first chapter as a condensed version of my mythology. It's an origin story that tells not just the beginning of my life, but the beginning of Tinkertown. As I wrote, I began to see how my Dad's creation of the museum paralleled my childhood.  Because I was thinking always about identity, I took the opportunity to think about how my experiences diverged from my father's.  I looked for details that would read like a slide show: lost teeth for me, mosaic of bones for my dad.  It's all true stuff, all raw material, but arranged properly, it gives an immediate sense of character and place.  Details like "rainbow suspenders" and "going to prom with one boy while lusting for another" set a time and a mindset.  By the end of this first chapter, I hoped the reader would know me and know my dad and feel that I could be trusted to lead them through the rest of the book.
Because the book is about memory, I wanted to tell this first bit as the oft-told tale it is.  We all have stories we tell again and again.  We tell the story of our birth, the stories of our courtships and weddings and funerals.  Honed by years of telling, these stories are streamlined and automatic, held more in our mouths than our heads.  I wanted the story of my life to come out as if we'd just met and I was rattling off the details.
Choosing the last line, the close of the book
The last line, "I felt I was grown" leaves room to ask, "But what if I wasn't grown?"  I needed to ask that question to get to the rest of the book.  I needed to ask that question so that I would dig into my memory for the details and find the real story.
If you get stuck at the beginning – or in the middle (I get stuck a little bit every few pages) try to write the automatic version of your life story.  Give the reader everything about you up to age 18 or 25 or 40.  Tell the story you always tell.  And then go deeper.  Who are you? Where did you come from?  I ask myself these questions every time I sit down to write. And the answers are always new.
Leaving Tinketown, an excerpt
With It
I was conceived in a pick-up camper on the New Mexico State Fair Grounds when my parents were on the road with the carnival.  They were carting around a freak show called "World of the Weird" along with a miniature wood-carved western town my father had made, known then as "Folk Arts Village."  At the end of the Albuquerque run, my mom packed up her bags and left my father to manage the rest of his life alone.  She returned to her family home in Rapid City, South Dakota, where I grew secretly for several months.  After six years of unprotected sex my parents had assumed that they could not have children.  They figured that when they parted on that dusty lot in New Mexico, they would stay apart. Five months later, in March of 1968, they reconciled around my mother's round belly and set up housekeeping in Albuquerque.
Although they stopped traveling with the carnival full time, Dad still packed up his brush box and hit the road a dozen times or more each year to work as a showpainter. Sometimes he painted brand new rides like the Sea Dragon and the Flying Bobs in a factory in Wichita, Kansas, but most of the time, he headed out to one dusty lot after the next to slap color on rides that had been kicking around the road season after season.   Carny folks call this being "with it," which means that even if you're not on the road, the road is always with you.
On the day that I was born, my father was supposed to be driving a convertible down Central Avenue in Albuquerque, in a parade commemorating the 100th Anniversary of the end of the Navaho Long Walk.  Instead of chauffeuring a Native American princess in a Cadillac, he piled Mom into his old, blue Ford pickup and hightailed it to St. Joseph's Hospital in downtown Albuquerque, where he paced the halls for thirty-two hours until I was cut from my mother's womb and handed over to the nuns who fed me sugar water and told my parents that I was the most beautiful baby they had ever seen.  My father paid the hospital with two crisp thousand-dollar bills that he'd kept tucked into his boots as securely as I'd been tucked into my Mama's belly. This is no surpise.  My father always paid in cash.
A month shy of my first birthday, Mom and Dad bought a house.  Though they often called it a "cabin," the cinder block structure was without notable detail save its location at the bottom of a steep gravel driveway in the shadow of the Sandia Mountains.  My brother, Jason was born a year later and we grew up in this house.  Subject to the creative whims of my dad, the house grew with us.   At five and a half when I began making my first offerings to the tooth fairy, Dad created a mosaic of bones near the front door.  In elementary school, while I struggled with the multiplication table, Dad commenced building a geodesic dome on the roof of our living room.  As I navigated the treacherous social terrain of middle school, Dad shrugged off the rules, mixed a batch of cement and began to build walls made out of beer bottles.
My parents split, my Dad re-married, I got braces and glasses and a bad perm.  I wore tennis shoe roller skates and rainbow suspenders.  I stopped playing the clarinet and took up theatre.  I researched the pros and cons of the death penalty for my high school debate team and went to prom with one boy while lusting for another.  I held slumber parties and played truth or dare, I studied for the SAT and looked at college catalogs and when I finally left this house, I felt I was grown.
Author's bio:
Tanya Ward Goodman grew up at Tinkertown Museum, a roadside attraction built by her father, Ross Ward, in the mountains of New Mexico. She attended Northwestern University and currently lives in Los Angeles, California with her husband and two children. Her writing has been published in the Los Angeles Times, the "Cup of Comfort" series edited by Colleen Sell for Adams Media, the anthology "My Teacher Is My Hero" and online at Brain, Child Magazine, The Huffington Post and Literary Mama. Her memoir "Leaving Tinkertown" was the 2008 winner of the Southwest Writers Conference Storyteller Award under the title "Mighty Fond of You, Too." She blogs regularly for the parenting website The Next Family at www.thenextfamily.com
Want to work with Marion Roach Smith to write memoir? I now teach four online memoir writing classes, and work as a memoir coach. Come see me and let me teach you how to get started writing memoir, how to move your writing along, or how to finish what you've got.