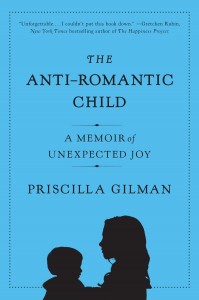 Next in Writing Lessons, Priscilla Gilman bravely tackles the topic of what to leave in your memoir writing. After reading The Anti-Romantic Child: A Memoir of Unexpected Joy, I became an instant fan and reached out to Priscilla via Twitter. And here we are. After reading her here I think you'll agree that she has something to teach all of us about writing memoir. She is part of a group of fine writers you will meet here, all of whom are going to teach us a thing or two about our favorite genre. Each entry in Writing Lessons includes a piece on how to write memoir, an excerpt, and a chance to win the featured book. Read to the end for more.
What To Put in, What to Leave Out
By Priscilla Gilman
When I signed a contract with Harper to write my memoir, The Anti-Romantic Child, the deal was for a 40-50,000 word book.  I'd envisioned the story as a short, lovely, poetic meditation on motherhood and not a full-fledged memoir at all.  I didn't want the book to be about me; I wanted it to be about my older son, Benj, and about the romantic poetry I'd studied, written about, and taught as an English professsor at Yale and Vassar.
But when I turned in what I thought was a complete first draft about eight months later, my editors kindly but firmly told me: "you need to double this.  You need to tell us much more about your own childhood, your parents, and your reading life so we can understand how you developed this romantic, idealized vision of childhood and parenting.  You also need to tell us more about your falling in love with the man who became your husband and Benj's father and about the disintegration of your marriage.
You can't simply announce: 'Richard and I separated.'  That's slamming a door in your reader's face.  Tell us more about your second son and his relationship to Benj.  You need to give us more context, and you can't hold your reader at arm's length during any of these crucial moments in your life."
I knew instantly that they were right on all counts, and although it was painful to relive my relationship with my ex-husband in writing about it and frightening to depict my very-much-alive and involved mother in print, I set myself to expanding and contextualizing.  I eventually produced a book more than double the length I'd been originally contracted to write.
But at the same time that I expanded my sense of what was relevant and important to include, I also tightly and carefully curated the scenes I chose to write in order to dramatize that relevant and important information.  In a sense, I wrote the book as a series of scenes, each of which had to both advance the story and stand for other scenes like it in Benj's life.
For example, I didn't want 10 doctor's appointment scenes, 5 evaluation scenes, 10 peer scenes, 5 performance scenes, 25 school visit scenes, 100 meltdown scenes, 50 crisis scenes.  I had to make hard decisions about which doctor's appointment scene, which school gathering scene, which PG teaching scene was the most representative, dramatic, and poignant.
Each scene I included had to do a lot of work for me.  Once I had about 10 little story scenes (Baby Benj's meltdown at an English Department Party, Benj's first visit to a preschool, discovering that Benj was hyperlexic via a google search, discussing my fears about his development with our pediatrician, meeting with my writing students, Benj's 4th birthday party at a children's museum, Benj's performance of Jingle Bells at a school holiday concert, my ex-husband's 40th birthday party) I worked to fill in the space between them with evocative summaries.
The Anti-Romantic Child, an excerpt
. . . here I stand, not only with the sense
Of present pleasure, but with pleasing thoughts
That in this moment there is life and food
For future years.  And so I dare to hope,
Though changed, no doubt, from what I was when first
I came among these hills…
— "Tintern Abbey"
By the time Benj turned eight, Richard and I had worked things out so that we had a very amicable co-parenting relationship and a lovely, supportive friendship.
We'd spent six months in mediation and, in consultation with Benj's psychologist, drafted a 15 page parenting plan which covered everything from financial responsibilities to our philosophy of parenting and designed a flexible joint custody and co-parenting arrangement. We made a huge effort to get beyond recrimination and pettiness and to respect each other's irreplaceable significance to the children. We remained close to each other's extended families and often socialized together. We attended every conference and meeting together, stood or sat side by side at every school event and cheered our kids on together, and spent holidays together as a family. We were united, always, in our love for and devotion to our children.  In the act of parenting, when soaring and when it was laborious, in moments of elation and moments of despair, we were still together, in the words of the Frost poem we printed on our wedding program, "wing to wing, and oar to oar."
As Richard's 40th birthday approached, I suggested that Benj write a song as a gift for Daddy. "I don't think so, Mommy," he said, "a song is not a gift."  "Oh, but it can be," I said, "it can be a wonderful gift."  He still demurred, but when I told him there would be no gift Daddy would like better, he said with alacrity: "I have to do it then."  A moment later, he added: "but only if you help me, Mommy."
Benj and I worked on his song for a good week; the tune came quickly and easily, but he needed help with the lyrics. . . "I don't know how, I don't know what to say," he'd always cry when faced with a creative writing assignment at school, and this was a really tough creative task.  So to help, I asked leading questions: "What does he look like?" "I don't know he needs to be here, I have to look at him."  "Well, is he tall or short?" "Tall of course; are you crazy?"  he said disbelievingly.  "We want different sorts of things he does with you, Benji."  "Different times of day too, right?" he asked.  "Yes," I said.  "Think about the song as a way of thanking Daddy and letting him know how much you love him."  "Well of course I love him," he said.  "Why don't I just say that?"  Our work continued.
One night, as we brainstormed ideas for the lyrics, James suddenly wanted in on the action. "Mommy, write this down!" he insisted, and this is what I wrote, dictated by James in less than a minute:
James' Daddy Song Ideas:
He's tall and handsome
He has great eyes
He is very strong
He reads to me
He knows how to play games
He knows how to love people
He has a very big heart

James was as different from Benjamin as could possibly be imagined; a friend of mine once remarked that "Benj and James are two halves of one person."  Both boys had a great enthusiasm for life, a wonderful capacity to be thrilled, and shone with excitement when doing something they really enjoyed.  Both had dark-blonde hair and bright blue eyes.  But there the similarities ended.  Physically adept and aggressive, with an especially loud voice, James was now a rambunctious, inquisitive, emotionally expressive and loving five year old.  He wasn't reading yet and didn't seem especially academically minded.  He'd always had lots of buddies and many play-dates.  One of his favorite activities was listening to stories: unlike Benj, he'd always eagerly asked about why characters behaved certain ways and commented on the events.
Also unlike Benj, and much to his father's delight, James' books of choice were myths, legends, romances, adventure stories: Peter Pan, the Arthurian legends, the Swallows and Amazons series, The Jungle Book.  Zeus and Odin, Hermes and Freya, were central to the adventures James was constantly creating with his Playmobil people.  One of his teachers accurately referred to James as "Mr Imaginative Play."  He was a theatrical impresario at his nursery school, conceiving, casting, directing, and starring in numerous plays.  His imagination was limitless; he was continually inventing pretend scenarios, using words in innovative ways, seeing many sides to situations.  He was acutely sensitive to others' moods and feelings, and he was a hugger.
I didn't want James ever to feel compelled to make up for his brother's lapses or deficiencies or to feel it was his role to be the emotionally attuned and loving one.  I didn't want Benj's difficulties or his own strengths to be a burden on James.  And/at the same time I didn't want James to feel intimidated or daunted by Benj's precocity and "specialness."
I never wanted to think of James as the "normal" one and Benj as the special one.  It had always been such a temptation to do this, in part because we so desperately wanted one child we didn't have to worry so intensely about.  When I began to sense that three year old James' fine motor development was a little off, Richard had resisted getting an OT evaluation for James- he's nothing like Benj!" he'd said- but I stuck to my guns, insisted on it, and it turned out that James had even more severe fine motor delays than Benj had and needed his own occupational therapy.   They were both special, and they had unique sets of needs, but it was difficult managing the two of them when their interests, temperaments, and needs were so diametrically opposed.
Coping with a brother who was so mercurial and so bafflingly other had been hard on James.  He simply adored Benj, but he couldn't understand why Benj imposed rules on him in supposedly free-form games, cried in frustration when he missed a basketball shot, or insisted on doing things in a certain order that made no sense to happy-go-lucky and impetuous James.  How much confusion and disappointment had Benj's impenetrability and non-responsiveness caused my extremely warm and affectionate younger son: "Benj, why don't you listen to me?" James would cry in utter frustration. And James' insatiable desire for pretending ran up against a very literal barrier in the person of Benj, who stubbornly insisted on bringing things back down to earth.  "Mommy you're the princess and I'm the prince coming to save you!" James would cry, "And Benj you be the dragon."  Meanwhile Benj would either disregard him completely or when James came lunging at him with a "sword" back up, horrified, crying: "I don't want to be a dragon!"  Playing board games was even harder.  Benj would criticize James' decisions— "Why did you do that, James?" he'd ask reprovingly—, and James would blithely plow ahead, oblivious to his brother's disapproval, just happy to be sharing an activity with Benj.  And for poor Benj, James' physical exuberance, his hastiness, his volubility and volume, could be very difficult to take.
These differences notwithstanding, they were deeply bonded to each other.  And as they grew, that bond grew stronger and stronger.  I always take a lot of photos of the boys on Halloween; one in particular taken just a few months earlier perfectly captured the romantic-antiromantic dichotomy they exemplified and the poignancy of their relationship.  Benj is dressed as his hero, the NY Giants quarterback Eli Manning, James as a medieval knight complete with sword, breastplate, shield, and headpiece.
Benj is Mr. Realism, James Mr. Romance.  They're standing in front of a bookshelf in our living room, and volumes of Shakespeare, poetry, and the complete Wizard of Oz series are visible behind them.  James is tenderly holding one of both Benj's hand in both of his and gazing at it with adoration as if he's about to propose marriage.  Benj stands tall and straight, the Giants pants barely covering his knobby knees, his skinny legs stretching long till his bare feet.  He's for the moment patiently tolerating James' loving touch and smiling gently at me, but looking as if he wants to run off and throw the football he's holding in his other hand.  When I emailed this photo to friends, I called it "Warriors of Two Eras Unite in Friendship."
On the day of Richard's birthday, the two friendly warriors were playing with Richard in James' room as I laid the tablecloth and set the table with the Star Wars themed paraphenalia. We'd wrapped his gifts in sports ball wrapping paper (picked out by Benj) and there were hand-made cards from both boys.  James' was a sheet of white paper covered in haphazardly distributed Spiderman stickers and enthusiastic, vibrant colored scribbles. Benj's was a drawing of a man with dark black hair, blue eyes, and a huge glowing yellow heart.  Under the picture, he'd written: "Daddy, you have a heart of gold.  Happy 40th Birthday! Love Benj."  His neat handwriting, his perfectly plausible drawing, his deft deployment of one of his favorite idioms were so gratifying and delightful to see.
Then I called out "time for the party!", but Benj came running in, looking a bit perturbed.   "Oh no, not yet Mommy, first I have to put on my party clothes," he said.  "You don't have to change your clothes honey," I replied, "you look nice."  Benj would have none of it.  "Yes I do, Mommy, see my pants have a rip"- he pointed to a tiny tear in one knee—"and I need a fancier shirt."  He went to his room—while he was gone, James bounced around impatiently, periodically calling out "let's go Benj!"— and a few minutes later emerged in a striped oxford shirt and khaki pants.  I helped him with the buttons- still difficult for him at almost nine years old.
"Daddy, each of the boys has a song for you."  I put on my "ringmaster" voice: "intro-ducing, James!"  While I read his words about Daddy, James danced frenetically, sang impromptu phrases ("I love Daddy, he never gets maddie") and banged wildly on one of his kiddie bongos.  It had always been so hard for Benj to bear out-of-tune-singing, un-rhythmic drumming, and out-of-control movements, but he sat through James' show with a big smile on his face and when it was over he cheered: "Yay James!" "Thank you, Jamesie, " Richard said, and James leapt up onto his lap.
Benj took his guitar out of its case, I took a seat next to Benj, and Richard and James sat opposite us.  Richard held James tight in an attempt to calm and settle him and Benj strummed and tuned his guitar, taking his time before beginning.  James cried: "Hit it, Benj!"  "I need to get used to it," Benj said, but James was impatient and didn't understand Benj's hesitations.  "Let's go Benji!"he shouted again. "He's getting ready, Jamesie," I said.  "I know it's very hard to wait."  Benj continued to strum his guitar softly.  ""I'm a little nervous," he said to me.  "Sing it with me, mommy."
As soon as Benj and I began to sing, James, who had been squirming around with excitement and eagerness, sat completely rapt, and Richard was very still, solemn almost, listening intently:

Daddy is nice
Daddy is tall
Daddy is smart
He plays ball
I love Daddy
He is the best
Daddy tucks me in
Before I take a rest
Happy Birthday
I sing and play
I love Daddy
Hip Hip Hooray!
Daddy has black hair
He has blue eyes
Daddy reads books
He is wise
He helps with homework
I play with him
We play games of chess
He takes me to Coach Mike's gym
Happy Birthday
I sing and play
I love Daddy
Hip Hip Hooray!
Happy Birthday
I sing and play
I love Daddy
Hip Hip Hooray!
As we sang, James would periodically nod enthusiastically, expostulate "yes!" or simply smile an even broader smile.  Richard on the other hand, had tears brimming in his eyes.  On the last chorus, Benj improvised a harmony with me, and after we ended the last "hip hip hooray!" I couldn't help myself from letting out a loud whoop, then hugging Benj tight.  "Why did you scream mommy?" Benj asked smilingly.  " I screamed with joy," I said.   "I knew that," he replied.
Author bio
Priscilla Gilman is the author of the acclaimed memoir The Anti-Romantic Child: A Story of Unexpected Joy (Harper).  The Anti-Romantic Child was excerpted in Newsweek and featured on the cover of its international edition.  It was an NPR Morning Edition Must-Read, Slate's Book of the Week, selected as one of the Best Books of 2011 by both The Leonard Lopate Show and the Chicago Tribune, and one of five nominees for a Books for a Better Life Award for Best First Book.  Andrew Solomon, author of The Noonday Demon and Far From the Tree, called The Anti-Romantic Child "rapturously beautiful and deeply moving, profound and marvelous."  Gilman received her B.A.and her Ph.D. in English and American literature from Yale University and was an English professor at both Yale and Vassar before leaving academia in 2006.  From 2006-2011, she worked as a literary agent at Janklow & Nesbit Associates, representing a wide range of literary fiction, inspirational memoir, wellness, and psychology/education books. She now writes regularly about literature, parenting, autism, and education for the Daily Beast, the New York Times, the Chicago Tribune, MORE magazine, O: The Oprah Magazine, the Boston Globe, and Huff Post Parents.  She is a Scholar-Facilitator for the New York Council For the Humanities, offering seminars on poetry to high school students and non-profits throughout the state of New York.  On December 17th 2012, the New York Times published her op-ed, "Don't Blame Autism for Newtown," which was the #1 most emailed article on the New York Times site for the following day.  Gilman lives in New York City with her family.
CONTEST CLOSED. And The Winner is…

I hope you enjoy Writing Lessons. Featuring well-published writers of our favorite genre, each installment of the series will take on one short topic that addresses how to write memoir, and will include a great big book giveaway.

It's my way of saying thanks for coming by.

The contest for this book is now closed. Please see the next installment of Writing Lessons.

The winner of Priscilla Gilman's fine book is Patricia Shinaberger. Congratulations, Patricia! I'll be in touch to send your book.