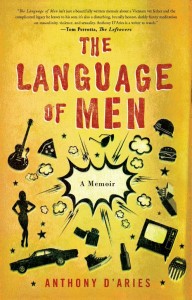 Next up in Writing Lessons, my guest teacher is Anthony D'Aries, whose wonderful new book, The Language of Men, A Memoir, takes on just what the title suggests. His how-to piece takes on what happens when you tell the truth, and how your family might respond. One of the things that has always interested me in teaching memoir is how few men write in this genre. This is a welcome exception, as well as a swell read. Guest posts in the Writing Lessons series all include a piece on how to write memoir, an excerpt, and a chance to win the featured book. Read all the way through for more.
Memoir's Truth And Consequences

by Anthony D'Aries
I WALK INTO the bar as my brother finishes his beer. One TV plays a rugby match, the other shows police officers in full riot gear barging into someone's home. My brother sets his pint glass next to the bound copy of my memoir manuscript that I gave him last week, the one which would soon be sent off to my publisher. Aside from the bartender, we're the only ones here.
We hug and make small talk and every now and then I glance at the manuscript. Some pages are dog-eared and the binding has been creased in several places. It's scuffed and a bit dirty. It's been on the subway, I imagine. Stuffed into his backpack or balanced on the back of his toilet. It has that used-book swollenness to it, as if now that he's read it, the pages have grown too large for the binding.
"Are there any rules in this sport?" my brother asks.
I laugh and shake my head.
A player picks up the ball and runs the length of the field and scores a point or a goal. He celebrates alone until his teammates catch up. On the other screen the officers surround a man lying on his couch. The man looks up and something about his eyes and his flip flops make him seem innocent.
"Come on," my brother says, picking up the manuscript. "Let's get a table."
Our conversation in the bar was the first of many that weekend. We talked about what we remembered, how are perspectives differed. We talked about scenes in the book. We talked for longer than we had in a while, the way we used to when we drove around all night in the summer, stopping only for Taco Bell or cigarettes.
As I wrote my book, I sometimes felt like the lone rugby player celebrating in the end zone. Sometimes I felt like I was barging in on my innocent family. But there came a point during the writing process where I had to consider myself and the people in my book characters. I had to impose some distance between the people in my life and the people on the page.  And I had to realize that it wasn't my job as a memoirist to pause my life. Even though the book ends, life continues.
In memoir, we live the epilogue.
Perhaps this is the hardest part of the process because the writer has little control over what readers, especially their family members, will focus on.  My book continues to affect my life and the conversations I have with my family.
In some ways, the book has brought us closer and in other ways, it hasn't.  Perhaps the conversations I had with my brother would have happened in some other way if the book didn't exist, but maybe not. There is a ripple effect each time a memoir is published, and while the memoirist cannot fully prepare for it, he or she should expect it.
The Language of Men: A Memoir, an excerpt

 My father speaks his own language. A hillbilly twang of the Looney Tunes dialect – Foghorn Leghorn, Yosemite Sam – mixed with the African-American jive of the dirtiest comedians – Redd Foxx or Richard Pryor. His swearing is part of a well-oiled machine, except when a driver cuts him off – then higher-octane terms explode from his mouth. He cuts words in half, stresses whichever syllable he wants. Verbs become nouns and vice versa. He throws in song lyrics, movie quotes, even slogans from TV commercials. It all swirls together and all you can do is try to keep up.
I tried. Sometimes we could speak at his pace. Other times, he'd lose me on a Sanford and Son reference, and our dialogue became a one-man show.
"I don't know where he got that pig language from," my grandmother says. "None of the other boys talk like that."
He gave all of my mother's sisters and my female cousins flirty, construction-worker-on-a-coffee-break nicknames: baby, suga', sweets, momma, girl, honey. He calls my wife, Vanessa, "Van Halen," and when he met my brother's girlfriend, Lola, he spelled out her name, just like The Kinks.
In a letter to my mother from Vietnam, written in his scratchy mish-mash of upper and lower case letters, he called her "his little girl" and said "let's not go spoiling this by telling Maddy." Maddy being his fiancée at the time. He asked her, "Can you dig it? You gotta be jivin' me. Hold on, momma, I'm comin' home soon."
He is perverted, but in a way that no one in our family seems to mind. He can pinch his sister-in-law's ass or make a sly comment about the perkiness of her breasts and it doesn't seem to offend anyone. That's the reputation he's established, and the one we've all come to expect.
As a kid, I would hear snippets of my father's language everywhere: Other men on the sidelines of my soccer or football games, burly attendants at the Hess station around the corner from our house, and the slick or heroic guys in mob and war movies on HBO. Though none of these characters spoke exactly like my father, they shared similar phrases: My old lady's bustin' my stones. Six'a one, half'a dozen of the other. Union's gonna screw the part-timers outta bennies. I often wished I had a guide book, a Father-to-Son pocket translator, that could define these foreign terms.
For Christmas one year, he made a t-shirt for my cousin, Shannon, who was working as a stewardess at the time. She unfolded the tissue paper and read the front of the shirt while it was still in the box, while my father threw up his hands proclaiming his innocence. Shaking her head, she held it up for all to see: Stewardesses Always Stay Face Down in the Cockpit. When I found this scene in one of our old home movies, I watched my ten-year-old self stare at my father, then the shirt, then back to my father, wondering where his ideas came from.
About Anthony D'Aries
Anthony D'Aries's memoir, The Language of Men (Hudson Whitman/Excelsior College Press, 2012), received the PEN/New England Discovery Prize in nonfiction, Honorable Mention for the New England Book Award, and a Silver Medal at the 2013 Independent Book Publisher Awards.  His work has appeared in The Literary Review, Solstice: a Magazine of Diverse Voices, The Good Men Project, Shelf Awareness, and elsewhere. Anthony has taught literacy and creative writing in correctional facilities in Massachusetts and is currently the Director of the Writing Program at Regis College.
THE CONTEST IS CLOSED. And the winner is…


I hope you enjoy Writing Lessons. Featuring well-published writers of our favorite genre, each installment of the series will take on one short topic that addresses how to write memoir, and will include a great big book giveaway.

It's my way of saying thanks for coming by.

The contest for this book is now closed. Please see the next installment of Writing Lessons.

The winner of Anthony D'Aries' fine book is Scott Postma. Congratulations, Scott! I'll be in touch to send your book.