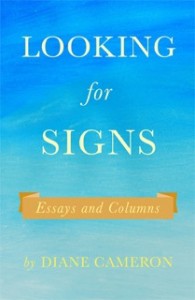 HOW TO MAKE the personal public? Good question, isn't it? How to write a personal story is enough of a question, of course, but when you want to publish that story, offering it up for others to read and respond, the questions you must ask yourself, and the tasks you must perform get tougher. Writing for public view is a process of decisions and hard work. Here to walk us through that process is Diane Cameron, author of not one, but two, recent books.
We could not be in better hands. I think you'll agree as you read on.
How to Make the Personal Public
by Diane Cameron
I have spent the last twenty years writing columns and essays and recently two books—one book about military trauma and the other one about women in recovery from addiction. Each of these pieces of writing, and each of these forms, is a kind of memoir. In truth, even the fiction that I write has a basis in the facts of my own life.
I have also been in many writing classes and workshops over the years that I have resigned from the debate about whether a memoir has to be "True", "Actually true" or "Emotionally true". After all, it is your story, your writing career and your conscience. For me, I go with "true." But –and we have all had a version of this–the true story that I may write about the day I went to the races with my mother is my "true" story even though she may insist it didn't happen that way. Alas, the writer's life and the pain of being in a writer's family.
So you have to decide your truth, and you also may have to do the hard work of talking to others to see if your story stands the test of perspective. No, the test is not with them but with yourself. For example, do you really remember wearing that red cowgirl outfit when you were three-years-old or are you remembering the photos you saw of yourself wearing it? Or-do you remember that fight between your father and his sister or do you remember it because your mother brought it up so often when she was fighting with your Dad?
But there is another issue that deserves your contemplation when writing memoir and that is the question of just whose story this is.  No woman is an island. There are, and always are, other people in your story. How do you represent them? How do you describe what happened to you and what you saw and thought and felt when to do so means you will have to say unflattering or painful things about other people? Even people you love.
Yes, if you have been in a writing class you will have heard the excellent advice: "Write as if your family is dead." Always write your first couple of drafts as if everyone you know is dead: your parents, siblings, lovers, teachers and neighbors. Kill them off in your head and write. Then later, after you have the facts and the emotional truth on paper, then go back and decide where you will edit, soften, strengthen or change any text. If you try to do that while you are writing your early drafts you will be paralyzed or you will write pabulum. Fear will slam on the brakes.
I have had to use this technique many times. I have written about my stepfather who killed his first wife. I have written about my mother's addiction and my parent's difficult marriage and I have written about the debilitating depression of a former lover. In each story I had to stay clear that my purpose was to write about my perspective and my experience not to expose or punish them.
A family is always a mixed bag of love and loss and hope and dysfunction. But my memoir is about me so I have to tread carefully in what I say about the rest of them. The caution also extends to praise. Do not imagine that people will be pleased even if you are writing something flattering. Many people still feel it is intrusive even if what you are writing is positive because it is still about them.
This is why writing memoir is emotionally taxing. Pat Conroy told interviewers that he was hospitalized with nervous breakdowns after writing The Great Santini and The Prince of Tides.
This too is why writing is an act of courage and why writers need their writer friends. After all there is a chance that you will need to go to Thanksgiving at a friends house after your own family has read your memoir.
Looking for Signs, an excerpt
The Other Olympians
Tonight the Olympics begin.  Most of us love the Olympics because we admire the hard work and endurance of elite athletes from around the world. In Olympic stories we hear the narrative of intense commitment, working through pain, triumph over adversity, and the ability to return again and again after injury and through hardship.
There is another group of people who are so much like Olympic athletes, who have all of those qualities, but who are less visible, in fact, mostly invisible. I've been thinking about them this week because of the other big sports story in our news—the tragedy and crime at Penn State. That other extraordinary group is the adults who survive childhood abuse.
I know something about this because I am one of them. I am a survivor of childhood physical and sexual abuse. I know the emotional, physical, psychic and economic cost of surviving to adulthood with a decent and competent life.
When I was 10 years old our family doctor gave my mother a prescription for Dexedrine and she was quickly hooked. My mother's addiction left her with violent mood swings and tragically blind to family members and neighbors who were dangerous. It was an eight-year nightmare.
Some of the abuse I tried to tell family members about and some I told no one. The personal cost was very high. I spent years drowning in self-doubt, shame and anxiety, becoming dangerously anorexic and, of course, succumbing to my own addictions. Finally at age 28, in excruciating physical and emotional pain, I got help.
My recovery from abuse was it's own terrifying roller-coaster ride.  The only thing harder than living through abuse in childhood is the endurance of re-experiencing it as an adult in therapy. Years of therapy. Expensive therapy. Over the last 30 years I've helped to buy some beautiful homes and at least one sailboat in treatment fees paid out of pocket. I don't regret a dime of it. But I do think about the others like the boys and men at Penn State. Who will help them?
We've heard that the penalty for Penn State will include funds for prevention of child abuse, but where are the millions for the decades-long treatment needed by Penn State's victims? If they can overcome the shame that accrues to abuse victims in order to seek help it will be very expensive. And no, health insurance doesn't cover it. Abuse recovery doesn't happen in 24 visits or even 124. If I had depended only on health insurance I'd be dead.
Over the years I've met people who did not survive, who were defeated by depression, addiction or suicide. But I know others—truly fierce people—who are recovering. And that's something else that I know, is heresy, in some circles: I got some gifts from my painful childhood.
The skills I use in my work today, my talents, you could say—came out of that horrible part of my life. I have a powerful intuition; the ability to anticipate what people need and feel; and so many bosses have told me that I'm "calm in a crisis" that it's funny—except when I think about how I acquired that skill.
I've seen colleagues reduced to tears over work place "problems" like losing an important file or a late proposal. For me, a woman racing through the house at 3am, in a manic rage, waving a knife is a problem. Anything else is just a situation.
In a strange way I'm proud of my survival. It's a lifetime achievement. But does that mean that what happened to me was OK? Not at all. For all the strengths I have today I still live with too much fear and insecurity to balance this scale to the plus side.
Abused children who survive to adulthood have a determination and fierceness that rivals any elite athlete. And my heart breaks when I think that Penn State's victims were little boys who wanted to be athletes. I hope that if they watch the Olympics tonight they will know that they have the same internal fortitude as our country's best competitors. While there are no medals and no flag ceremony for sexual abuse survivors some of us will always be cheering for them.
Despite what the bumper sticker says, it is too late to have a happy childhood. So I take the whole package, grieve the losses, celebrate the gains and work around the scar tissue.
Author bio
Diane Cameron is a writer, speaker and teacher in Albany, New York. She writes about couples facing cancer at her blog, LoveintheTimeofCancer. Her newest books are, Looking for Signs, a collection of essays, and Out of the Woods—Women on the Path of Recovery. You can read more or contact her at her website.
AND THE WINNER IS…

I hope you enjoy Writing Lessons. Featuring well-published writers of our favorite genre, each installment of the series will take on one short topic that addresses how to write memoir, and will include a great big book giveaway.

It's my way of saying thanks for coming by.

The contest for this book is now closed. Please see the next installment of Writing Lessons.

The winner of Diane Cameron's fine book is Lynda Lee. Congratulations, Lynda! I'll be in touch to send your book.