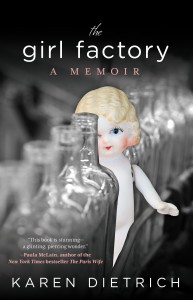 THINKING OF YOURSELF as the curator of your own life has many advantages, particularly if you want to write memoir. When author Karen Dietrich proposed this as her Writing Lessons topic, I smiled from earring to earring. It's a great outlook, as well as a fine place from which to plan a book. Her wonderful, provocative memoir, The Girl Factory, is just out by Globe Pequot. After reading this lesson and excerpt, I think you'll agree that she's just the one to teach you how to curate your life through memoir.
Curating Your Life Through Memoir
by Karen Dietrich
Imagine your life in artifacts – the objects you cherished and used, the clues you left behind for other to discover, the marks you made upon the earth.  Footprints, fingerprints, all this evidence of you.  If years later, someone were to discover these artifacts, they could begin to assemble an exhibit of who you were, what you loved, how you lived. But what would they choose to display?  When writing my memoir, THE GIRL FACTORY, I often imagined myself in this role of curator – the caretaker of the art and artifacts of my life.  Just as the curator chooses pieces for a museum collection, the memoirist selects which memories and events to show the reader.  My memoir is mostly narrated by my childhood self, and I strived to figure out how eight-year-old me would address her audience.  What would she show the reader to paint a portrait of her life?
The word curator comes from the Latin curare (to take care).  This role is especially fitting for the memoirist, as handling the stories of one's life with care is vital to memoir. Early on in my writing process, I felt like an emotional historian.  It was exciting and often surprising to mine the virtual landscape of my memories and select those that held the most truth – the feelings that could best illustrate what my interior life was like.  Yes, action is necessary in memoir, and we must also learn to narrate events with emotional accuracy and artistry, a feat that sounds so simple as I write it, but is much more daunting than it seems.  There was a great Q&A with Hilary Mantel in the New York Times recently, in which she was asked what makes a good memoir.  Her answer really rings true for me: "If other people are to care about your life, art must intervene." So curating one's life through memoir is art, but not artifice. I always say it's the accumulation that gets you – the accumulation of images and emotions present in memoir.  When you visit an exhibit at a museum, individual pieces will stand out and make an impression, but there is also the powerful effect of viewing the art and artifacts together in a way that builds tension and takes you on a journey.  That's what makes you go home and dream about what you've seen.  That's what makes it unforgettable.
The best memoirs allow me to see the writer's life as a collection of rare gems, beautifully flawed objects that individually map out the events of the writer's life, and come together to create the portrait of an emotional landscape.
There is always more than one perspective, others who may have different versions of a story to tell.  And this is where I return to Hilary Mantel's wisdom on memoir:  "The writer has to negotiate with her memories, and with her reader, and find a way, without interrupting the flow, to caution that this cannot be a true record: this is a version, seen from a single viewpoint. But she has to make it as true as she can."  And that's what we do – as writers, as curators – we care for the artifacts of our lives.  We write as true as we can.
And while it sounds a bit egocentric, creating this museum display of the self, it proved to be a way for me to enter an objective space.  Like the curator who stands back to admire an exhibit, I found myself standing back and viewing the scenes and interiors of THE GIRL FACTORY in a similar way.  It's difficult to be completely objective, and of course, that's where trusted readers and editors come in, but imagining myself as curator allowed me to evaluate the artifacts of my life and find the most beautiful, the most frightening, the most vivid, the most exciting pieces, through my childhood eyes.
Many scenes, so beloved in my mind, didn't make it into THE GIRL FACTORY.  And it's fitting that the memoirist would leave some of the mystery for herself, as not all of the magic must be used, not every map must be unfurled.  When we write memoir, we are in fact creating a record of a life, a museum of stories – true events but also emotional truths.  When the reader walks into the exhibit of you, what will they see?   And perhaps, more importantly, what will they feel?
The Girl Factory, an excerpt
"Never Bring an Old Broom into a New House"
The summer after fifth grade, we're eating fruit salad on the back porch—three girls spread out on different pieces of green and yellow vinyl furniture. Linda and Rochelle have already picked out all the strawberries, oranges, and grapes, leaving me with the bananas and apples, which are turning brown from air exposure. Our mother makes fruit salad only once every summer, though we beg for it regularly as soon as the temperature hits eighty degrees. It's too damn expensive, and you guys never save any for me is her standard reply. Part of this statement is true.
My mother loves summer. She loves tanning in the tri-fold lounge chair by the pool, the kind that leaves deep grooves on the backs of her thighs when she gets up. She loves spritzing herself with water from the plant sprayer, drinking industrial-strength lemonade out of a giant Tupperware tumbler. The recipe is easy, she assures me. Two lemons, two cups of sugar, ice, and water to fill.
Because of her work schedule, my mother misses most of the best tanning days, like today, when the radio DJ reminds you to turn yourself over every thirty minutes with a kitchen timer sound effect, a high-pitched ding that makes me think of the show I'm addicted to right now in black-and-white reruns: The Donna Reed Show. Donna is often in the kitchen, a sheer half apron over her full-skirted dress, the delicate ding from the spotless electric range reminding her to take out the meatloaf. The timer on my mother's oven sounds more like a buzzing alarm clock.
Linda and Rochelle are talking about soon-to-be ninth-grade boys with simple names like John, Jim, and Eddie. They think they're being sly about it, but I know they're talking about a game of Spin the Bottle played in Rochelle's basement. Every house in our neighborhood has a basement, sometimes called a game room: an underground lair where kids and teenagers get themselves into trouble and generally hide from adults, who prefer to live at ground level.
"I can't believe you landed on Eddie!" Rochelle says. "Lucky duck." She pulls at her bikini top, which is white and dotted with tiny rainbows. I'm wearing a bronze one-piece Speedo my mother bought at the sporting goods store. It fits like second skin and makes me look like a shiny turd.
Linda and Rochelle are playing Gin Rummy, a game they refuse to teach me. Linda is winning. Our father is at the factory and our mother is out shopping, so we can't so much as dip a toe in the pool and are sequestered to the porch for now. We're not allowed to swim without an adult home, even if the adult home is downstairs reading Field & Stream, or in the bathroom bleaching her hair. At least someone will be there to hear you scream, my mother insists.
We've had the swimming pool since I was in first grade. My mother used the little lump of money she inherited from her dead father to have it built. For weeks, Linda and I got to watch shirtless sunburned men turn our backyard into a muddy hole. They created an intricate network of wires, bleached white gravel underneath. I helped by hauling around tin trays of salted watermelon slices and offering them Coke in frosty bottles.
The biggest commotion was the day the cement truck arrived. Kids from all over the neighborhood came by to hang over our fence and watch gray sludge slide down a red metal chute and into the hole. You could smell the wet concrete in the air, hear the soft whoosh of it being poured, then combed, then swept with what looked like a giant broom. My father took photos with his 35mm to catalog each step of the process. My mother says the developed roll looks like "construction pornography."
My mother always wanted an in-ground swimming pool, but only the cement kind, not the kind with blue plastic lining, which looks tacky. And it had to be kidney shaped with Roman steps, not rectangular or oval. Rich People have kidney-shaped pools with Roman steps. Rich People is a group to which my mother wants to belong, but since she and my father are lifelong factory workers, she is grooming me to be a Rich Person instead. There aren't many Rich People in Connellsville, so she and I watch Lifestyles of the Rich and Famous for research, which has helped me develop a dead-on impersonation of Robin Leach, even though the only thing I can say in his voice is "I'm Robin Leach!"
As they play cards, Linda and Rochelle go on and on about soon-to-be ninth-grade boys, while I quickly lose my desire to figure out who and what they're talking about. I don't care much about soon-to-be sixth-grade boys either. Right now, they don't seem to be good for much, except teasing me about my hairy arms or the fact that I named my cat Charmin. They all want to know if I wipe my ass with her. It's the beginning of summer and I don't want to think of anything school related right now.
I peel myself off the vinyl lounge chair, enjoying the sound of my skin as it un-sticks, and walk over to the wooden fence that separates our yard from our neighbor's. "Hey, you guys," I say to Linda and Rochelle. "There's a moving truck in front of Mr. Nicola's!" Linda and Rochelle aren't impressed. They're now flipping through some teen magazines, pointing to pictures and mouthing words to each other, their eyes big as dinner plates.
Mr. Nicola lived next door to us all my life, minus the last few months, during which time the house has been empty, Mr. Nicola having died in April. He was old and quiet, and I only saw him in the warmer months when he tended to his backyard garden in a wide-brimmed straw hat, or hauled a tiny trash bag to the alley in black knee socks and shorts. He wore those little elastic bands around his calves to keep his socks up. Mr. Nicola had an old-fashioned birdcage full of blue and yellow parakeets positioned in his front picture window.
I'd walk by the birds on my way to visit Krissy Page, who is a year younger than me and used to live at the top of our street. I didn't visit her very often because my mother thought she was too dumb to be my friend. She's in remedial classes, for God's sake! she'd remind me. The birds were always flapping around to their various perches and swings, their chirps vibrating through the thin glass.
After Mr. Nicola died, his son Elmer (like the glue he told me when we met) came back to Pennsylvania from Georgia, where he lives with a wife and two daughters, to clean out and sell the house. My mother invited him over one evening for instant coffee and a hushed conversation around the ashtray we keep in the attic crawlspace for our smoking guests. It's orange and white and shaped like a mushroom, the ash collecting in its curved ceramic belly.
For weeks Linda and I got to watch all sorts of oddities carried out of our neighbor's house, an old two story with green aluminum siding and black wrought-iron railings, as Elmer had an estate sale. We weren't allowed to go over and look at the stuff, even though I spotted practically everyone from our block come out with something interesting—a set of rose-tinted drinking glasses, a black wicker footstool, a large silver-framed mirror with scalloped edges. It's simply uncouth, my mother said. Circling around the dead like goddamn vultures. The birdcage and the birds ended up in the backseat of Elmer's orange Ford station wagon, the kind with wood grain panels on the sides, destined for Georgia.
On Elmer's final day in Connellsville, my mother rounded Linda and me up to walk next door with her and deliver a homemade zucchini bread wrapped in waxed paper. To take home to your girls, she told him. He smiled and thanked her, then offered my sister and me a chance to roam around the empty place while they talked. I immediately ran for the thick mahogany staircase. While our house has a basement, and therefore, stairs leading down to it, we don't have such a grand example of a genuine staircase. Our stairs are really more of a tunnel that leads underground, a rectangular shaft you have to walk down single file. Mr. Nicola's house has the kind with a smooth banister you can slide down like kids do in movies. I walked to the top of the steps, resisting the urge to sling one leg over the railing. Rich People don't slide down banisters.
Linda and Rochelle are sick of sitting outside on the sticky porch chairs. They're going inside, giant beach towels wrapped around them, to watch Dirty Dancing on video for the hundredth time. We all have crushes on Johnny, Patrick Swayze's character in the movie—a tough guy from the wrong side of the tracks who has muscles and sexy dance moves and perfectly styled hair. He wears tight black tank tops that show off his toned shoulders. I have a poster of Patrick Swayze in my bedroom. He's half sitting, half lying down, leaning on one perfect elbow, staring at me.
The new neighbors begin unloading their truck full of boxes and furniture. I catch a glimpse of a few boys running inside, hoping they're around my age. They won't know I named my cat after toilet paper, that I cried on stage when I accidentally misspelled the word "practical" during the fifth-grade spelling bee, that Heather Grain yelled out "Crybaby!" from the audience and all the kids laughed. That I fell in the cafeteria once, chili splattering the dull gray linoleum while everyone applauded. The house next door starts to breathe, as they fling open every window. I hear the low murmur of voices, imagine boys running up the heavy stairs, then sliding down.
Reprinted by arrangement with skirt! Books, an imprint of Globe Pequot Press.  Copyright © Karen Dietrich, 2013.
Author's bio
Karen Dietrich grew up in the 1980s in a small factory town fifty-seven miles from Pittsburgh, Pennsylvania. She is the author of THE GIRL FACTORY: A MEMOIR (skirt!/Globe Pequot, 2013).  She is an adjunct writing instructor at the University of Pittsburgh at Greensburg and Westmoreland County Community College.  She recently joined the faculty of the online creative writing MFA program at the University of Arkansas at Monticello.  Find Karen online at karendietrich.net.
AND THE WINNER IS…

I hope you enjoy Writing Lessons. Featuring well-published writers of our favorite genre, each installment of the series will take on one short topic that addresses how to write memoir, and will include a great big book giveaway.

It's my way of saying thanks for coming by.

The contest for this book is now closed. Please see the next installment of Writing Lessons.

The winner of the book is Kim Derby. Congratulations, Kim! I'll be in touch to send your book.