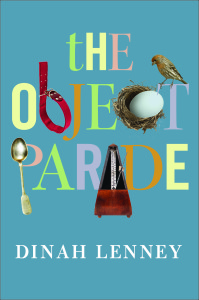 HOW IMPORTANT IS IT to know the ending of your story when you begin? Can you know? Should you? It's memoir, after all, and your memoir, at that, but how much surprise should you expect? I love this line of inquiry, and no one is better to take it on than Dinah Lenney, author of the exquisite, The Object Parade (Counterpoint, 2014), a book I have kept on my desk and opened and reopened long after reading it. A master of the essay and of memoir, Dinah is here for you. Read what she has to say.
Surprise Yourself
by Dinah Lenney
Surprise yourself. Those two words keep repeating in my head. I keep thinking that's the key—to surprise ourselves—though it's counter-intuitive, isn't it…? You're writing a memoir, after all; you know what happened. Maybe you even know how and why things unraveled (or raveled) as they did—or going in, you think you do. Moreover, you're bound to object—to insist that you cannot plan a surprise! It's as if I'm asking you to throw yourself a party. And maybe I am. People throw themselves parties all the time, don't they? "Party" as catch all—as loosely defined: your idea and mine of a party might be two very different events. Even my own idea of a party is likely to shift according to my mood: it might mean an afternoon with a friend—lunch and a museum; or a solo hike in the park; or it might mean an actual party. Which I must certainly plan for, mustn't I? First, there's the guest list; and I'll have to go shopping; the table must be set and flowers arranged; I'll want to vacuum and dust and generally spruce things up around here. A whole day of prep involved (if not two)—and a whole day of cleanup, besides (though I'm not actually wanting to extend the metaphor, not at the moment). The point is, as much and as meticulously as I plan—with scrupulous attention to setting the scene and getting it right (just like you-know-what)—as necessary as it is to prepare, I can't possibly know how it will all turn out: As in what sorts of alliances will happen before and after we sit down to eat; as in who will talk to whom about what; as in whether or not the elements—the details of person and place—will conspire to give us all a good time or better (or worse: stay tuned). But hey, if I knew—if I actually knew—what a snooze, right? If I knew, I wouldn't have to bother.
And so it is with writing—maybe with anything worth doing, can that be? I'm thinking of Robert Frost's essay, "The Figure a Poem Makes." He writes: "It should be of the pleasure of a poem itself to tell how it can."
And he says: "It has an outcome that though unforeseen was predestined"—I love that part: the idea that an ending can and should be, at once, unpredictable and inevitable—
and he also says:
"It is but a trick poem and no poem at all if the best of it was thought of first and saved for the last." And that's so important, isn't it? If you think you know where you're going, okay: but be prepared—be prepared (in order) to surprise yourself. Because the act of writing itself should affect and inform the course of your story.
And back to Frost: He goes on to say, "No tears in the writer, no tears in the reader. No surprise for the writer, no surprise for the reader." That first part maybe calls for some qualification—that is, from my years as an actor I know: the more affected I am (by my own performance, I mean), the less likely the audience is to be moved. (But okay, Mr. Frost, point taken—having to do with authenticity of feeling.) As for the second part, no question about it: we must surprise ourselves, we must. But how. How is it done?
For me, with The Object Parade, I managed it in two ways. First—it seems so obvious now, but it was almost inadvertent—I came at everything from an angle. That was my strategy going in: I'd fool myself into the idea that I was writing about a "thing"—a watch, a table, a scarf, a stew. But each time it turned out that the thing, whatever it was, stood in for a story, or an event, or a relationship, or an attitude. Honestly, I mostly didn't know where I was going—and when I thought I did, I wound up someplace else.
And the second ingredient: Time. Here's another comforting quote: "Time, which is your enemy in almost everything in this life, is your friend in writing." That's Tobias Wolff. And all those books later, he should know. Even so, we forget, don't we? We're in such a terrible rush to produce and to publish, as if that were reason we write. But it isn't. It's a swell goal—a privilege and a perk when it happens—but it is not the reason. The reason is to figure it out, whatever it is. And in doing so, to surprise ourselves—to find out something we didn't already know about language and life.
There are 34 essays in The Object Parade, many of which took years—I exaggerate not—to write. They revealed themselves over time. "Chicken Stew," first published in Creative Nonfiction as "The Dinner Party," is one.
CHICKEN STEW, an excerpt
…And she felt quite continuously a sense of their existence … and she felt if only they could be brought together; so she did it. And it was an offering; to combine, to create; but to whom? –Virginia Woolf, "Mrs. Dalloway"
                                                                          
An offering. Right. You and Mrs. Dalloway. Who do you think you're kidding, you need an epigraph? You're a show off, that's what you are. Although… In your defense, the quote is perfect: it fits. It's a hopeful gesture, this party (like hers!), having something to do with the potential of the thing; with a collection of friends—some known to each other, some not—who will be pleased and glad, you hope, to bask in candlelight and conversation and mutual approval; delighted to be brought together in this place, in this way. An offering. Right.
And who's a show-off? Not you, not really. The gesture is more authentic than that. Therefore, you put away a sprawl of cookbooks and loose recipes. You decide on a chicken stew—which dish you know how to make by heart: breasts and thighs braised in olive oil and simmered for an hour and a half, with three heads of garlic (cloves separated but not peeled), a dash of cinnamon, a cup or so of dry white wine, a sprinkling of coarse salt, fresh ground pepper and a fistful of flatleaf parsley, roughly chopped—because it's homey and simple and delivers up a double take every time you serve it, so indicating, you think, a kind of culinary nonchalance and grace on your part. You will serve it because it smells wonderful; because, incidentally, it's easy and cheap; because your living room is your kitchen and your kitchen is your living room, and everything had better be done before the first guest arrives: you don't want to open the door flustered or winded or perspiring—nor, admittedly, should it look as though you've worked especially hard in advance, which might actually make other people uncomfortable. And with that in mind, you leave the sterling, stowed in flannel, in the back of the drawer. Yet you want to impress—you do mean to impress, don't you?—or to please. Yes, that's more like it: to prove yourself generous, worthy, and insouciant. You actually are all those things, aren't you? Of course you are, which is how you end up setting your table, which nicely seats ten (twelve at the outside), for fourteen. You kept thinking of just one more couple, one other person, who'd be a lively addition to your party; and now you ignore your husband's misgivings, his muttering behind his magazine, as you take the plates from the cupboard. "It'll be cozy," you tell him, over your shoulder, setting the table, placing the forks on, not beside, the napkins, so as to make use of every inch of table; everybody can watch their elbows, and everybody will have to try the garlic.
And what's the occasion, why the fuss? Well, to do with entertaining an acquaintance from the other coast, a hot shot journalist—beloved by liberals—who's been writing, since before the war started, less than a year ago, about high-flung Democrats who actually support the cause. The party is for him, whom you've met a half a dozen times on academic turf: to show him who you are, how you live in Los Angeles. It's for him that you've rounded up an assortment of creative types: actors, writers, poets, painters, designers, activists, Democrats all. Boy Journalist—BJ, that's how you think of him, even though he's a divorced, middle-aged man with a bald spot on the back of his head and several books under his belt (which strains a bit at his belly)—has recently returned to the U.S. from assignment in Iraq, and is on the roster to speak at a local book festival. And when he arrives, taps at the screen door and tentatively lets himself in (a bit late because of freeway traffic), the room is already humming, which is perfect, you think. Chet Baker croons in the background; the cocktail shaker rattles like a tambourine; candles are lit; colored paper lanterns stretch across the mantle; the scent of star jasmine wafts in from the back deck … A Southern California scene, a spring dinner party tuned up and playing. No need for you to conduct—someone else is already putting a glass in his hands—so you vigorously wave and go back to your salad, to thinly slicing the fennel, crumbling the feta between your fingers into the bowl. You are glad to see BJ in your periphery, grabbing for a cocktail fork and tucking into the shrimp: Good, you think, he's hungry, he's pleased to be here, no special effort required, and there's no doubt in your mind that the evening will continue in this lovely key.
Still, it seems only natural—with everyone served and waiting, hands in laps, in the lull that anticipates your squeezing into your chair and raising your fork (I'm raising my fork, please dig in, everyone)—to ask BJ about his visit to the Middle East. This is before photos of American military abuses have flooded the media, but not before civilians have been killed, not before opposing Muslim sects have joined forces against the United States, not before much of the free world has denounced America's role in the region, not before we—that is, us, all of you—have been diminished in the eyes of your closest allies.
BJ, stabbing into a chicken leg with his knife, answers quickly, his voice slightly louder than it needs to be. "We're doing good work in Iraq," he says. "We've removed a tyrant and liberated a nation."
The silence in the room falls awkward and hard. Perhaps you should turn up the music? Or turn it down? Instead, you pick up the butter, whipped into a tiny blue ramekin, as if this were some kind of show and tell. "There's butter," you say. "If anyone wants it, there's butter for the bread." You've invited an Irish writer and his partner; a designer, who has always seemed shy to you, almost deferential, though her boyfriend is a party favorite, a reservoir of jokes and tall tales. Now he is silent, focused on the butter it would appear, and the designer surprises you—emboldened by wine, perhaps, and civilian outrage.
"We're killing babies," she says. Or something like that.
BJ rolls his eyes too fast—he is ready to argue, even as he pretends to dismiss her. She doesn't know what she's talking about, he begins.
The table starts to vibrate before he can go on. Fix this, you tell yourself. Deflect, parry, reframe, you know how—
"Wait a minute," you say. "Wait now, everyone. BJ didn't get a chance to finish his thought. Go ahead," you tell him.
"Why should I?" he says. "None of you is really interested."
Demurring all around. Soothing words from a friend at the far end of the table, a woman who works as a mediator/facilitator and knows how to handle a crowd. Oh, you're grateful to her, and to her husband, a scholarly liberal who reads at least three newspapers daily, and who interrupts her now, keen to engage BJ in philosophical debate. Head bowed in thanks, this is your chance to taste the risotto, simmered with saffron and mushrooms: Has anyone noticed how delicious it is? Somebody say something about the risotto, or the salad (that fennel! That sheep's milk feta!), or the asparagus—so young, so green (Why, I steamed it with a little salt in the bottom of the pot, that's the secret, that's all, just ask, happy to divulge…). If only, you are thinking, if only you'd asked about Middle Eastern food or dress or artifacts or even religious customs. If only, now that you consider, you'd asked about your mutual friends, or BJ's dog, or the weather in Brooklyn—you might have started with Brooklyn. But how could I have known? you wonder as you reach for the wine.
The designer, who has a long white neck, is blotchy with anger, her sizable bosom trembling with what she's read about casualties. BJ tells her—too sweetly, his tone too conciliatory—that she's ignorant. "You're ignorant," he says. He smiles as punctuation, adding that he's read the headlines, too. And it's his smile, you're certain, that takes her breath—that takes yours, at any rate. You know—and she knows—that she's being patronized, and she curses him from across the table, hurls an expletive, this gorgeous woman who wears exotic fabrics and perfumes and who, as far as you know, only ever speaks in modulated tones. (The next day one of your guests will say that just for that moment, she thought they were married, BJ and the designer; only married people, she reasoned, would dare to swear at each other at a sit-down dinner.)
The conflict sputters and roars. The celebrated actor—who has his own television show—is leaning forward at his end of the table to give his view of the current administration's agenda. BJ, now oozing bonhomie, keeps repeating the actor's first name in the way of customer service, as if to soothe, subdue—sell. The problem is, though, he didn't catch the name to begin with; he's made up a whole new moniker for this famous guy. It doesn't even begin with the right letter. There's no fudging the mistake, no excuse to be made, though the actor, leaning forward in his seat, continues, quietly, to make his point. BJ—so gentle, so familiar—contradicts him again, as if they are dear, old friends. You! Pay attention! Your job now, to correct him; you, the hostess, you, dying for a toothpick, trying to work the asparagus out from between your front teeth with your tongue before you open your mouth. But the actor's wife beats you to it: "Hey, BJ," she spits. All conversation halts, and she corrects him in articulated syllables.
Now Ella Fitzgerald and Louis Armstrong are quarreling about tomatoes and to-mah-toes in the background (what fun), and your own husband—it's his party, too—picks up the slack, gives it a try. He questions the singular American hubris at the crux of a mission to save people on the other side of the world who don't necessarily wish to be saved, when so many of our own are so desperately in need.
"I'm disappointed to hear you say that," BJ answers. "Liberals have forgotten how to be liberal," he adds. Can it be he's enjoying himself? It's not democratic, he explains to the classroom at large, to insulate and isolate ourselves. "If we are really democrats," he insists, "we have no choice but to concern ourselves with the freedom of all." He is. Enjoying himself. He is having a fine time.
You put down your glass. "Explain it to me like I'm fourteen," you say, thinking of your daughter, who is scheduled to matriculate to the local public high school less than a month after she finishes eighth grade. "I know I'm supposed to be tolerant. I'm not supposed to impose my values on other people. On top of that, I have to go to school in the summer because there aren't enough teachers and classrooms to go around. Tell fourteen-year-old me why we're spending so much money in another country to make them be like us?"
BJ shrugs. You don't understand democracy, that's clear. "You," he says. "You are what's wrong with the American big picture." He looks up and down the company from his chair in the middle, then pronounces you pretenders; hypocrites all.
The mediator/facilitator takes exception. In a neutral tone, she explains that she spent September 12, 2001 in the largest mosque in Los Angeles, facilitating dialogue among Muslims, Christians, and Jews. "Please don't paint us with the same brush," she says.
Strange (though in the moment you shake it off) that BJ is without curiosity; doesn't ask her how or why she was in that mosque the day after the Towers came down. Never mind that you've brought this crowd together for his entertainment—as sure as he is that you are unenlightened and misguided, all of you unwilling to listen and learn, he hasn't asked anybody at the table where they're from or what they do.
You've begun to clear the table, backing your way to the sink, afraid to leave your guests to themselves. Oh but this is a disaster: Should you save this uneaten thigh, this wing, these asparagus stalks (so tender, so sweet), or the Irishman's salad? Is there solace to be found in the fact of his liberally buttered bread, which he also left untouched in the middle of his plate? You didn't bake the damn loaf after all, but it isn't the food that put him off eating, which is actually no kind of comfort, not a bit. You hear him pushing back his chair, the Irishman, excusing himself to smoke on the deck, where he's joined by the actor and his wife. The designer, spent, pulls her pashmina around her shoulders and huddles close to the mediator, who's argued for her better than she was able to do for herself. Your husband mans the sink, rinsing plates and loading the dishwasher. "Depressing," he growls as you open the fridge to fill a pitcher with milk for coffee. Only your single friend, the novelist, doesn't leave the table, because she's polite and accommodating—and perhaps because she also feels somehow responsible. She too has met BJ before; they have some history of flirtation, though how to resuscitate that under the circumstances? And yet. He swivels in his chair till their knees almost touch—fills her glass, then his own—and sighs, loud enough for you to hear, that your company has "bitten his head off." You pause on your way to filling the sugar bowl, to watch from the corner of your eye: She's a beautiful woman and somehow she's managed to stay out of the fray. But something in his tone reminds you of another lecture, nearly a year ago; how you and she attended, how BJ spoke for almost an hour, how you nearly fell off your seat after his talk, waving your arm in the air, so urgently did you want to ask about his political coverage for an important journal: What was between the lines? Did or didn't he support the war? Did he stand behind the pro-war Democrats or not? "Good question," he said, and you flushed. He added something vague about journalistic responsibility, then went on to the next raised hand. How could you have forgotten that until now? How, indeed.
For dessert there's a warm maple bread pudding that nobody seems able to eat, they're all just so full. The mediator, a trained mezzo soprano, and her philosopher-husband, who grew up on Dylan, harmonize on a couple of folksy duets right there at the table. The Irishman is coaxed into telling a joke; incredibly BJ pipes in with one or two of his own from Fallujah. You're all trying so hard, no one harder than you—whooping after the songs, laughing too hard at the stories, nudging your custard from one side of a pretty glass plate to the other—but you're exhausted suddenly, discouraged and sad. Some of the party moves from the table to the couch; a few return to the deck, and as you clear the dessert plates you overhear BJ telling your beautiful, single, mutual friend how pleased he is that at least people are thinking about the issues, that's a good thing, that's the up side. (Should you be relieved or offended by this sideshow, you wonder? Or— Or is it just for her, a way to get her to follow him back to his hotel?)
Amazingly, everybody stays and stays. It's as though nobody wants to abandon you. You're very kind, you want to say. But go home, please go home, you're not rats, and anyway this ship already sank.
At last, on his way out the door, BJ takes your hand. "I don't want you to feel bad," he says, all benevolence. "Please don't upset yourself about what happened tonight." He kisses your cheek. He insists that he hopes you will keep in touch.
In the moment, you're stunned to silence—as if trying to remember your lines. You hadn't seriously supposed any of this to be your fault; but was it? Is it? As if cued, you nearly apologize, then catch yourself and improvise to wish him a safe trip home instead. It's not as if you could have prevented the debacle, right? It was— It was an offering; you only wanted everybody to try the garlic and to have a good time.
We're at war, you tell yourself as you blow out the candles. Away and here at home, we're at war. "Even if we weren't…" you mumble aloud; even at your own dinner table, it's becoming more difficult to recognize friends, enemies, casualties, too, for who they are. Meanwhile, there are empty bottles, wine-stained napkins, burned out candles, ice in a puddle, crumbs scattered across the floor, a sink piled high; nothing to do but clean it all up, put it all away. You plop down on a chair at the table, smear a piece of garlic across a hunk of bread. Chew and swallow, then get up again to search for a container under the counter, something big enough to hold the leftover chicken—which, according to the recipe, is actually supposed to taste better tomorrow.
Copyright © 2014 by Dinah Lenney from The Object Parade. Reprinted by permission of Counterpoint. 
Author bio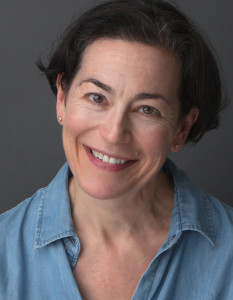 Dinah Lenney is the author of The Object Parade and Bigger Than Life: A Murder, a Memoir, and with Judith Kitchen, co-edited Brief Encounters: A Collection of Contemporary Nonfiction (W.W. Norton, 2015). She teaches writing at the University of Southern California and serves as core faculty in the Bennington Writing Seminars, as well as in the Rainier Writing Workshop at Pacific Lutheran University. Dinah's essays and reviews have been published in a wide range of publications and anthologies including The New York Times, The Los Angeles Times, the Washington Post, AGNI, the Kenyon Review Online, TriQuarterly, and the Los Angeles Review of Books, where she is the senior editor of creative nonfiction.
You can follow her at: www.dinahlenney.com (@dinahlenney on Twitter). http://www.indiebound.org/book/9781619023000
HOW TO WIN A COPY OF THE BOOK

I hope you enjoy Writing Lessons. Featuring well-published writers of our favorite genre, each weekly installment takes on one short topic addressing how to write memoir.

It's my way of saying thanks for coming by.

Love the author featured above? Did you learn something in the how-to? Then you've got to read the book. And you can. I am giving away one copy, and all you have to do to win is leave a comment below about something you learned from the writing lesson or the excerpt. I'll draw winners at random (using the tool at random dot org) after entries close at midnight Monday, June 15.

Good luck!