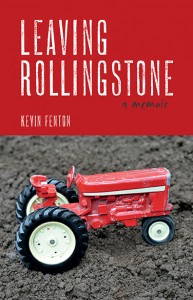 JUST WHAT IS MEMOIR? Is it one big book that begins with your great-great-grandfather, and ends with what you had for lunch today, or is it more a process of selection? You can tell from the way I phrase that which way I fall on this argument. What memoir is becomes a fascinating discussion in the hands of our next guest blogger, Kevin Fenton, a deft and talented writer whose new book, Leaving Rollingstone takes on the eternally compelling question of how we reclaim the enduring values of our childhood. And he does it without giving us his entire life story. Watch how he does it. Read on.
What is – And What is Not – Memoir?
By Kevin Fenton
The memoirist is denied some of the freedoms of the novelist. You cannot invent incidents or characters. More subtly, you have less freedom to adopt a voice that differs from your own. When I was telling the story of how my childhood in the Catholic farming village of Rollingstone shaped the remainder of my life, any variation from my natural speaking voice felt dishonest.
But these constraints sweeten the choices you have left. And one of the most important of those choices is how to start your memoir.
Of course, you can simply start at the beginning. And that might be a good way into your book, especially if you're feeling a little stuck. David Haynes once told me to start tell the story chronologically until I could come up with a good reason not to.
But surprisingly few memoirs start at the beginning, perhaps because they tend to be layered—with an older, remembering voice sharing a book with a younger, experiencing one. Alfred Kazin's A Walker In The City, which recounts his childhood in Brooklyn, doesn't really start by moving through time at all: he moves through space, as he steps off the train and enters his past. His route through the neighborhood frames his first chapter. I ultimately didn't follow Kazin's example but I used it in a draft to sort out some tangled material. James Baldwin begins his memoir The Fire Next Time with a letter to his nephew—in effect, a letter to the future. I found that a brilliant way to acknowledge what a memoir really is: a letter from the present and the past to the future. Eva Hoffman begins her memoir Lost In Translation with her departure from Poland, only to eventually backtrack to the place she left.  Hoffman's beginning gets to what's at the heart of a lot of memoirs: loss.
A version of Hoffman's opening—a remembered moment from the middle of the story—is what I did in Leaving Rollingstone. The book recounts our family's time on a farm outside of the small Catholic village of Rollingstone, Minnesota. It was a sweet but precarious life, threatened by my father's health problems and the Catholic school's financial problems. The first pages I wrote described a vividly happy morning in 1966, as we awoke, had breakfast, retrieved and milked the cows, and went to school. A version of those pages, entitled The Golden Age, are now the first section of the first chapter of the finished book.
I tried some other things over the years—the book took me a decade to write. I wrote a description of how, as an adult, I drove seventy miles to buy a John Deere lawn mower, because John Deeres reminded me of the farm. I tried starting with a collection of memories. But a good friend pointed out that what I needed was a single, rich, resonant scene.
So I came back to those first pages. And I was amazed at what I found there and how I could enhance it. I added to my happy childhood memories the concerns which my parents must have felt at that same time. And then I added some comments from my own adult self. In the next chapter, I started telling the story chronologically and stuck with that—with some fancy footwork inside chapters— throughout the rest of the book.
Is this how you should start your memoir? Maybe. Many memoirs are about a kind of golden age. But I'm convinced that each memoir has its own very particular soul and mission: a visit to a place, a letter to a nephew, a memory of a ship leaving a shore.
I think it's important to note what memoirs aren't. They are almost never your life story. (If they are, think about starting with your birth, or your ancestors.)  I am 54 years old. Large important parts of my life receive virtually no attention in my memoir—a sentence for a traumatic love affair, a page for four happy years in college. Memoirs are selections from your life story, shaped by theme, driven by a few burning questions.  So the question the reader brings is: why these bits of your life? The answer to that question will lead you to your opening.
Leaving Rollingstone, an excerpt 
The very first pages of Leaving Rollingstone were published, with some very slight changes, in the Gettysburg Review, so I cannot reproduce them here.
But I added this paragraph, after describing a happy morning on the farm and what I imagined were my parent's concerns that morning. It is a unique strength of memoir that it allows this layering of past and present selves:
For decades, since long before I wrote my first ad, I have been compiling this movie trailer that I call my memories. You would think a movie trailer would be simple and satisfying, and in some ways it is. I was raised by good people in a good place. But I see some surprising things when I look hard from the perspective of my various adult selves. As an ad man, I realize that what I've always thought of as a rustic memory of a family farm brims with the shine and pulse of popular culture. As someone who teaches fiction, I always thought I knew the hero of this story—my dad, struggling to keep the farm. But my thoughts on the subject have grown more complicated. As someone who has left the village for the city, I find myself wondering what I have taken with me—and what I lost forever when I left Rollingstone.
Author's bio
Leaving Rollingstone (Minnesota Historical Society Press, 2013), is Kevin Fenton's second book. His first, Merit Badges, won the AWP Award for the Novel. Merit Badges was praised by Publishers' Weekly for its "impressive vitality, droll wit, and affecting nostalgia." It won a 2011 Friends of American Writers Award  and was a Minnesota Book Award Finalist.
Raised in southeastern Minnesota, Fenton lives in Saint Paul with his wife, Ellen and greyhound, Walter. He holds a B.A. from Beloit College, an MFA from the University of Minnesota, and a J.D. from the University of Minnesota Law School. For more than two decades, he has worked as an advertising writer and creative director. He teaches fiction at the Loft. Read can read more about Kevin and his book in this recent feature in the Minneapolis Star Tribune. You can reach him on his website.
AND THE WINNER IS…

I hope you enjoy Writing Lessons. Featuring well-published writers of our favorite genre, each installment of the series will take on one short topic that addresses how to write memoir, and will include a great big book giveaway.

It's my way of saying thanks for coming by.

The contest for this book is now closed. Please see the next installment of Writing Lessons.

The winner of the book is Dorothy. Congratulations, Dorothy! I'll be in touch to send your book.