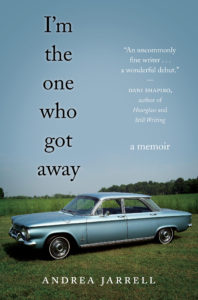 BUILDING A MEMOIR STRUCTURE is an art and a science, as well as a whole lot of work. But to many, doing so seems to be a task that is avoided, worked-around, ignored and put off as long as possible. That's a shame, because the very process of doing so will clarify your book's themes and heighten the story's impact. Let me introduce Andrea Jarrell, whose wonderful memoir, I'm the one who got away, is just out. A marvelous read, it is supported by a perfect structure that holds up her tale. Are you interested in building a memoir structure and how to do so? This post is part of a series on that topic. See the links at the end. But first, read on. 
Deepening Meaning Through Structure
By Andrea Jarrell
Figuring out my memoir's structure was one of the hardest, as well as most gratifying parts of writing I'm the One Who Got Away. Even though I knew what the book was about, getting to a satisfying structure made clearer to me its themes of women's desire and sexuality and an intense mother-daughter bond that impacts my relationships moving forward.
I began writing my book with several related essays already complete. I'd been writing these essays for about two years. It took another two years to unmake and remake these previously finished essays so they would work in the book, as well as to write additional chapters and craft a cohesive whole.
So, I was building the book brick by brick rather than chiseling it all at once as if from marble. I had to figure out which of these bricks was the book's cornerstone — where to begin that would lay the sturdiest foundation. I resisted arranging my pieces chronologically for several reasons. Strict chronology would have my memoir beginning before I was born, which might confuse readers into thinking the story would be my mother's rather than mine. I wanted to invite readers into my confidence by revealing right away the woman at the heart of the story. Having a fully formed woman as the storyteller from the start would mean less "catch up" for the reader as my girl-self became a woman. I also thought an adult point of view rather than a child's would be immediately more engaging.
Long before I began my memoir, I had written an essay about a woman I knew who was murdered. In that piece, I connected this woman's death to my mother's escape from my abusive father years before. I always intended that this story would be part of my memoir but it wasn't until I made it the opening chapter that the rest of the book's structure fell into place.
The first chapter which weaves together the murdered woman's story, my mother's, and my own sets up the larger questions the book seeks to answer: How do desire and desirability empower and endanger girls and women? How do we make ourselves both safe enough and vulnerable enough to love and be loved? This chapter acts almost like a prologue hovering over the memoir as the book moves back and then forward in time.
With the murder as the memoir's trigger, a lot of narrative problems were solved. I could open the story as an adult and make natural connections between my life and my mother's. I could introduce a reason for the book's telling through this pivotal incident. The incident gave me compelling context so that when I needed to go back to before my birth and tell the story secondhand (almost always less engaging), the reader has more reason to pay attention. They know why these early events matter.
At a slim 153 pages I'm the One Who Got Away covers over five decades. One of the things I discovered in writing this book is that I tend to see connections between events and memories spanning a great deal of time. It's in those connections that I find my stories and themes. For example, early in the book my child-self and my mother witness a woman being harassed on the street. It's a memory I make sense of a few paragraphs later when I am a teenager and find myself being accosted by a man. As the adult woman writing the story I reflect on both events, questioning my mother's response to each and foreshadowing how I will change as the memoir continues to unfold.
The time jump from girl to teen makes way for the next chapter, which opens with me as a teenager. Each chapter might include a flashback or flashforward but after the opening chapter, chapters proceed chronologically. Throughout, my adult point of view — the narrator readers meet in the opening chapter — is present to bring readers along. In this way, the chapters advance both the plot and deepen the themes. Structure helped me crystallize the story I was telling: The complex ways parents shape us but how you are ultimately in charge of who you become.
I'm the one who got away, an excerpt
Just We Two (Chapter 1)
SUSANNAH WAS MURDERED JUST BEFORE CHRISTMAS but I didn't find out until after New Year's. When my cell phone rang, we were making the long trek between Michigan and Maine after spending the holidays with my in-laws. My husband, Brad, was at the wheel, kids strapped into their car seats munching a snack, my feet propped on the dash. As barren treetops flitted by, messy tangles of birds' nests catching my eye, the voice on the other end of the line told me she was killed in the house across the street from ours—a large cedar-shingled two-story with a barn in back.
The houses in our neighborhood stood far apart. From the front step of our blue Cape at the top of a mile-long driveway, I could just make out the cedar roof beyond a small pond on our property and a thick line of fir trees across the road. Even if we'd been home, I couldn't have prevented her murder. I know that. Brad and I probably wouldn't even have heard the gunshots. We might have been sitting in our living room watching television or upstairs reading bedtime stories to our son and daughter.
When it happened, the co-op preschool that Susannah's son and my children attended was already on holiday break. The day the break began, Brad and I had loaded up our SUV, bundled the kids into the car, and headed to Michigan. In those days, before Facebook and Twitter, we'd remained blissfully cocooned from the rest of the world.
I didn't understand at first why I sobbed at the news of Susannah's death. There was the violence of it, the throat-choking sadness for her little boy, and the wrongness of anyone robbed of life, much less someone so young. But there was more to it than that. Especially when I admitted to myself that I'd always been uneasy around Susannah, never wanting to get too close to her.
Eventually, all the cues from my memories about why her murder hit me so hard began to glimmer like flagstones on a moonlit path. A path that paved the way, inevitably, back to my mother. As I connected those dots, my sorrow over Susannah's death revealed what I was only beginning to realize—how desperate I was to escape my mother's choices and the life I feared I was destined to live.
***
Brad and I had been living in Maine for a few years when Susannah was killed. We were in our early thirties, just starting out in our marriage and our lives as parents. Before Maine, we'd always been city people. Our move from Los Angeles to the idyllic, seaport town of Camden was the first of what we expected would be many adventures in our life together.
Camden is the childhood home of Edna St. Vincent Millay, the town where the movie Peyton Place was filmed, and, rumor has it, a haven for retired CIA spies. Locals looking to move know to put their houses on the market during the summer, when tourists fall in love with the quaintness of it all: the harbor, the lupine-covered hills, the centuries-old stone walls, the Oreo black-and-white cows. But Maine winters are for a hardy few, and the smart looky-loos come to their senses before any money changes hands.
We moved to Camden knowing what we were getting into. Brad had been offered a two-year gig at the Institute for Global Ethics to work on a project about running positive political campaigns. I saw the move as a way to leave my workaday life as the public relations director of a small college—to trade in my pantyhose and suits for jeans and sweaters and to get back to writing. Fully expecting to return to L.A. in a couple of years, we found tenants for our small house there. But two years turned into two more, and five years after moving we finally unloaded our Spanish-style fixer-upper in L.A., unsure if we would ever head west again.
Moving to Camden felt a little like we'd entered the witness protection program—so far from everyone we'd known, plunked down into a new life. I took to that life more easily than one might expect, embracing it with "pinch me" elation: pancakes on Sundays, a fully stocked pantry with an extra freezer for meat, trips to the pumpkin patch, red wagons in the driveway, rain boots and slickers, mittens and parkas. This was the stuff of ordinary families, which I'd carefully observed during childhood sleep-overs. Having grown up in a series of small apartments with my single mother, who was much more interested in books and travel than picket fences and seasonal door wreaths, I kept waiting for the residents of Camden to discover that I didn't belong.
---
Great post, right?
As I said, this is part of an ongoing series on building a memoir structure, and one that is rich and full.
Please see the others in that series, including:
HOW TO WIN A COPY OF THE BOOK

I hope you enjoy Writing Lessons. Featuring well-published writers of our favorite genre, each installment takes on one short topic addressing how to write memoir.

It's my way of saying thanks for coming by.

Love the author featured above? Did you learn something in the how-to? Then you've got to read the book. And you can. I am giving away one copy, and all you have to do to win is leave a comment below about something you learned from the writing lesson or the excerpt. I'll draw winners at random (using the tool at random dot org) after entries close at midnight Monday, February 19, 2018, right in time for the next installment. Unfortunately, only readers within the US domestic postal service can receive books.

Good luck!